Delicious pumpkin spice biscotti, twice baked and glazed with a sweet drizzle. A perfect partner for your Fall coffee or tea.
In the truest sense of the word, these Pumpkin Spice Biscotti are biscotti, in that they are twice-baked. That said, they are just a touch more cookie-like than the super-hard, need-to-dunk-it-to-eat-it biscotti. I'm ok with that and I think you will be happy with these, too :)
These pumpkin biscotti are the perfect partner for your Fall coffee or tea and you will surely love these wonderful Fall flavours!
Jump to:
Ingredient Notes
Here are the simple ingredients you will need for these biscotti ...
All-purpose flour
Baking powder
Salt, cinnamon, ginger, nutmeg
Butter
White sugar
Eggs (3)
Vanilla extract
Canned pumpkin puree (not pie filling)
Cook's Notes
Once you mix up the batter, you will probably wonder how you will ever shape it into a log. The batter is quite moist and sticky. Simply spoon dollops of the dough onto the parchment, roughly making two logs (keep as much space between as you can, as they will spread!). Then slightly moisten your hands and start smoothing together into a log. They don't need to be smooth, so don't worry about that. Once baked they will smooth out.
Be sure the biscotti is well set after the first bake, as they won't bake much during the second bake (they only dry out during that time). If you're not sure, leave the logs in the oven a few extra minutes, as you won't hurt it at all.
I actually love these on the slightly softer side, so I haven't experimented with leaving them even longer in the oven. I suspect you could definitely extend the second bake time and make them a little crispier. You might also let them sit on the cooling rack over-night to really dry out. Either way, you'll want to store these in a not-quite-air-tight container, to keep them from getting softer as they sit.
These biscotti will keep really well for at least a week and probably longer, but they will also freeze, if you need to store them longer or are making ahead.
These pumpkin biscotti are a great way to use up a small bit of leftover pumpkin puree, as you only need 1/2 cup to make a batch!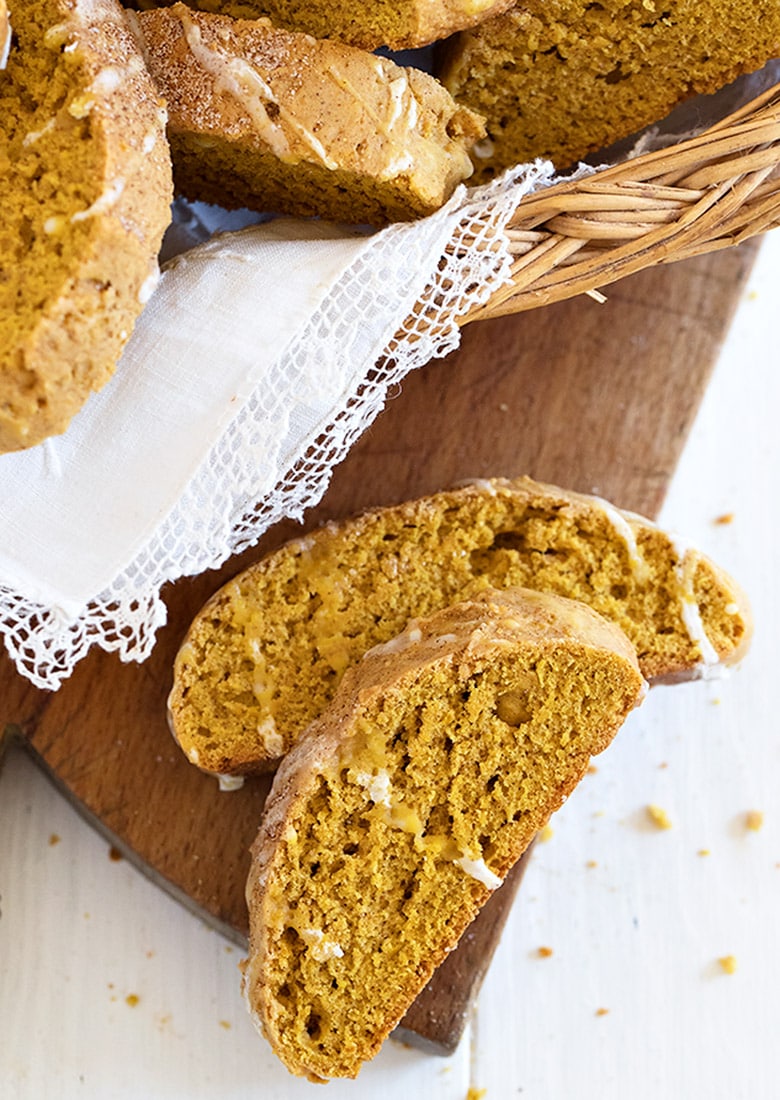 Recipe
More Biscotti Recipes You Might Also Like ...