This oatmeal yeast bread is chock full of dried cranberries! With a pinch of cinnamon and a touch of orange in the dough and a toasted oat topping, this is both a beautiful and delicious loaf of bread.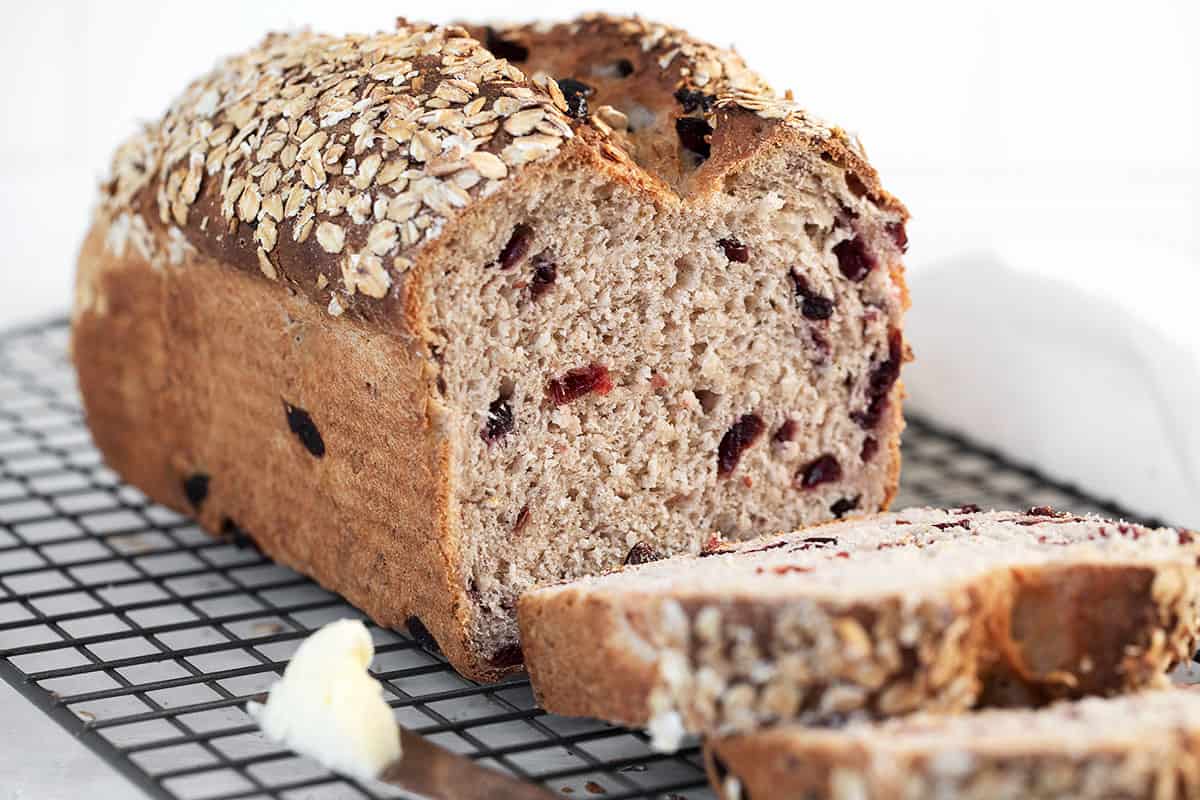 Why you'll love this bread, too!
This lovely oatmeal bread is loaded with cranberries and I love that! You'll get wonderful cranberry flavour in every bite.
Add to that, just a bit of cinnamon and orange zest in the dough, for more colour and flavour to complement the cranberries and you have a perfect Fall or Winter bread that tastes like the season :)
Using oats in bread is a great way to ensure a soft and moist loaf, with extra flavour and goodness, too. The oats toast up on the top, for great flavour and a bit of crunch.
You'll love this bread with just a spread of butter, but it also makes great toast, as well. A bit of left-over bread would make also great French toast or bread pudding.
Finally, with the abundant cranberries and the toasted rolled oat topping, this is a simply beautiful loaf of bread.
Key Ingredients
Dried Cranberries – you can use any type or brand of dried cranberries here, sweetened or unsweetened, as you like.
Oats – for best results, use the large-flake, old-fashioned rolled oats. Quick oats might work, though though I haven't tested it myself to know if there are any changes required.
Flour – you can make this bread with all purpose flour or bread flour. For bread flour, hold back just a bit of the flour and add it only if it needs it. You could replace about 3/4 cup (90g) of the all purpose flour with whole wheat flour if you like, but understand that it may result in a more dense finished loaf.
Yeast – this is a classic two-rise bread, so you'll need to use either Active Dry Yeast or regular Instant Yeast, such as SAF Brand (or Bread Machine yeast works as instant yeast, too). Quick or rapid-rising yeast is not recommended.
Step-by-Step Photos
Step 1: Mix the dough – you can see that the dough will look quite sticky when all the ingredients have been added. That's just fine. The oatmeal will continue to absorb liquid as it sits, so trust that it will be fine and resist the urge to add more flour at this point.
This bread uses a series of rest and knead steps, rather than a conventional first rise. I just do it all in the mixer bowl, leaving the kneading hook in and throwing a tea towel over-top of the bowl.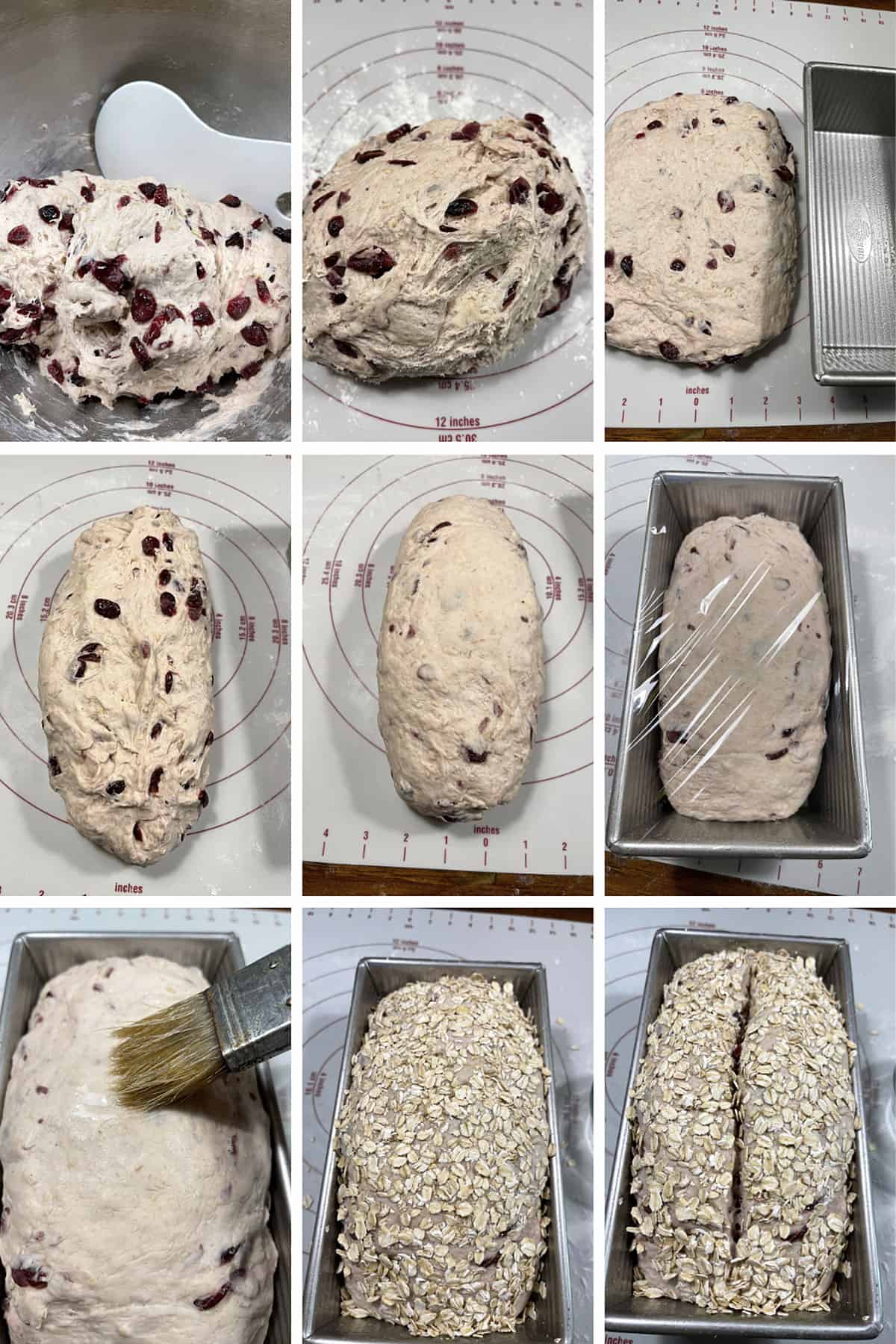 Step 2: Shape, 2nd rise and preparing for baking – shape the dough into a loaf by patting it out into a rectangle roughly 8-inches long (the same length as the baking pan) and about 5-6 inches wide. Pinch the long sides together in the middle, then flip it over and place into a greased 8 1/2×4 inch loaf pan.
Allow the loaf to rise until it crests the pan by about 1 – 1 1/2 inches in the centre. Brush the top of the loaf with water and press some oats onto the top of the loaf. Finally, take a sharp knife and slash down the centre of the loaf. Bake, cool and enjoy!
Baking Tips
I have provided weight measurements for this bread, so if you have a scale, weighing the ingredients is best. If you don't have a scale and you are a bread baker, what are you waiting (weighting ;) for? A scale costs very little and makes baking so much more precise and predictable. I guarantee that you won't regret adding this invaluable tool to your kitchen.
This bread has a bit of an unusual preparation, in that it doesn't have undisturbed first rise. So it does require a little more attention than normal, but nothing too onerous. And if you are like me and you can never remember how often you have done the quick kneading thing, I find it useful to keep a little note next to the mixer to check off each time I've done it :)
I find oatmeal based yeast breads will always a bit sticky and moist, but resist the urge to add extra flour. The dough will look quite un-kneadable during the entire 1st rise/mixing period if you are doing it in a mixer, but it will be fine in the end.
As noted above, as this is a moist dough, a stand mixer is easiest for being able to knead it easily. That said, if you don't make it with a mixer, simply add some oil to your hands to make it easier to knead as required.
Get the Recipe:

Cranberry Oatmeal Yeast Bread
This oatmeal yeast bread is chock full of dried cranberries! With a pinch of cinnamon and a touch of orange in the dough and a toasted oat topping, this is both a beautiful and delicious loaf of bread. Make 1 loaf.
Ingredients
3/4

cup

(

75

g

)

large-flake old fashioned rolled oats

,

plus extra for topping

1 1/4

cups

(

175

g

)

dried cranberries

1 2/3

cups

(

375

ml

)

boiling water

3 1/2

Tbsp

(

50

g

)

unsalted butter

3 3/4

cups

(

450

g

)

all purpose flour

1 1/2

tsp

(

1 1/2

tsp

)

fine salt

,

reduce slightly if using salted butter

1/2

tsp

(

1/2

tsp

)

cinnamon

1/2

tsp

(

1/2

tsp

)

orange zest

,

optional, but a nice addition if you have an orange handy

1

tsp

(

1

tsp

)

instant yeast

,

not quick or rapid-rise yeast **see Instructions below for Active Dry yeast
Instructions
Put the rolled oats and dried cranberries in a large bowl or the bowl of a stand mixer fitted with a kneading hook. Add the boiling water and stir. Let stand for 15-20 minutes, or until the mixture is just lukewarm. *About 105F. Test with a thermometer, to be sure it is cooled enough before adding yeast.

**For Active Dry Yeast: Do not add active dry yeast to to the dry ingredients, as it needs to be activated in warm water. Add directly to the lukewarm oat/cranberry mixture, making sure it has cooled to about 105F before adding the yeast. Let stand a few minutes, then proceed as below.

Break the butter into small pieces and add to the warm cranberry.oat mixture and stir in until melted.

In a medium bowl, stir together the flour, salt, cinnamon, orange zest and instant yeast. Add the dry ingredients to the cooled oat/cranberry mixture to the bowl and mix until dough comes together into a moist mass that wraps around the dough hook. I should clear the bowl, but not necessarily clean it, as it will still be quite sticky at this point. Cover the bowl with a tea towel and let stand 10 minutes. *If making in the stand mixer, I just leave the kneading hook in and throw the towel over the top of the bowl. If making without a mixer, simply throw the towel over the dough on the counter.

Knead dough for 10 seconds (either by just turning on the mixer for 10 seconds or kneading by hand with oiled hands), then leave for ten minutes to rest. Repeat this knead-and-rest sequence twice more at 10 minute intervals, then cover the dough and leave undisturbed for 30 minutes.

Pat the dough into a rectangle roughly 8-inches long and 4-inches wide, bring the sides together in the middle and pinch together, then place seam-side down into an 8 1/2x4-inch greased loaf pan. Cover the pan with greased plastic wrap and let rise until risen by half, or it crests the pan by about 1 - 1 1/2 inches in the centre of the loaf.

Heat the oven to 425F (220C). Brush the top of the loaf with water, then press on a handful of oats. Cut a gash down the middle with a sharp knife (cutting into the loaf roughly 1/2-3/4-inch.

Bake the loaf for about 50 minutes, covering the top loosely with foil after 25 minutes of baking to prevent over-browning. Loaf should reach about 195F when measured with an instant-read thermometer.

Remove from oven and immediately remove from loaf pan to a wire cooling rack to cool completely before slicing.
Notes
Be sure to read the Ingredient and Baker's Notes above this Recipe Card, for more tips on making this bread. You will also find Step-by-Step photos there that you might find helpful.
Calories:
233
kcal
,
Carbohydrates:
44
g
,
Protein:
5
g
,
Fat:
4
g
,
Saturated Fat:
2
g
,
Polyunsaturated Fat:
1
g
,
Monounsaturated Fat:
1
g
,
Trans Fat:
1
g
,
Cholesterol:
9
mg
,
Sodium:
293
mg
,
Potassium:
76
mg
,
Fiber:
3
g
,
Sugar:
8
g
,
Vitamin A:
103
IU
,
Vitamin C:
1
mg
,
Calcium:
12
mg
,
Iron:
2
mg
Adapted from a Dan Lepard recipe
More oatmeal yeast bread recipes you might also like …
Cinnamon Raisin Oatmeal Bread
A hearty cinnamon raisin bread, with the addition of oats and some whole wheat flour. A wonderful morning bread that makes great toast!
www.seasonsandsuppers.ca
Honey Oatmeal Bread
A lovely, moist bread, flavoured with rolled oats and honey, with a bit of whole wheat flour as well. Keeps fresh for days and makes great sandwich bread!
www.seasonsandsuppers.ca
Hi! I'm Jennifer, a home cook schooled by trial and error and almost 40 years of getting dinner on the table! I love to share my favourite recipes, both old and new, together with lots of tips and tricks to hopefully help make your home cooking enjoyable, stress free, rewarding and of course, delicious!