These delicious Frosted Chocolate Brownies are perfect for when you need a little chocolate therapy!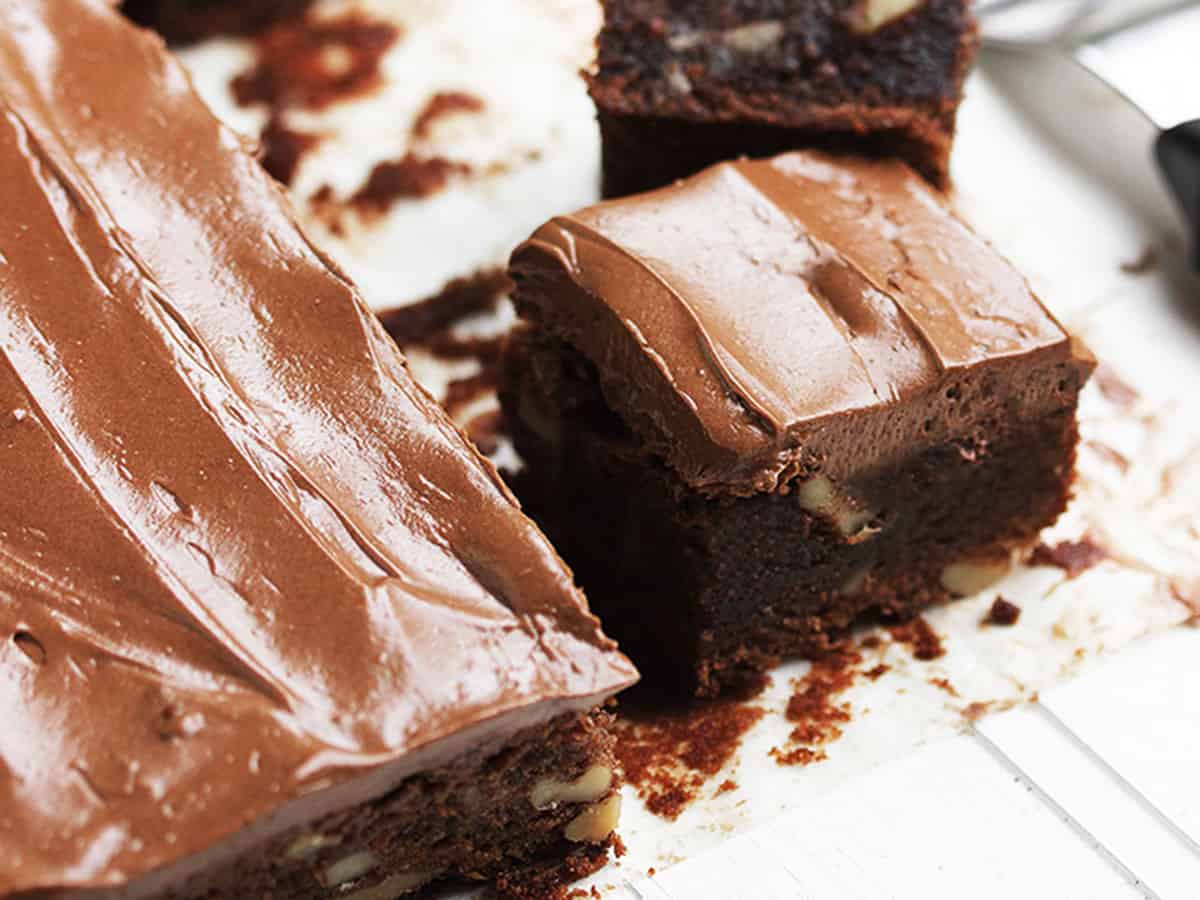 Considering my love of brownies, I was more than a little shocked when I realized that I don't have a single brownie recipe on this blog (unless you count these Brownie Cookies). Truth be told, I have a collection of brownies recipes to suit every possible mood or craving.
These aren't the "oeey, gooey, I need to disappear into a brownie" kind of brownies. Not that there's anything wrong with that!! These are the "mid-day, need a bit of sweet and chocolate" brownies. I consider these Diner-style Frosted Brownies, because if you've ever ordered a brownie from anywhere other than a bakery, there almost always frosted to make them "prettier". These are a classic brownie. It's what we expect when we seek out a brownie - full of chocolate, dense, nutty (if you like :) and topped with a rich chocolate frosting. They are not too moist, but also not too dry. They are not cakey, but also not fudgey. They are the middle ground of the brownie spectrum :)
Cook's Notes
Do be careful not to over-bake the brownies. I heard once that as soon as you can smell the brownies cooking, you should start checking and I think that's pretty sound advice. You want to catch these ones when a tester comes out moist, with crumbs (as opposed to covered with liquid).
As for the frosting, this one's heavy on chocolate and butter, and light on icing sugar. That means it's not cloyingly sweet and it's fairly soft. If you prefer a stiffer frosting, increase the amount of icing sugar until it reaches the consistency you like. This will, of course, increase the sweetness of the frosting.
Finally, about the nuts. If you don't like or can't eat nuts, then you can easily omit them. If you don't like walnuts, pecans would be a nice substitute. Otherwise, while I don't often put nuts in my brownies, I do like them in this type of brownie. It adds a nice contrast to the chocolate and a nice flavour, overall.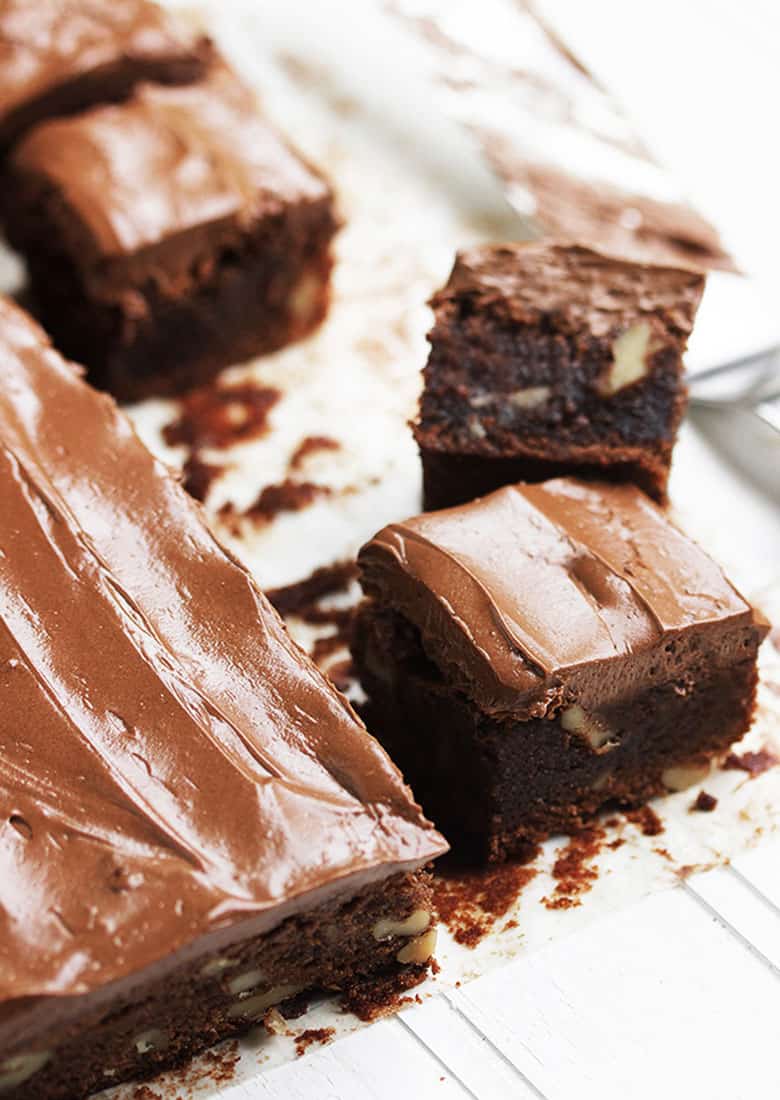 Frosted Chocolate Brownies
These are classic brownies that are perfectly chocolatey and frosted. Perfect for dessert or snacks.
Ingredients
Brownies:
5

oz.

dark chocolate

,

coarsely chopped

1

cup

unsalted butter

,

cubed

4

large

eggs

1 1/2

cups

white sugar

3/4

cup

all purpose flour

3/4

cup

walnuts

,

chopped
Chocolate Frosting:
3

oz.

finely chopped dark chocolate or dark chocolate chips

1/4

cup

boiling water

1/2

cup

unsalted butter

,

well softened

3/4

cup

icing/confectioners sugar
Instructions
Preheat oven to 350° F. with rack in the centre of the oven. Grease an 8-inch square baking pan and line with a piece of parchment paper, so that it hangs over two opposite sides. Set aside.

In a bowl over a double boiler or in the microwave, melt the chocolate and butter. Let cool.

In a large bowl with an electric mixer or in the bowl of a stand mixer, beat the eggs and white sugar until pale and doubled. At low speed, add the cooled chocolate mixture and flour and beat until smooth. With a spatula, stir in the walnuts.

Pour the batter in to the prepared pan. Bake for 40-50 minutes, or until a toothpick inserted in the centre comes out with a crumbs and not completely clean. (*Do not over-bake. As soon as you can smell the brownies, start testing!). Let cool in pan.

For frosting: Heat water in microwave or a small saucepan until boiling. Place finely chopped chocolate or chocolate chips in a medium bowl and add the boiling water. Let stand for 1 minute, without stirring, then, with a whisk, stir until the ganache is smooth. Add the butter and stir until completely melted. Let stand to cool for 1 hour.

After 1 hour, with an electric mixer (or transfer to a stand mixer), whip the ganache until smooth. Add the icing sugar and continue mixing. If necessary, add a bit more icing sugar until you have an icing that is "spreadable" (would leave marks and hold shape if spread with a knife). This will produce a spreadable, but soft icing. If you'd prefer something a little stiffer, add more icing sugar.

Once brownies are cooled completely, remove from pan by running a knife along the bare end, then lift from the pan using the exposed parchment paper. Frost with frosting.
Nutrition
Calories:
442
kcal
Carbohydrates:
48
g
Protein:
5
g
Fat:
37
g
Saturated Fat:
20
g
Cholesterol:
123
mg
Sodium:
31
mg
Potassium:
203
mg
Fiber:
2
g
Sugar:
37
g
Vitamin A:
805
IU
Vitamin C:
0.1
mg
Calcium:
38
mg
Iron:
3.1
mg
Nutritional information provided for general guidance only and should not be relied upon to make personal health decisions.
Never miss a new recipe!
SIGN UP for email updates!