These Garlic Aioli and Parmesan Fries are a super simple way to dress up your plain fries and a must-try for garlic lovers!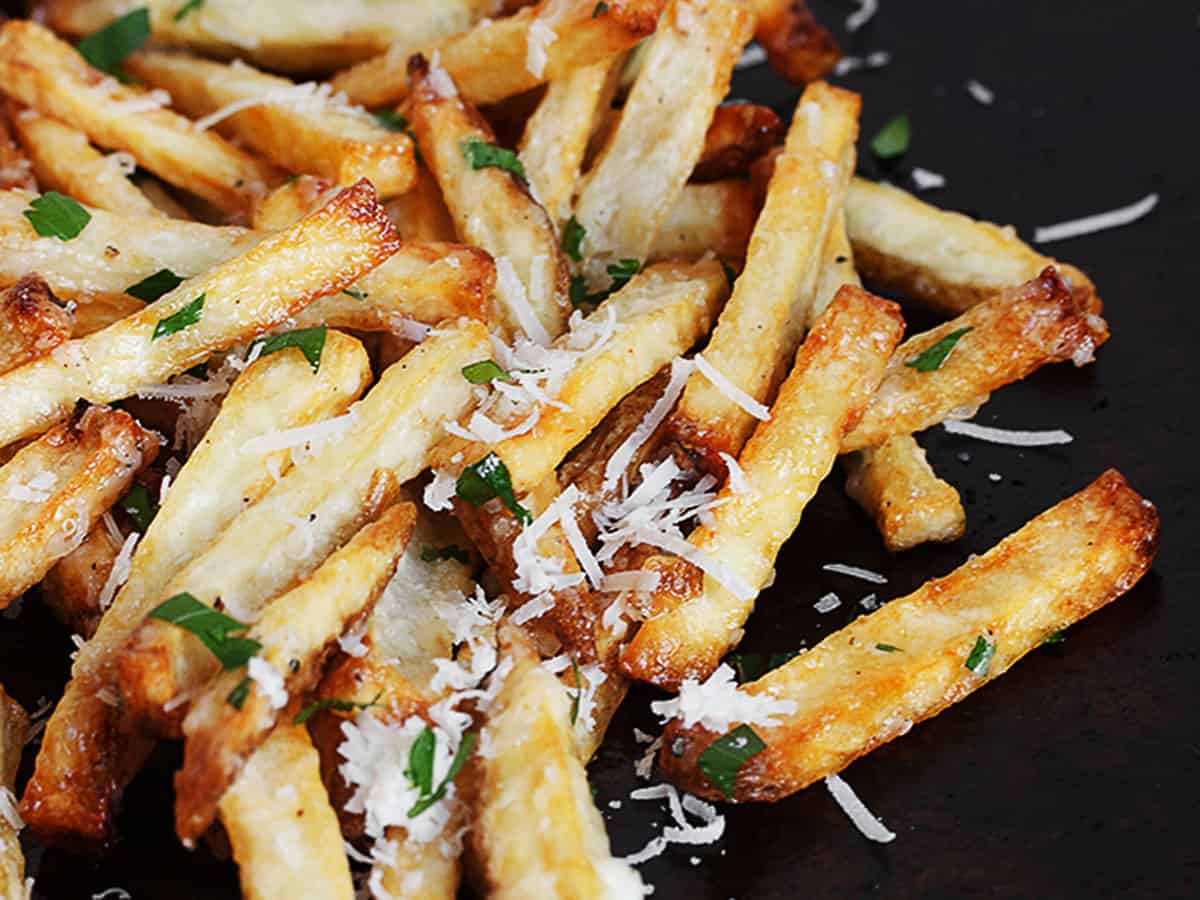 My sister lives in Toronto, so she has infinitely more restaurants to explore than I do living in a small town. She'll often tell me about some of the delicious dishes she's enjoyed and she knows enough to provide lots of details. I am, after all, a serial re-creator!
When she was describing these fries to me, she explained that they basically "hoovered" the whole plate. That's about all I had to hear. I knew I'd be re-creating these. Thankfully, this was one of my easier re-creations, as it's more of a how-to than a recipe :)
No matter how you make your fries (baked, fried, fresh-cut or frozen), the simple addition of a toss in garlic aioli and Grano Padano (or Parmesan) cheese will take your fries to a whole new level and are a perfect side for whatever meat you're cooking on the grill!
For these, I went with a cheater aioli that is basically dressed up mayonnaise. You can certainly make your own aoili, from scratch. There are a ton of recipes on the internet. But we're talking about fries here and I thought cheater would be just fine. The garlic aioli is drizzled on the hot fries, tossed, then sprinkled with the Grano Padano and tossed again. I added a bit of chopped flat leaf parsley, just for colour.
The garlic aioli basically melts in to the fries, giving them great garlic flavour. The grated Grano Padano sticks to the moist fries and coats them with cheese. If you'd like, you could also drizzle more over the top of the fries for more creamy garlic goodness.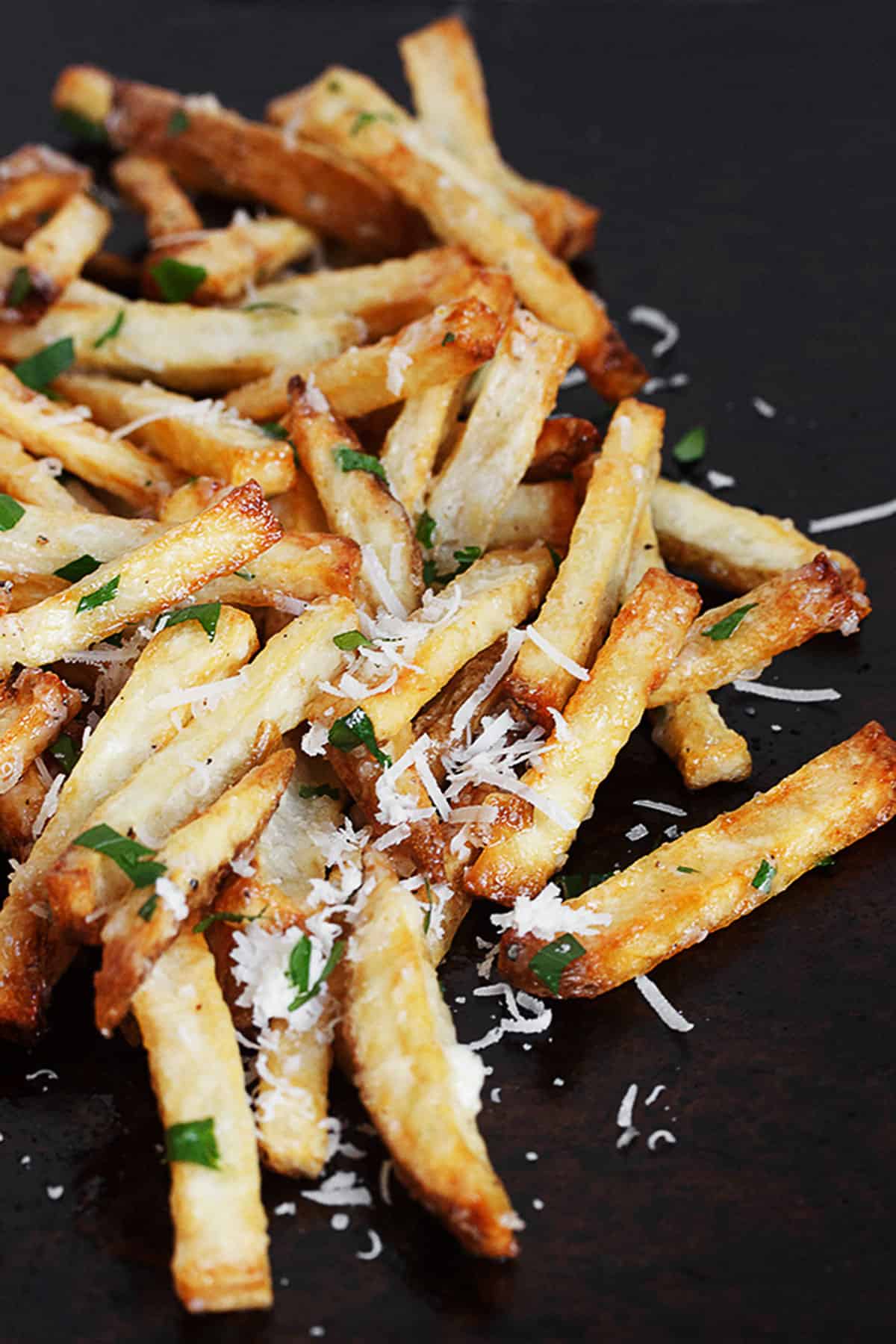 Get the Recipe:
Easy Garlic Aioli and Parmesan Fries
Hot fries, tossed in a quick and easy garlic aioli, Parmesan and herbs. A great way to dress up your plain fries.
Ingredients
Quick and Easy Garlic Aioli:
1/2

cup

real mayonnaise

,

(like Hellman's)

1

large clove

garlic

,

finely minced

1

tsp

freshly squeezed lemon juice

Pinch salt

Freshly ground black pepper
For finishing the fries:
Cooked hot fries

Cheater Garlic Aioli

,

(recipe above)

1/3

cup

freshly grated Grano Padano or Parmesan cheese

Chopped fresh flat-leaf parsley

Salt and pepper
Instructions
Cook your fries, depending on the fry method you prefer (bake, fry, fresh-cut or frozen etc.)

While fries are cooking, prepare the Cheater Garlic Aioli by combining all ingredients in a small bowl. If it's a little too thick, you can add a small splash of milk to thin. Cover and let sit until needed. If making ahead, cover and refrigerate.

Have ready your grated Grano Padano or Parmesan cheese and chopped parsley, along with a large bowl.

Once your fries are cooked and while they are still really hot, place fries in your large bowl. Drizzle with some garlic aioli and toss to coat the fries. Sprinkle some grated cheese and chopped parsley on top and toss again. Sprinkle with a bit of salt (remember, the cheese is saltand lots of freshly ground pepper.

Transfer to a plate. If you like, drizzle a bit more garlic aioli on top and/or a bit more grated cheese. You can also serve any left-over aioli on the side for dipping.
Notes
Be sure to read the "Cook's Notes" in the original post, for more tips, options, substitutions and variations for this recipe!
Calories:
391
kcal
,
Fat:
20
g
,
Saturated Fat:
3
g
,
Cholesterol:
11
mg
,
Sodium:
177
mg
,
Vitamin A:
20
IU
,
Vitamin C:
0.5
mg
,
Iron:
0.1
mg