An easy, hearty and delicious dish, with pork shoulder, cooked low and slow, together with pinto beans, all in a baked bean like sauce. Make this one in the oven or in a slow cooker.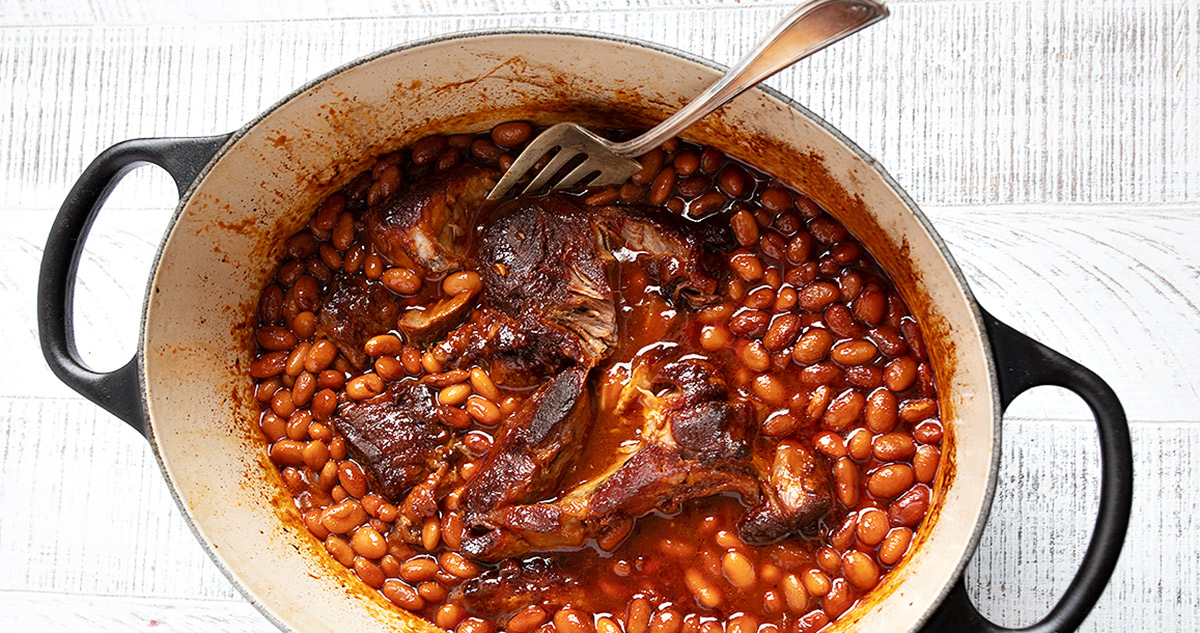 While March may be the beginning of Spring for some, it's just another month of Winter, for us. So comfort food season continues here, with this easy and hearty pot of Pork and Beans.
This dish is made easy with canned beans, cooked in a comforting and delicious baked bean like sauce. It's a great dish for getting the flavours of baked beans with pork, without all the work.
While this dish does need some time in the oven, to cook low and slow, the hands-on time is a short 10 minutes, so once it's in the oven, you just need to check on it a couple of times. It's a wonderful dish to cook on the weekend, when you can enjoy the lovely smells through the house. And for those who love to use their slow cooker, I've included a slow-cooker version here as well.
Jump to:
Ingredients
Pork shoulder roast - look for a boneless pork shoulder roast, if you can find it, or one with a small bone is fine, too. It doesn't matter if it's wrapped in string or not. I like one that has good fat marbling, but not excessive fat.
Cooking oil
Salt and freshly ground pepper
Onion
Two 19 oz (560ml) cans pinto beans
For the sauce, you will need:
Ketchup
Brown sugar
Fancy molasses - this is the molasses often labelled "Fancy", not the molasses labelled "Cooking" or blackstrap
Dry mustard - powdered mustard. You could substitute with a heaping Tbsp of prepared mustard.
Salt and freshly ground pepper
Step-by-Step Photos
Here are the easy steps to make this recipe ...
Step 1: Mix up the easy sauce and set aside.
Step 2: Brown the pork on all sides.
Step 3: Add the onion to the pot.
Step 4: Cook the onion until softened.
Step 5: Add the sauce to the pot. Cover and bake.
Step 6: Cook, covered, until the pork is fall-apart tender. Remove to a plate.
Step 7: Add the beans to the pot.
Step 8: Return to the oven to cook uncovered, until the sauce reduces and thickens.
Cooking Tips
While I've provided a slow cooker version of this recipe, I do prefer the oven method, personally. I just love the way the pork and sauce cooks up in the oven. Unless you really want to do a slow cooker meal, go for the oven method.
I've found that pork shoulders can give off varying amounts of liquid as they cook, but I've tried to keep the added liquid to a minimum, to keep from watering down the sauce too much. So that said, for the oven method, keep an eye on the liquid level and add additional water if you feel it's needed. If the liquid is getting syrupy at any time, definitely add some water. For the slow-cooker version, I've specified just adding some water at the start, so you don't have to check it as regularly.
Do taste your sauce at the end of cooking. As there is salt in the beans and in the sauce ingredients, you may not need to add additional salt ... or you may. Taste and add some if necessary.
Depending on the cut of pork you started with, you may have some fat on the top of the dish when it's finished cooking. You can spoon it off and discard (or use the edge of a paper towel and let it wick up onto the towel). Another option, if you are making ahead, is to simply refrigerate it. Once cooled, the fat will solidify on the top and you can easily spoon it off and discard before re-heating.
Top Tip
All canned beans are not created equal. For recipes like this, where beans are the star of the pot, buy a good-quality, name-brand canned bean. Off-brand or store-brand beans can sometimes be tough and chewy, which can make a huge difference in a dish like this one. So don't take the chance, when making this bean-rich dish.
What to serve with Pork and Beans
If you'd like to add a carb (and why not?! :), spoon this over mashed potatoes or toast, or serve with a nice crusty bread. A simple side salad is all you need to complete the meal.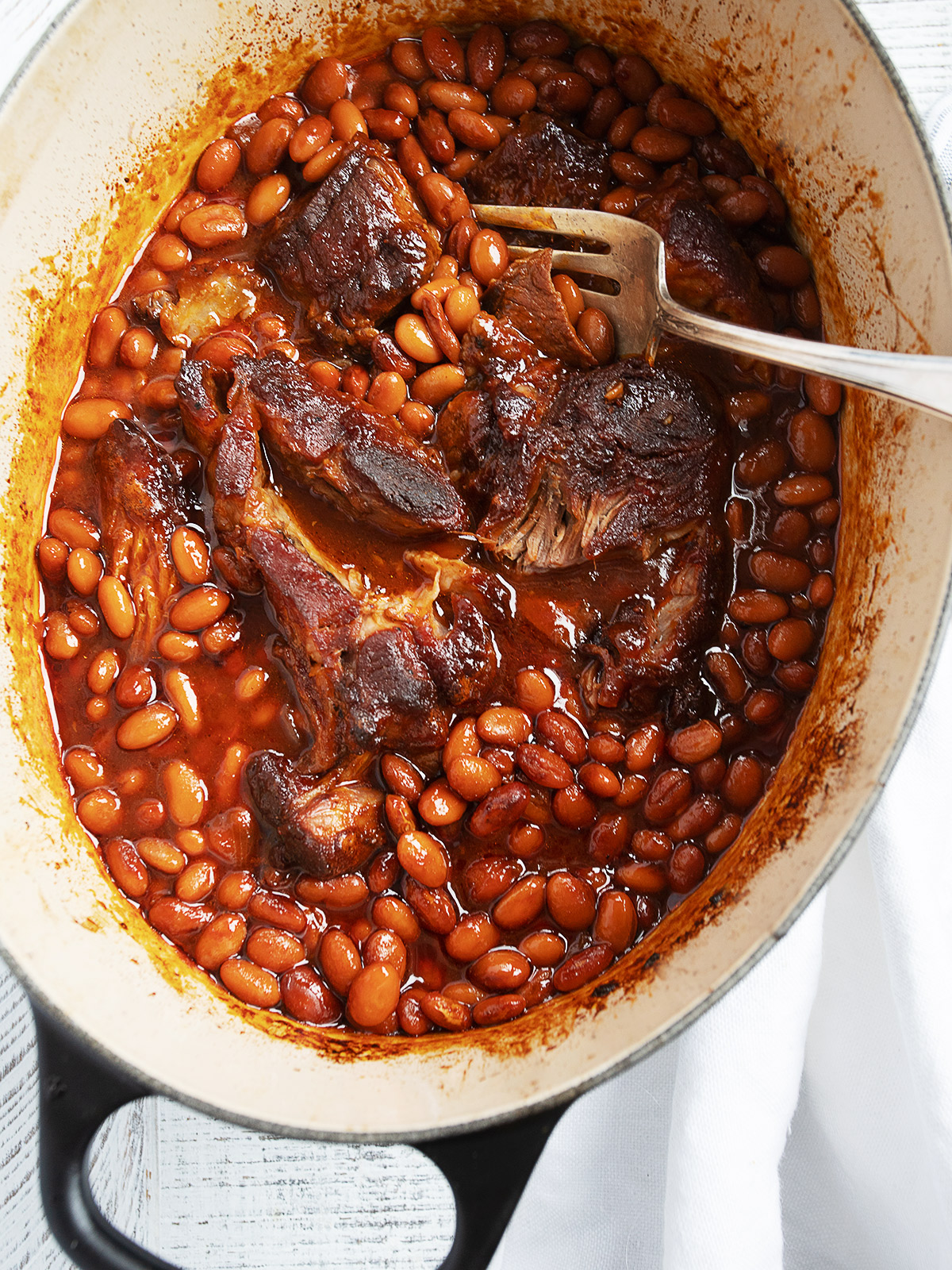 Recipe
Recipe was inspired by an Ali Slagle (NYT) recipe. I have changed up the sauce and cooking method.
More pork recipes you might like ...