This quick and easy homemade Italian bread is ready to enjoy in just 2 hours! With a soft, chewy crust and a light as a feather interior, this bread is a great last minute addition to any meal and it also keeps for days on the counter. Freezes beautifully, too!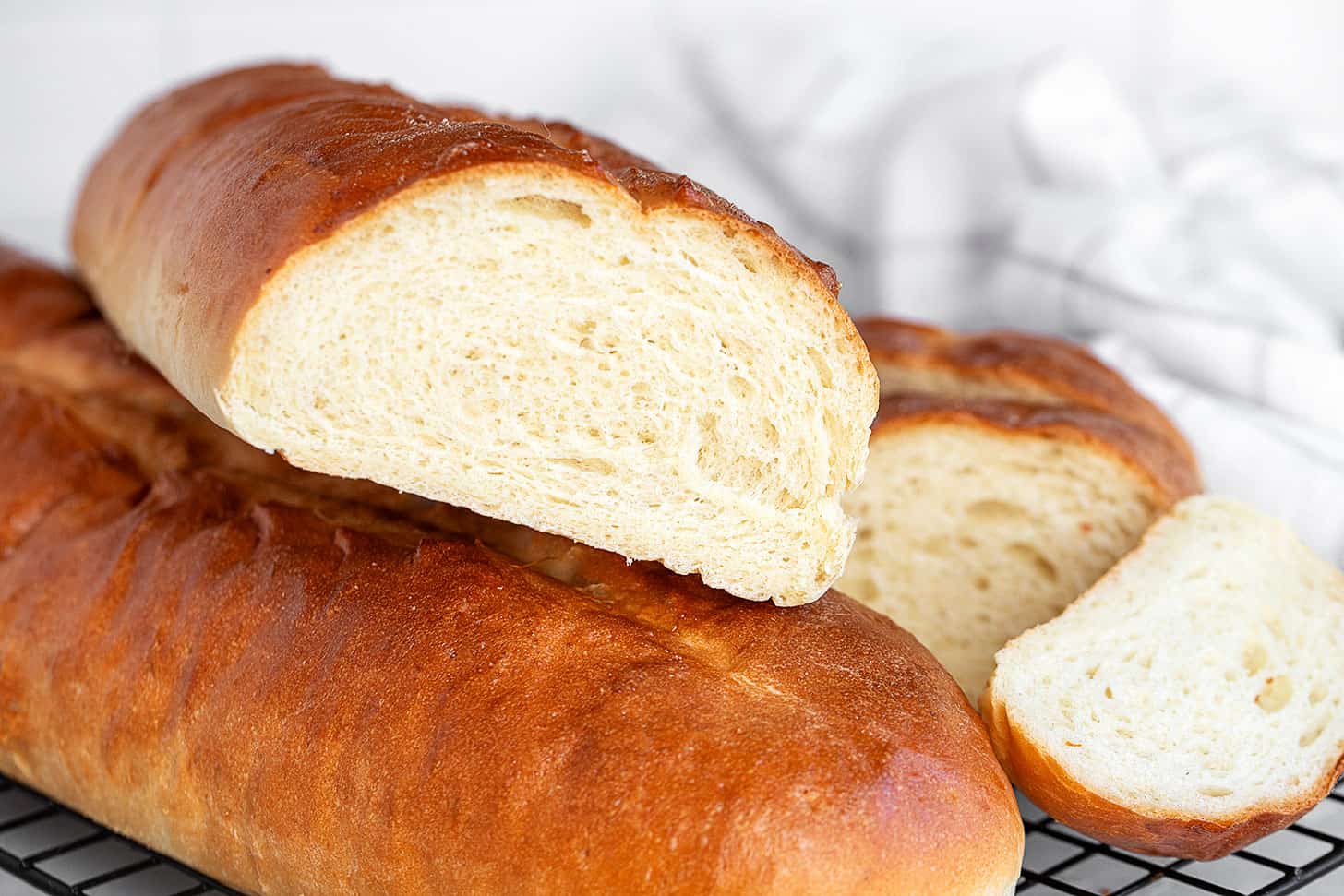 This incredibly quick and easy Italian bread recipe is also known as Italian Feather Bread. It's a favourite of mine both for it's texture and flavour, but especially because it's a perfect impromptu bread, that ready to enjoy in less than 2 hours!
Why I love this quick and easy Italian bread recipe!
You can start this bread mid-afternoon and enjoy it warm for dinner. It's like a crazy bread party trick!
From one quick and easy bake, you'll get two huge loaves – so there's one to enjoy for dinner and another for toast in the morning and sandwiches for lunch! Or enjoy one right away and pop the other in the freezer for later.
This bread is great eaten out of hand with butter, makes great toast (or grilled cheese) or enjoy it for smaller sandwiches.
This bread keeps well on the counter for days (wrapped), so it's perfect to grab a slice as needed. I love to keep it out on a cutting board on the counter, with a bread knife and some soft butter.
Ingredients and substitutions
Flour – bread flour is perfect for this bread if you have it. Otherwise, use all-purpose, preferably unbleached. You will need a bit less flour over-all if using bread flour and a bit more if using all purpose.
Yeast – you can use Active dry yeast here, but my preference is always Instant yeast, such as SAF brand instant yeast.
Butter – you can use salted or salted butter here. Simply adjust the added salt according to the instructions in the Recipe Card. For a vegan loaf, substitute with the butter with an equal amount of vegetable or canola oil or extra virgin olive oil. (Loaves made with oil will have less flavour and the texture and shelf-life will be slightly different).
You will also need – white sugar (or brown sugar or honey), salt and an egg white, for brushing (can omit if you have no eggs on hand).
Step-by-step photos
Start the dough by adding lukewarm water and sugar to the bowl of a stand mixer, then sprinkling in the yeast (or a large bowl if making by hand).
Measure out the hot water and add the butter pieces and salt.
Add the butter/water mixture to the yeast mixture.
Fit the mixer with the padding attachment to add the first bit of flour.
Mix in the first 3 cups of flour.
Switch from the paddle attachment to the kneading hook and add another cup of flour.
Add more flour in smaller increments until the dough mostly cleans the bowl and wraps the hook, but there is still a sticky spot under the bottom of the kneading hook.
Remove the dough to a floured work surface. As the dough is a bit sticky at this point, use a bench scraper or silicone scraper to knead in additional flour, just until the dough is no longer sticky and is kneadable by hand.
Weigh out the dough so you can divide it into 2 equal size pieces.
Take one piece of dough and roll into a 12×8-inch rectangle, then roll up quite tightly, pinching down as you roll it.
Pinch the seam together at the end of rolling, as well.
Tuck the ends under and pinch together to make smooth, rounded ends.
Repeat with the 2nd piece of dough, then place on a large baking sheet and cover with greased plastic wrap to
Rise the loaves until doubled in size about 30-60 minutes (less in a hot kitchen or a bit more in a cool kitchen).
Brush the loaves with the egg white. If desired, you can cut a slit down the centre of the loaves with a lame or sharp knife before baking. Bake the loaves for about 15-20 minutes or until golden.
Recipe video
Recipe tips!
You don't need a mixer to make this bread, though it does help when it comes to kneading the sticky dough.
Always treat the flour amount as approximate, adding only as much as needed to bring the dough together as described (though if you use a scale to measure the flour, it becomes less approximate, so I highly recommend going that route).
Likewise, the rising time is always approximate. It may take more time or less time in your kitchen or in different seasons. Always trust what you see and don't get hung up on the time on the clock.
Some breads need some scoring (slashes) on the top to control the expansion while it bakes, but this is not one of those breads. You definitely don't need to score it unless you enjoy playing with your bread lame like I do :)
I always add a roasting pan with water to the oven to add some steam while the loaves bake. Sometimes steam is used to create a crispy crust, but for this bread, it creates an extra bit of chewiness to the crust and prevents the loaves from crusting too early, which helps the loaves to rise to their fullest, fluffy potential. It's not critical though, just my preference. You can certainly skip it if it seems a step too much.
How to enjoy this Italian bread
This bread is fabulous enjoyed out of hand with butter. It is a great side for soups and stew or any dish with gravy, as it is perfect "sopping up" bread.
This light bread also makes a great sandwich bread, either plain or toasted (though they would be smaller sandwiches :)
These shorter loaves are perfectly shaped for crostini. Simply slice thinly, place on a baking sheet and toast both sides.
Finally, if you have an end left that is past its prime, cube it up and toast it for croutons or freeze it for a future bread pudding.
Making ahead, storing and freezing
This bread is at its most fabulous freshly baked or on the day it is baked, but it keeps incredibly well stored in an airtight container or plastic bag on the counter for a good 3 days (or more!).
This bread will freeze beautifully for up to 3 months, well wrapped.
Get the Recipe:

Easy Homemade Italian Bread
This quick and easy homemade Italian bread is ready to enjoy in just 2 hours! With a soft, chewy crust and a light as a feather interior. Keeps for days on the counter and freezes beautifully, too! Makes 2 loaves.
Ingredients
5-5 1/2

cups

(

625

g

)

bread flour or all purpose flour

,

spooned and levelled, bread flour recommended

4 1/2

teaspoons

active dry or Instant yeast

,

instant yeast recommended

1

Tablespoon

granulated white sugar

1

cup

(

250

ml

)

lukewarm water

,

about 105F

1/3

cup

(

76

g

)

butter

,

cold, cut into small cubes *see Note 1 below

3/4

cup

(

180

ml

)

hot water

,

(hot tap water is fine)

1 1/2

teaspoons

fine table salt

,

add another 1/4 tsp if using unsalted butter
For the pan:
Oil for brushing pan

,

or cooking spray

cornmeal

,

for dusting the pan
For brushing before baking:
1

large

egg white

,

lightly beaten
Instructions
In a large bowl or the bowl of a stand mixer fitted with the paddle attachment, add the lukewarm water, sugar and yeast. Stir and let stand 5 minutes.

Meanwhile, measure out the hot water in a

2

-cup (500ml) measuring cup. Add the salt and stir to dissolve. Add the cold butter pieces into the water. Let stand until the hot water cools to lukewarm (105F).

Add the hot water/butter mixture to the bowl with the yeast mixture. Add

3

cups (

375

g) of the flour to the bowl. Using the paddle attachment, mix together on low speed to start, then medium speed until well combined and all the butter pieces have disappeared.

Remove the paddle attachment (scraping well), and replace with the kneading hook.

Measure out 2 cups (250g) more flour. Being adding this flour to the bowl, starting with adding about 1 cup (125g), then adding more in smaller increments, kneading in well as you go. You want the dough to clean the bowl and wrap the dough hook, but still have a sticky bit at the bottom of the bowl. Add additional flour, as needed, to get the dough to that point. Once you get to that point, let it knead a couple of minutes to develop the dough. Tip! You may find that you don't need to use quite all of the additional measured flour or you may need to add even a bit more that the measured amount. That's fine. Add as much as you need to get the dough to the point described. (If you're unsure what the finished dough should look like, refer to the Recipe Video above this recipe card.) If in doubt, leave it a bit stickier, as it is easier to add flour on the counter than to add water to dough that is to stiff.

Remove the dough to a floured work surface. If the dough is sticky, use a bench scraper or silicone scraper to fold the dough over on itself, dusting with additional flour as needed, until the dough is kneadable by hand. Knead the dough by hand for a minute or so.

Divide the dough into 2 equal pieces (I like to weight the entire dough to calculate the exact weight for the two pieces and weigh the pieces out. My dough ball is typically around 1150g and the pieces are in the 575g range. Yours may be a bit more or less and that's fine, as long as it's in the ballpark.) Form the two pieces into balls and let rest 5 minutes. You can throw a clean tea towel over them if you like.

Prepare a large baking sheet (11×15-inch pan works well!) by lightly brushing with oil (or spraying with cooking spray) and sprinkling with cornmeal. Set aside.

With one piece of the dough, roll into a 12" wide by 8" deep rectangle. Starting with the 12" side, roll up tightly and as you roll, pinch the lower part of the rolled part down onto the flat part along the edge (refer to the Recipe Video if this isn't clear). Once rolled entirely, pinch the seams together. Place the roll with the seam side down. Measure the roll. You want it to be 12" long, so if it is a bit longer tap on both ends to shorten it back up, as needed. Tuck both ends of the roll under and pinch together to make rounded ends. Place onto prepared baking sheet, then repeat with the other piece of dough. Tip! Place the logs closer to the long edge than you think you should. I find leaving about 2 inches between the long edge of the pan and about 4 inches between the two loaves works well.

Spray with cooking spray or lightly brush a large piece of plastic wrap with oil. Place oiled side down over the two loaves. Let the loaves rise until doubled in size. Tip! This can take anywhere from 30 minutes to 60 minutes, depending on the temperature of the kitchen, so be ready to check on it as it rises. Tip! Trust what you see and don't be married to the clock. You don't want to over-rise the bread.

Preheat oven to 425F / 220C (not fan assisted).

Meanwhile, prepare the egg white and have a brush ready. Measure out 1 cup of water and have ready a rimmed baking sheet, cast iron skillet or roasting pan.

When loaves are almost ready, pop the empty rimmed baking sheet onto the rack below the centre rack to preheat. Remove the plastic from the risen loaves and brush thoroughly with the egg white (be sure to brush evenly all the way around and to the bottom of the loaves). If you like, you can cut 3 diagonal slashes into the loaves or a slash down the centre of the loaf (this is totally optional).

Just before placing the loaves into the oven, pour the water onto the hot baking sheet (I pour it right through the centre rack onto the baking sheet, so I don't need to move the sheet in and out), then immediately place the baking sheet with the loaves onto the centre rack to bake.

Bake the loaves for 15-20 minutes, rotating the pan front to back after 10 minutes of baking. Bake until deep golden and they sound hollow when tapped. If you have an instant read thermometer, you can use to check the loaves. They should reach 195F internal temperature.

Remove the loaves from the oven, then immediately remove to a cooling rack to cool almost completely before slicing (slicing hot bread makes for a gummy interior, so let them cool as long as you can.) Tip! If your loaves baked together in the centre, leave them attached while they cool, to keep the steam in the loaves, then separate them once cooled.

Once cooled, store the loaves at room temperature in an airtight container or plastic bread bag. The bread will keep well for 3 days or more. This bread will also freeze well up to 3 months.
Notes
Note 1: You can replace the butter with an equal amount of vegetable or canola oil or olive oil, if you prefer. This substitution may alter the formula slightly and may require a bit more flour to bring the dough together as described. This change may also affect the flavour (less flavour) and the shelf-life (a little shorter shelf-life). I would generally recommend using the butter, unless you don't have butter on hand or you are wanting to make a butter-free loaf.
Be sure to read the notes above this Recipe Card, for more tips on making this recipe. You'll also find step-by-step photos and a Recipe Video, that you may find helpful.
Serving:
1
serving
,
Calories:
82
kcal
,
Carbohydrates:
13
g
,
Protein:
3
g
,
Fat:
2
g
,
Saturated Fat:
1
g
,
Polyunsaturated Fat:
0.2
g
,
Monounsaturated Fat:
0.5
g
,
Trans Fat:
0.1
g
,
Cholesterol:
4
mg
,
Sodium:
102
mg
,
Potassium:
32
mg
,
Fiber:
1
g
,
Sugar:
0.4
g
,
Vitamin A:
48
IU
,
Vitamin C:
0.004
mg
,
Calcium:
4
mg
,
Iron:
0.2
mg
Adapted from a James Beard recipe.
More Bread Recipes to Love!
Hi! I'm Jennifer, a home cook schooled by trial and error and almost 40 years of getting dinner on the table! I love to share my favourite recipes, both old and new, together with lots of tips and tricks to hopefully help make your home cooking enjoyable, stress free, rewarding and of course, delicious!