Walking you through making a basic white yeast bread at home, with tips and step-by-step photos. Makes two loaves and freezes beautifully!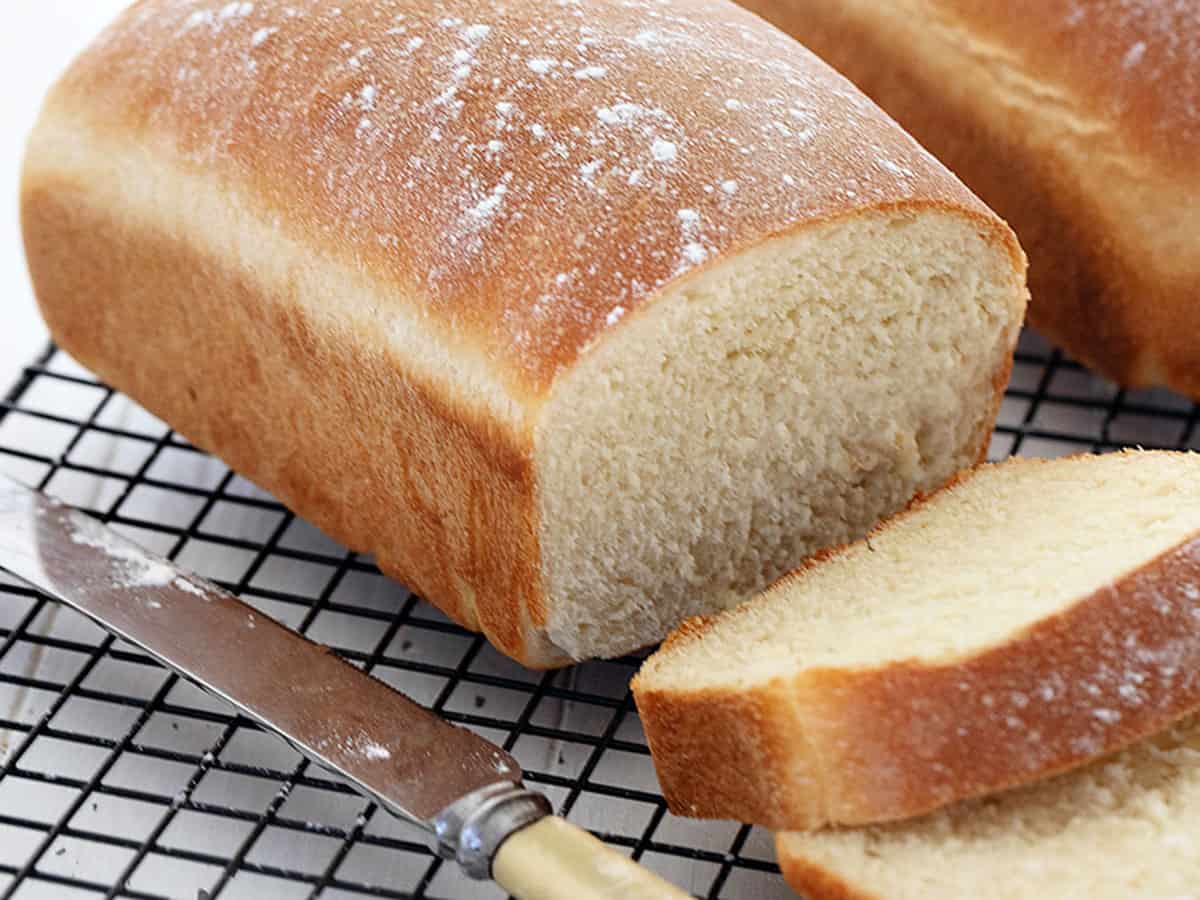 As we are all struggling to adjust to our new reality, I'm looking for ways that I can provide something that may help people right now. I hear that people have been stocking up on flour and yeast, so I'm assuming some people may be looking to make their own bread, perhaps for the first time.
Since homemade bread making is something I do a lot, I figured I could make myself useful by providing a great, basic homemade white bread recipe and to walk you through the process of making it.
New to bread making? Check out my Get Started with Yeast Bread Baking resource page.
This simple 6-ingredient recipe will make two 1 lb. loaves of bread. The recipe has lots of flexibility in terms of ingredient options and doesn't use a ton of flour to make two loaves. I love this loaf as it's a nice sturdy loaf, that slices well and easily to any size slice.
This bread freezes beautifully, so you can enjoy one right away and freeze the other for later. It also features an easy, no-rolling-needed shaping method, that's great for beginners.
Jump to:
Ingredients
Flour: The first choice for flour would be unbleached, all purpose flour. Regular all purpose flour will work fine here as well. Bread flour will also work, though the amount needed for this recipe will be slightly different. You will need about 5-6 cups of flour for the 2 loaves. If you have less, you can halve the recipe and make just one loaf.You can replace 1 to 1 1/2 cups of the white flour with whole wheat flour, if you like. The whole wheat flour will probably absorb more liquid, so you may end up needing less total flour overall. Using whole wheat flour will result in a more dense textured bread.
Yeast: Regular Active Dry Yeast or Regular (not quick-rise) Instant Yeast is recommended here, as this is a two-rise bread.If you only have rapid-rise or quick-rise yeast, you can adapt this recipe to work with that. Simply skip the first rise and shape the loaf right after mixing and allow it to do one good rise in the pan before baking. The resulting bread from quick-rise yeast will have less flavour than a standard 2 rise bread, which is why it's not the first choice if you have options.
Vegetable Oil or Butter: Pick whichever you prefer. Vegetable oil has less flavour, but produces a more tender crumb and a bread that tends to stay fresh longer. Butter provides more flavour, but doesn't stay fresh quite as long. If using butter, use it melted and cooled.
Milk or Water: Milk is a great choice for this bread if you have plenty on hand, for best flavour and texture. Any fat level of milk is fine or even re-constituted powdered milk is fine. Use what you have. You can substitute an equal amount of water, if milk is unavailable or in short supply. Obviously, the flavour of the loaf will be affected somewhat, though the texture will be fine.Another option is to use part milk, part water. It's really quite flexible in that respect. Simply keep to the amount of liquid specified, whether milk, water or a mixture of both.
Salt and Sugar: Both of these provide flavour and in the case of the sugar, a little food for the yeast to do its work. You can substitute honey or maple syrup for the white sugar, if you prefer.
Step by Step Photos
I have use a stand mixer fitted with a kneading hook, but if you don't have a mixer, simply get yourself a big bowl and a wooden spoon and do your kneading on the counter instead.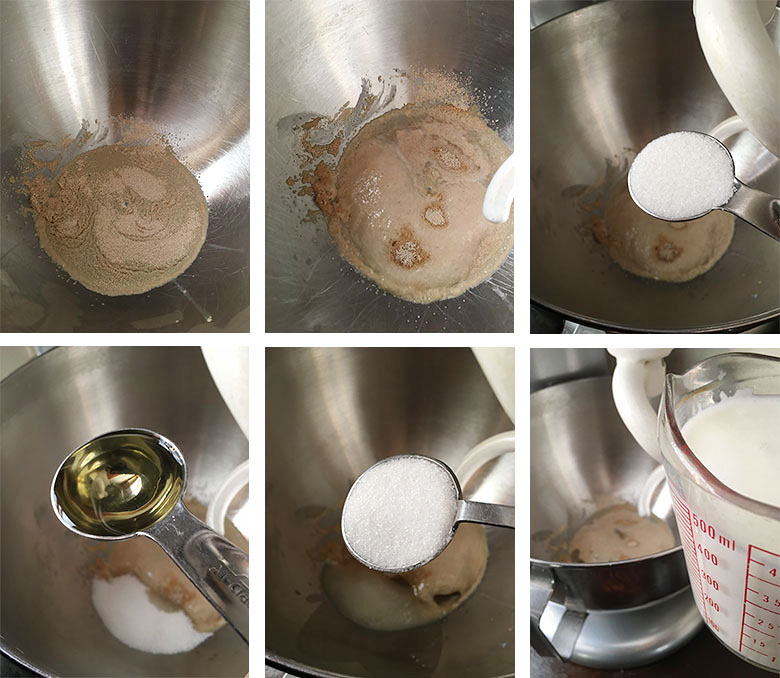 Step 1: Add the 1/4 cup of lukewarm water (105-110F, if you have a thermometer) to your mixer (or bowl). Sprinkle the yeast over-top, give it a quick stir and let stand for 5 minutes.
Step 2: While your yeast is sitting, go ahead and warm your milk or water to lukewarm (105-110F) on the stove-top in a saucepan or in the microwave. If you don't have a thermometer just test it like you would a baby bottle. It shouldn't feel hot. Just comfortably warm.
Step 3: Your yeast should look foamy at this point. Go ahead and add the salt, sugar, oil (or butter) and lukewarm milk (or water). Mix to combine.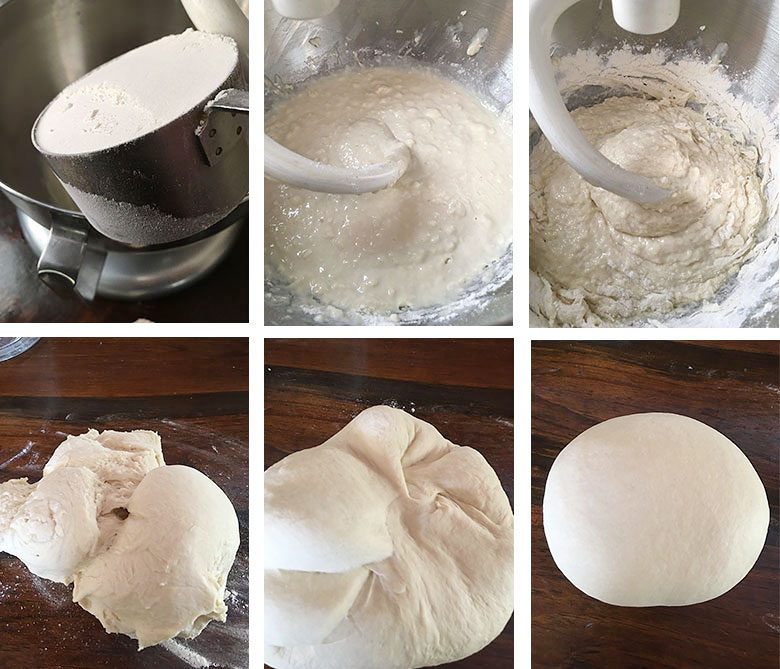 Step 4: With your mixer running on low (or in your bowl with a wooden spoon), add just 2 cups of the flour, one cup at a time, mixing in as you go.
Step 5: Add the 3rd and 4th cup of flour and mix in. Your mixture will start to move from batter-like to dough-like, but will still be quite moist and loose.
Step 6: Begin adding your 5th cup of flour is smaller increments, mixing as you add. If mixing by hand, when the mixture becomes difficult to stir, remove the dough to a well-floured work surface and continue adding flour and kneading it in.
Step 7: As the dough comes together and starts to gather around the kneading hook and starts to clean the bowl, add flour in very small amounts, just as needed, until you have a moist, but not sticky, smooth dough.I made a short video of the last part of mixing/adding flour. If you are new to bread making and you think it would be helpful to see the end part of mixing the dough, pop on over to my Youtube page to give it a watch. Note that I've sped up the video so it looks quicker than it will actually be. You want to use Speed 2 only on your mixer when mixing the dough. My bread took slightly over 5 cups of flour, though your mileage may vary. Just use as much as needed.

Notice how the flour is added in small increments towards the end. I'm especially looking for stickiness at the bottom of the bowl, the smoothness of the dough and how clean the bowl is (sticky dough/sticky bowl). You are always better to err on the side of just slightly sticky dough, than risking adding too much flour and ending up with a stiff dough. You can always knead in a bit more flour when you move the dough to the countertop, but it's impossible to take flour out.

Step 8: Remove the dough to a floured work surface and knead by hand for about a minute, then form your dough into a ball. If you can't knead it because it's sticky, add more flour in small bits, as needed, until it is no longer sticky. If you can't knead it because it's too stiff, you have added too much flour. It's tough to remedy that at this point, as adding water will just make it slimy. You can try spraying it with a bit of water to see if that might loosen it up a bit.
Step 9: Spray a bowl or large measuring cup with cooking spray. Drop your dough ball into the bowl, top down (so it comes into contact with the cooking spray, then flip it over so the top of the ball (now oil-coated) is up. Cover the bowl tightly with plastic wrap and let stand at room temperature until doubled, about 60-90 minutes. I use my 8-cup measuring cup, so I can easily see when it's doubled. To test if the dough is ready, poke your baby finger into it. If the indentation remains (doesn't fill back in), it's good to go.
Step 10: Remove the dough to a floured work surface and press down on it to deflate it. Divide the dough into 2 equal pieces.
Step 11: Grease two 8x4-inch loaf pans and have ready.
Step 12: Working with one piece of the dough, form it into a rough oval, about the length of your baking pan. I like to set the pan beside me as I do this so I can see the length needed. Flip your oval of dough over and pinch together the sides in the centre, bringing in the ends when pinching as well. You should have a pinched seam down the centre of the dough. Flip the dough back over again and it should look tighter with a more defined shape. *Don't stress this part. Your dough will still rise if it isn't perfect. It will just rise better if you can do that bit of pinching. Just remember the goal is to make the dough on top of the loaf taut, by pinching it underneath.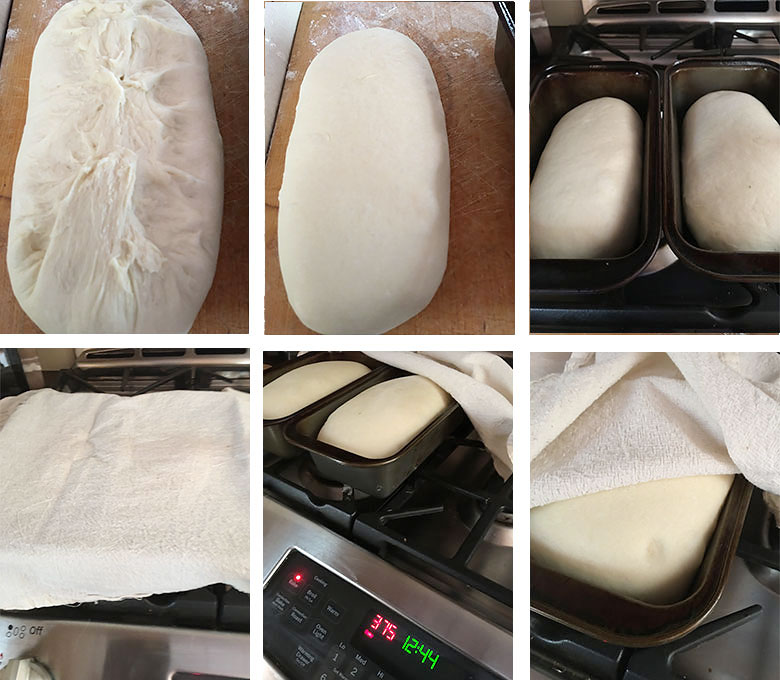 Step 13: Place the dough into your prepared loaf pan, seam side down. Repeat with the other piece of dough.Cover the pans with a clean tea towel (or plastic wrap) to rise until doubled. This should take anywhere from 30-60 minutes. Keep an eye on it. Again, you can test if it's ready by poking it with your finger. If the indentation remains and just slightly and slowly fills back in a bit, it's ready to bake. (If the indentation fills back in immediately, it is not ready to bake). Start your oven preheating to 375F. *Note: I started my dough at 10:50 am and it was 12:44 when it was ready for the oven, so about 2 hours from start to baking time, or about 2 hours, 30 minutes start to finish. Your rising time may be different, depending on the temperature of your kitchen. Trust what you see, not the clock.
Step 14: When the dough is ready to bake, place in preheated 375F oven, with the rack in the centre of the oven. Bake for 25-30 minutes or until the loaf tests at least 190F when tested with a thermometer or when it is dark golden and has pulled away from the sides of the pan. Mine took 28 minutes to reach 190F internal temperature. If you don't have a thermometer, you can use a skewer to test. Just poke it in from the side close to the edge of the pan, into the centre of the loaf. It should come out clean and dry.
Step 15: Remove the loaves from the oven and immediately remove from the pans to a cooling rack to cool. Allow to cool almost completely before slicing, as slicing a hot loaf can make the loaf turn gummy.
Storage and Freezing
Store your baked bread at room temperature, wrapping the cut end with plastic wrap. I like to store it on a cutting board, wrapping just the cut end, but placing the cut side down, to keep the plastic secure against the cut end, to keep the moisture in the bread.
Baked and cooled bread can be tightly wrapped and frozen for up to 3 months, though it will be best if used within the first month after freezing.
Recipe
More Yeast Bread Recipes You Might Like ...