Elevate your burger game with this delicious, homemade hamburger buns! These brioche-like buns are light in texture and high in flavour.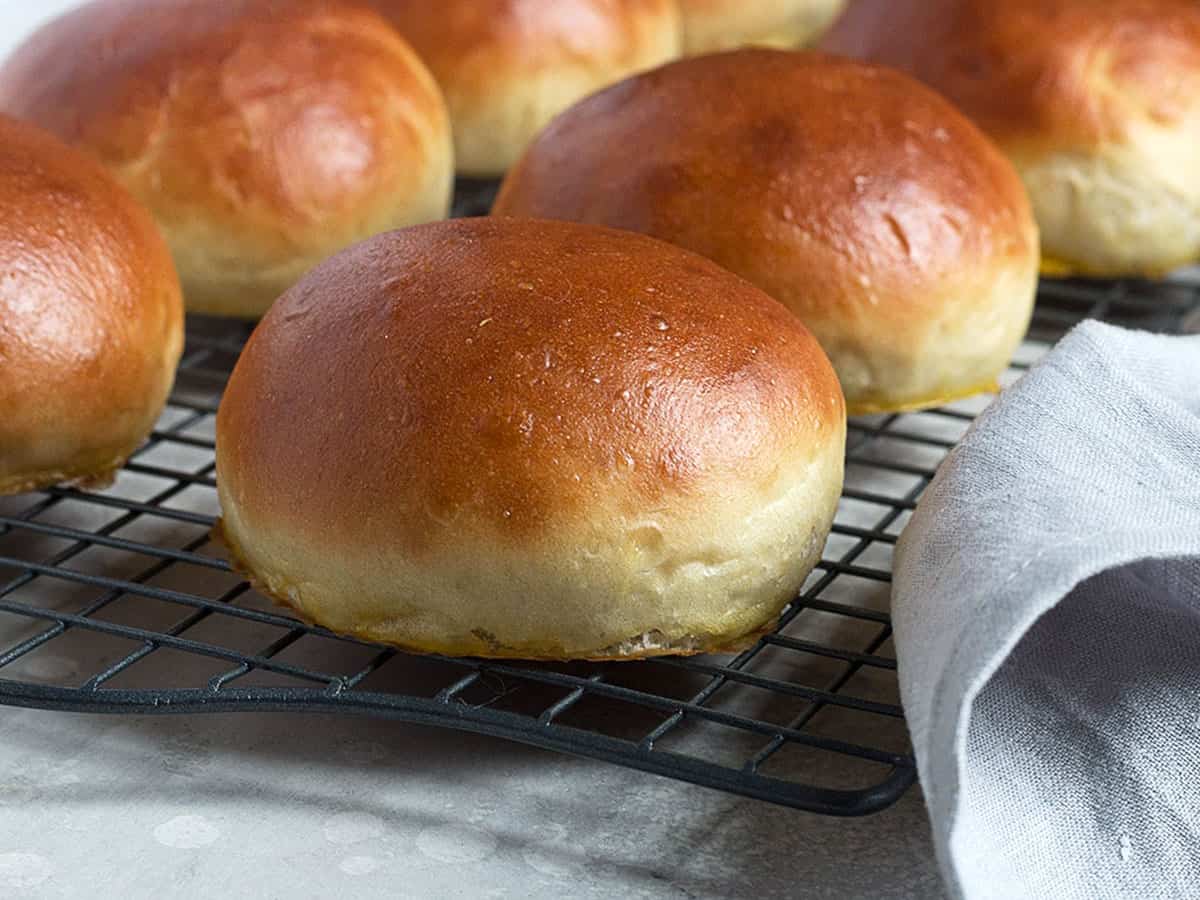 This is the only hamburger buns recipe I've used to make hamburger buns for years! While these buns are enriched with eggs and a bit of butter for flavour, they somehow still manage to be light in texture, yet sturdy enough to hold all the burger and the toppings.
I love that I can make these burger buns without a stand mixer. The simple dough comes together easily in a large bowl.
So if you're looking to elevate your burger game this Summer, these delicious homemade hamburger buns are a great place to start. They freeze beautifully, so make a couple of batches and load up the freezer and you're always ready for a leisurely Summer BBQ
Key Ingredients
Bread flour: You'll get the best results if you start with bread flour and even better, if you start with unbleached bread flour. Here in Canada, that's not the easiest to find on the shelf in grocery stores. I get mine at Bulk Barn. Failing that, bleached bread flour is fine. You can use just all-purpose, but your buns might not rise quite as high.
Active Dry or Regular Instant Yeast: Active dry yeast needs to be proofed (soaked) in warm water before using. I never use dry active yeast myself, but prefer to use Instant Yeast (such as SAF Brand). While Instant Yeast doesn't require proofing in water before using, it doesn't hurt if you do, so I just go ahead and proof the Instant Yeast in the same manner as described in the recipe. Instant Quick-rising or rapid-rise yeast will not work with these buns and are not recommended.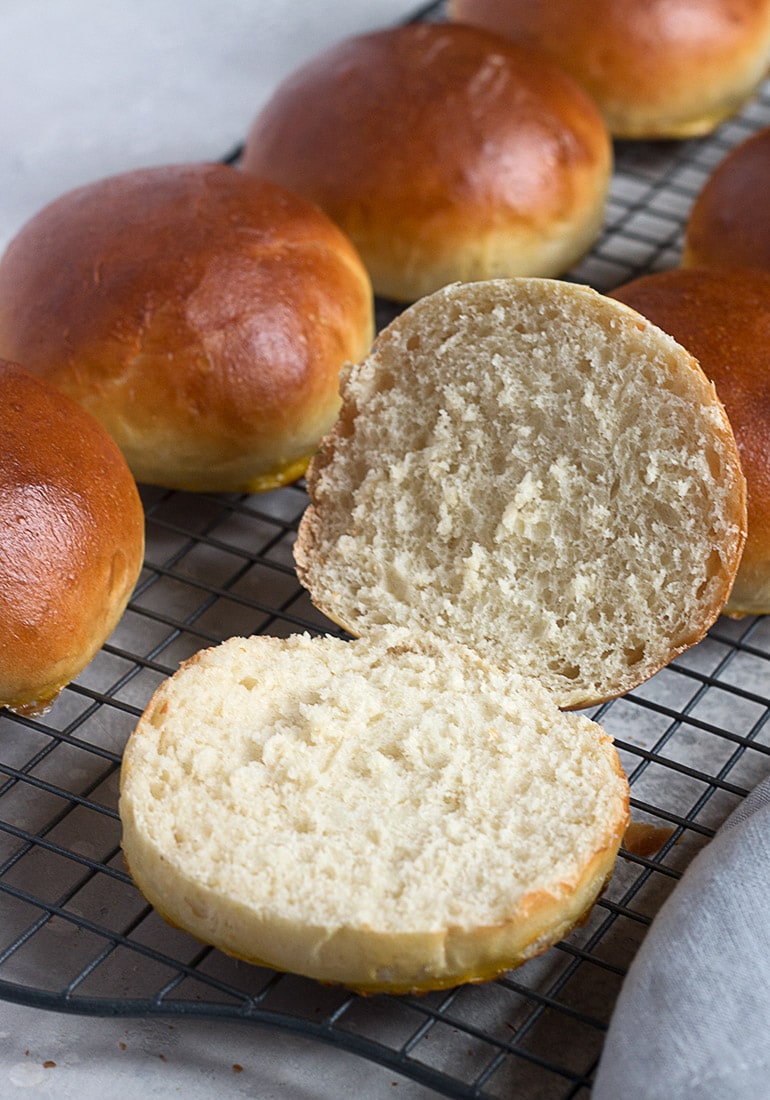 Video: How to make homemade hamburger buns
I think the one thing that tends to trip people up when making buns is the shaping of "the ball". It's quite understandable that someone might think that you just need to grab a piece of dough and form/squeeze it into a ball shape. In fact though, there is a bit of a technique to creating "a ball" with dough, that creates what's known as surface tension or tightness on the top of the ball. It's this tension that encourages the dough to rise higher, while also creating a lovely smooth top.
The technique for forming the dough into buns is shown in this video. It's the easiest way I think and produces great results.
1. Stretch the top to create a smooth top.
2. Flip over and stretch the sides in towards the centre and pinch together.
3. Do this all around the edges, until the sides are smooth, too.
4. Flip the ball over, so your pinched part is down.
Baking Tips
The first thing you need to know about this dough is that it is very moist and almost sticky when made as prescribed. To get the best (lightest) results, you want to avoid as best you can adding much more flour here. Add just the bare minimum you need to, so you can handle the dough.
This dough is also a slow riser, so be patient and allow it to rise for however long it takes to double etc. In a warm Summer kitchen, it will probably rise a little more quickly.
I like to weigh the whole dough before dividing into balls. I then divide the total weight by 8, to calculate the dough weight of each roll. Weigh them out separately and you will have 8 identically sized rolls!
Right after egg washing the buns and just before popping them in the oven, top buns with sesame seeds, poppy seed or "everything" mix if you'd like to add some toppings to your homemade buns.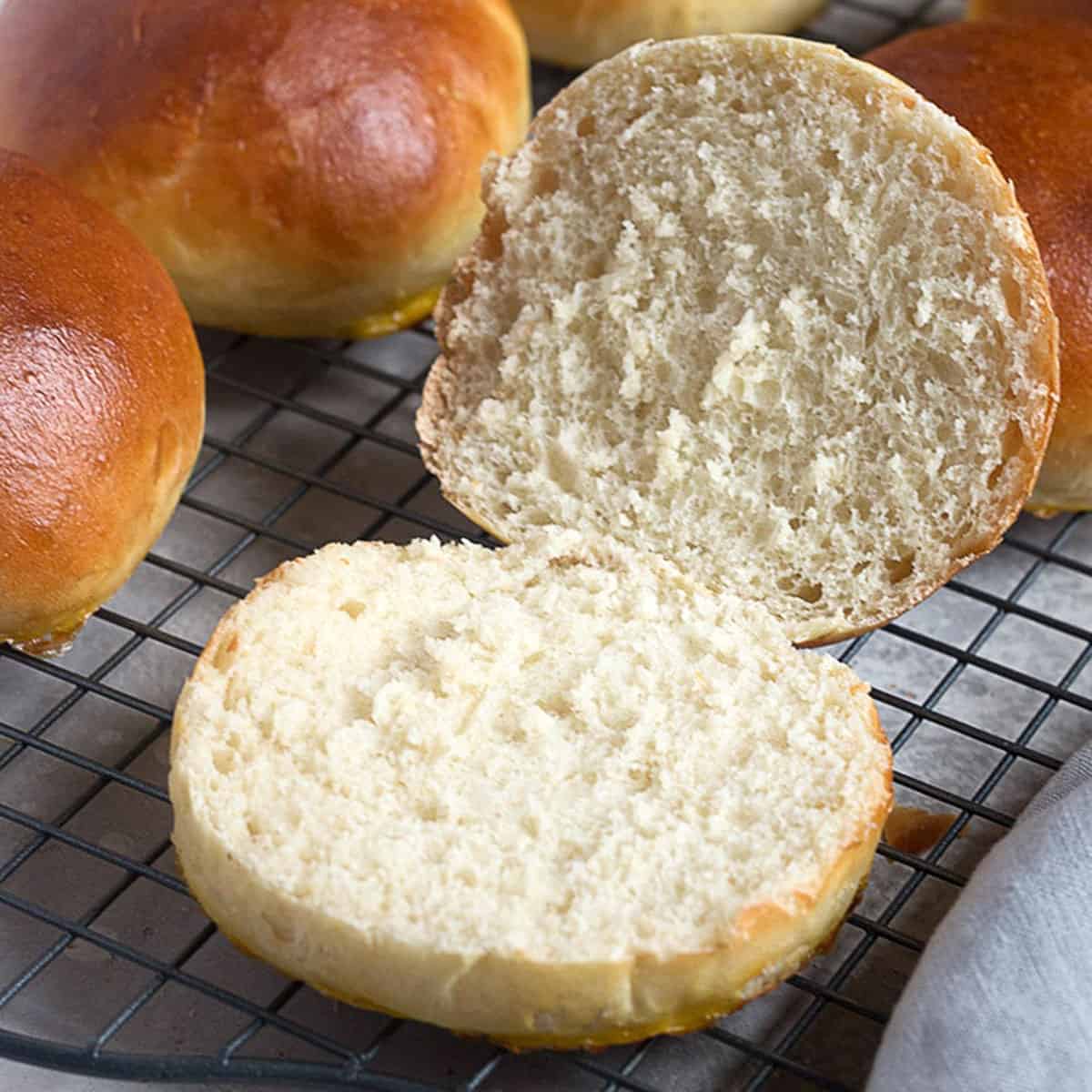 Top Tip!
Be sure to brush the egg wash on the dough evenly and thoroughly, being sure to get all around the bun and right to the bottom. Any bare spots left from your brushing will leave pale spots on the finished burger buns.
Making ahead, storing and freezing homemade hamburger buns
These are best enjoyed on the day they are made, but it is perfectly fine to make in the morning and enjoy for dinner.
Store rolls in an airtight container, until needed, up to 24 hours. Freeze for longer storage.
These buns freeze beautifully up to 2 months! Simply remove the buns from the freezer and thaw on the counter. It will only take a short time to thaw (30 minutes, or so).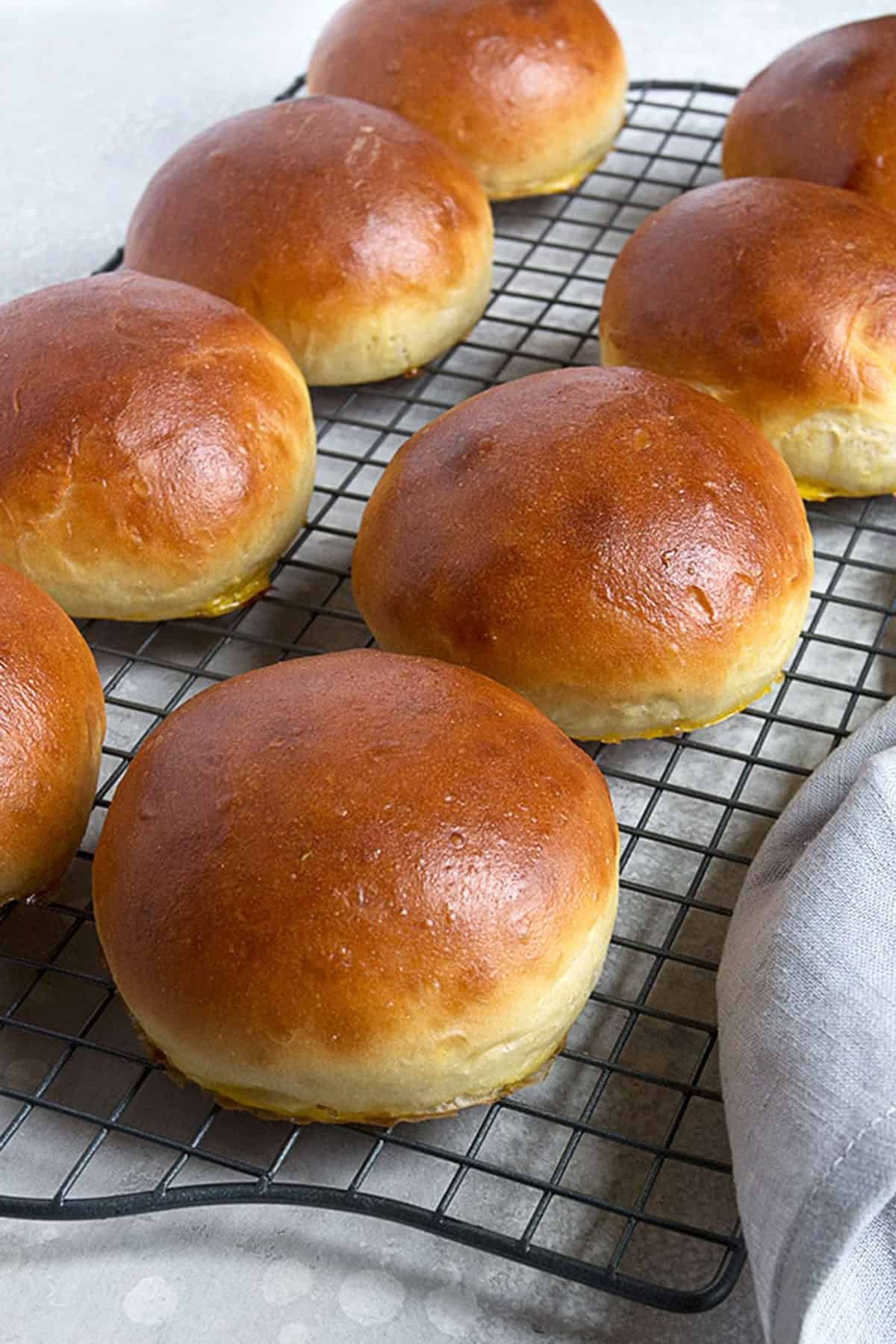 Get the Recipe:

Simply Perfect Homemade Hamburger Buns
Delicious, homemade hamburger buns recipe. Makes 8 buns. Freeze beautifully!
Ingredients
1

cup

(

227

ml

)

water

,

warmed to about 105-110F

3

Tablespoons

(

45

ml

)

milk

,

warmed slightly to lukewarm

2

teaspoons

(

6

g

)

active dry yeast or regular Instant yeast

,

not quick or rapid rise yeast

2 1/2

Tablespoons

(

33

g

)

white sugar

1

large

egg

,

beaten with a fork

3

cups

(

360

g

)

bread flour

,

spooned and levelled

1/3

cup

(

40

g

)

all-purpose flour

,

spooned and levelled

1 1/2

teaspoons

(

9

g

)

fine salt

2 1/2

Tablespoons

(

35

g

)

unsalted butter

,

at room temperature
For egg wash:
1

large

egg

1

Tablespoon

(

15

ml

)

water

Poppy or sesame seeds

,

optional
Instructions
In a small bowl or

2

cup measuring cup, combine the warm water, warmed milk, yeast and sugar. Let stand until bubbly, about 5 minutes.

In a large bowl, whisk together the bread flour, all purpose flour and salt. Add the butter. Using your finger tips, rub the butter in to the flour mixture, making even crumbs.

Add the yeast mixture and the beaten egg to the bowl and using a dough scraper or silicone spatula, stir until a moist, sticky dough forms.

Using a silicone bowl scraper, scrape the dough on to a very lightly floured counter or work surface. At this point the dough is very moist and sticky and not really able to be kneaded as you traditionally would. You will be tempted to dust with flour resist the urge to start. Instead of traditionally kneading, use your dough scraper or silicone spatula to scoop up the dough and then slam it back on the counter. (Don't just drop it, slam it. It's therapeutic :) Use your scraper to turn it over a few times on the counter, then pick it up and slam it again. Repeat this slaming/turning action for a couple of minutes. You should find that it is a sticking to the counter a little less. If you feel it isn't progressing after a couple of minutes (is still super sticky), very lightly dust the counter with flour and turn the dough over it to flour very lightly (Not too much flour. Just a dusting). Continue doing the slam and turn action for several more minutes. At some point, after about 5 minutes or so of this routine, your dough should stop sticking to the counter. Though it will still be a quite moist dough, you should be able to form it into a ball. *If your dough is still sticking after 5-7 minutes of working it, dust with a tiny bit more flour, as needed, until it is no longer sticking, but is still nice and moist.

Shape dough into a ball and place into a greased bowl. Cover with plastic wrap and let rise until doubled, 1-2 hours. Note that this dough is a bit of a slow-riser. Allow it to rise until doubled, no matter how long that takes.

Line a large baking sheet with parchment paper and set aside.

Using a dough scraper, divide the dough into 8 equal pieces. (* I like to weight the dough ball and then divide that weight by 8, to get a weight for each piece. I then weigh out each piece to that weight, to get 8 exactly equal pieces. My last bake, the individual balls were 101g apiece. Yours may vary somewhat.)

If your dough is still too sticky at this point to form into balls, very lightly dust with a tiny bit of four.

Form each of the 8 dough pieces into balls (* See video above the recipe card on how to do this!). Place balls on parchment lined baking sheet about 2-3 inches apart. Cover loosely with a clean kitchen towel and let rise until doubled again, 1-2 hours.

Set a large shallow roasting pan of water on the lowest rack of the oven. Preheat oven to 400F (not fan assisted) with a rack in centre of the oven, as well.

When buns have doubled, beat remaining egg with 1 tablespoon water and brush the buns thoroughly. * Be sure to brush the entire bun, top and sides, right down to the pan, as any areas you miss will be pale-coloured once baked. If desired, you could sprinkle with sesame or poppy seeds at this point, as well. Bake, turning sheet 180 degrees halfway through baking, until tops are golden brown, about 15 minutes.

Immediately transfer buns to a rack to cool completely.
Notes
Buns are best used on the day they are baked. For making ahead, it's best to freeze as these buns freeze beautifully! Freeze in a freezer bag or container. Thaw in the container at room temperature.
Be sure to read the "Baking Tips" included with this post, where I share some valuable tips, options, substitutions and variations for this recipe! I have also included a short video to demonstrate how to shape the dough into balls, for the nicest shaped buns.
Serving:
1
bun
,
Calories:
260
kcal
,
Carbohydrates:
42
g
,
Protein:
8
g
,
Fat:
5
g
,
Saturated Fat:
2
g
,
Cholesterol:
62
mg
,
Sodium:
462
mg
,
Potassium:
89
mg
,
Fiber:
1
g
,
Sugar:
4
g
,
Vitamin A:
200
IU
,
Calcium:
22
mg
,
Iron:
0.9
mg
Adapted from "Light Brioche Buns" by Jane Sigal as shared by the New York Times
You might also like …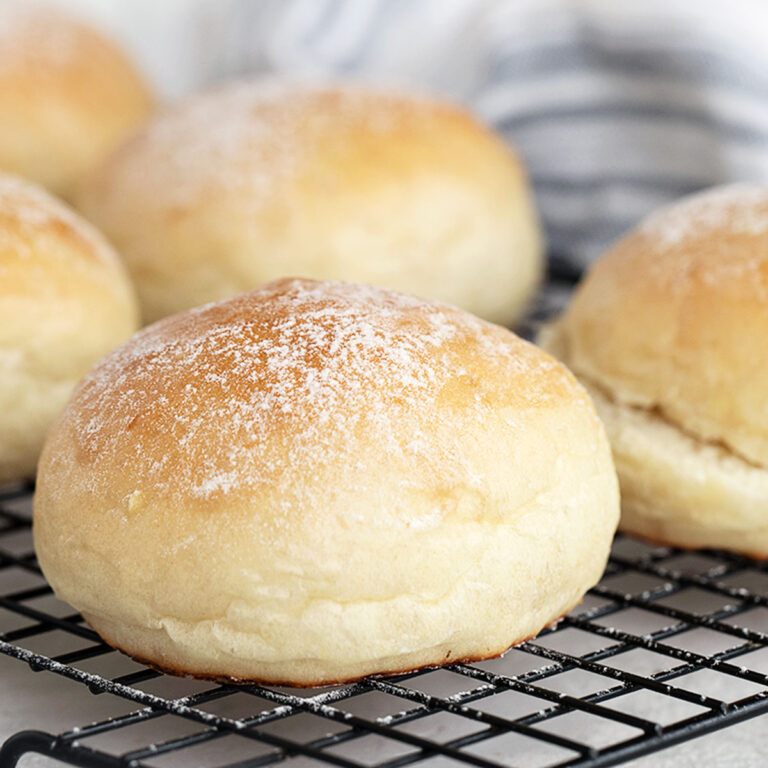 Soft and Squishy Hamburger Buns
Perfect squishy and soft and hamburger bun recipe! The secret is a little potato and potato cooking water in the dough. These buns also make great soft sandwich buns! [feast_advanced_jump_to] Why you'll love this soft hamburger bun recipe There's a lot of ways to enjoy a hamburger and one of my favourites is with a...
www.seasonsandsuppers.ca
Hi! I'm Jennifer, a home cook schooled by trial and error and almost 40 years of getting dinner on the table! I love to share my favourite recipes, both old and new, together with lots of tips and tricks to hopefully help make your home cooking enjoyable, stress free, rewarding and of course, delicious!