Classic, traditional Easter Hot Cross Buns, that can be made with raisins, currants and peel, if you like. Topped with an icing cross.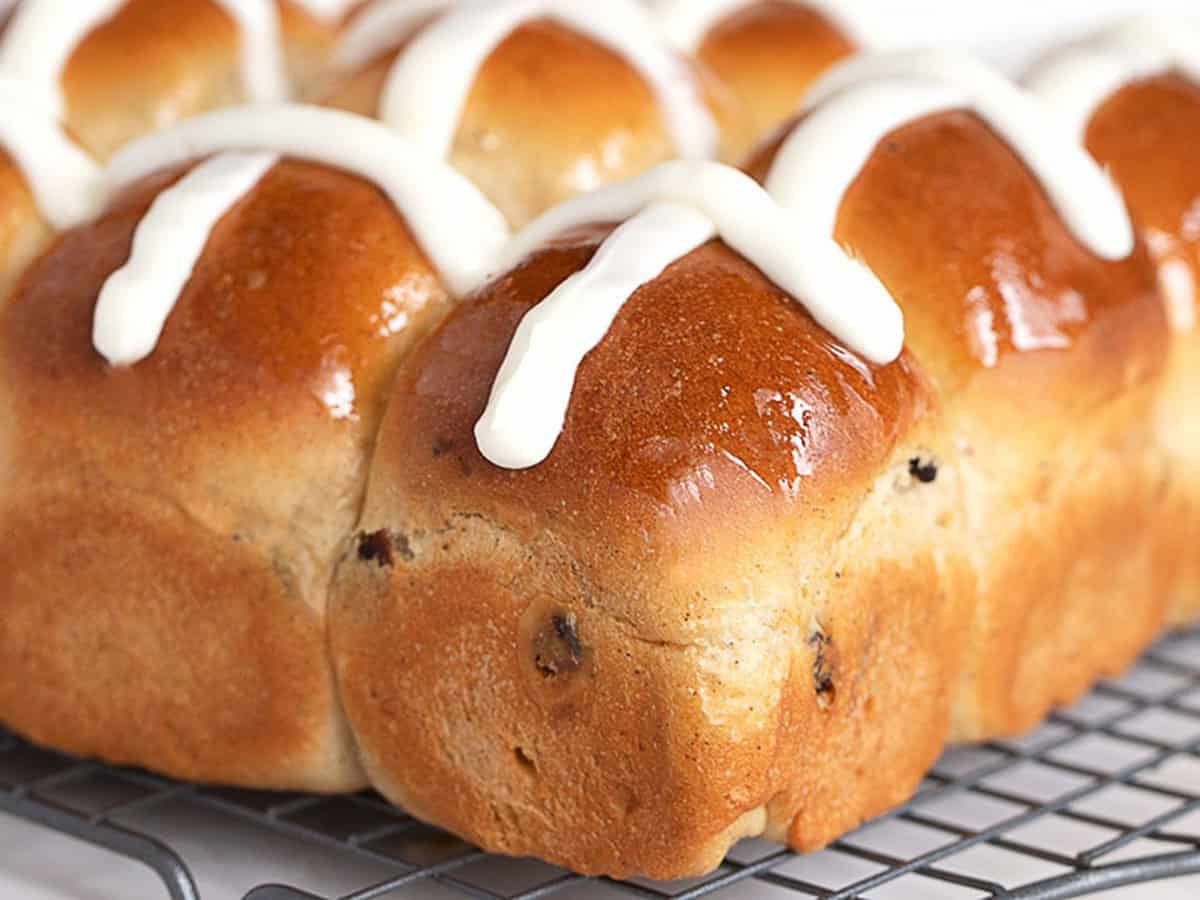 It wouldn't be Easter without some Hot Cross Buns and these are the ones I grew up with. This old family recipe produced a pan of pull-apart style hot cross buns and in our house, they were always topped with an icing cross.
These buns freeze beautifully, so make them ahead and pop them in the freezer until Easter. Simply thaw and add the icing on Easter morning.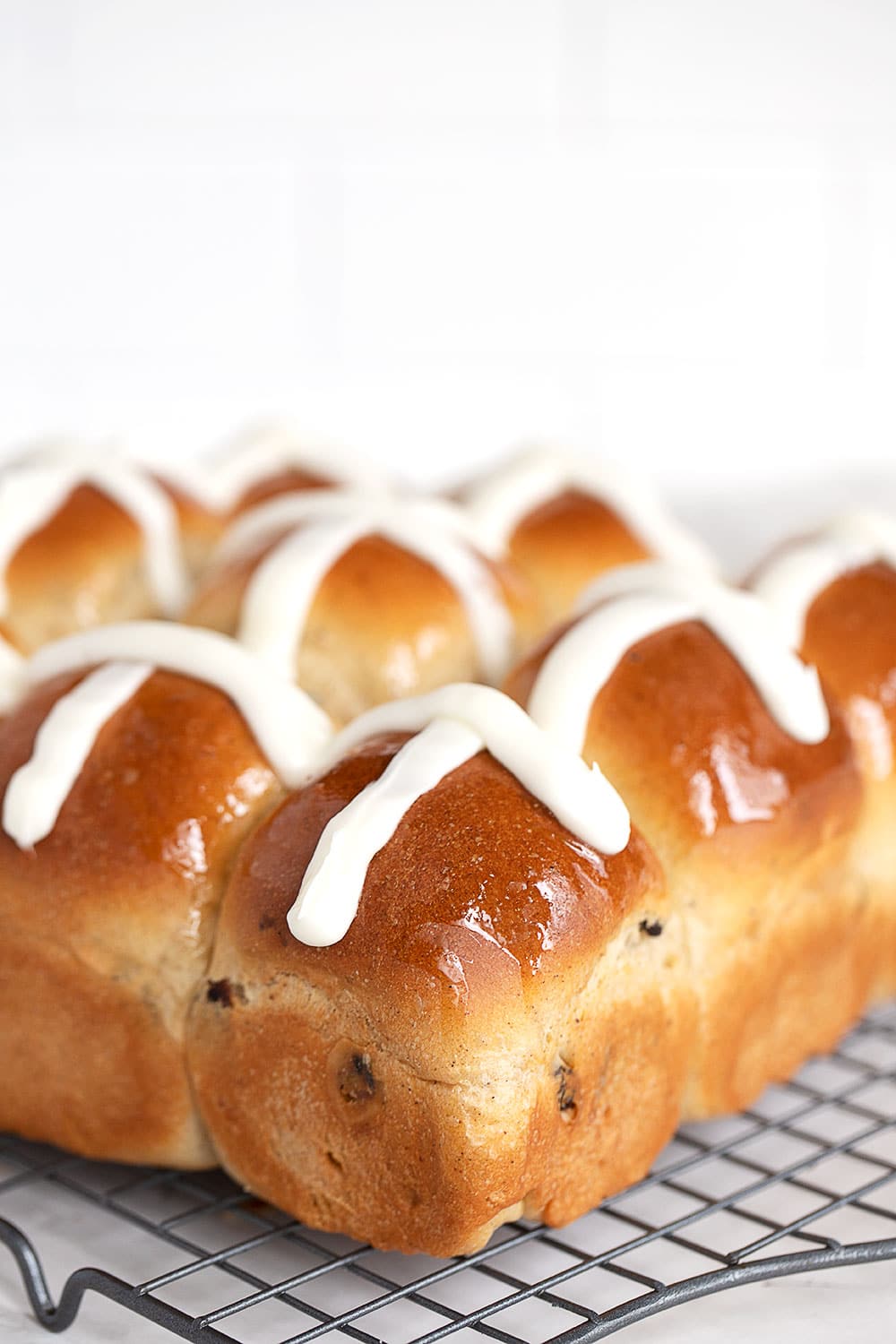 Ingredient Notes
Yeast – you will need Active Dry Yeast or regular Instant Yeast (such as SAF brand yeast). Quick or rapid-rising yeast is not recommended.
Raisins, Currants and/or Peel – You can use any combination of raisins, currants and/or peel, just keep it to the total amount specified. You can use all raisins, for example, or 1/3 raisins, 1/3 currants and 1/3 peel.
Spices – Cinnamon, Nutmeg, Allspice and Mace are specified. Mace is a bit of an uncommon spice. If you don't have it, increase the other three spices by 1/4 tsp each.
You will also need – water, white sugar, milk, butter, eggs, salt, vanilla, all purpose flour. For the icing cross, you will need icing/confectioners' sugar, milk and butter.
Step-by-Step Photos
Note that the dough is quite sticky-ish looking at the end of mixing. As long as it cleans the bowl, it is good. You can add a bit more flour on the counter, if needed.
I like to weigh the dough ball as a whole, then divide that weight by the number of buns, to get a weight each bun should be. For this bake, that was about 88g. Set the buns into a greased pan, leaving a bit of space between each one. Cover and let rise until doubled before baking.
Cook's Notes
Scalding the milk (heating it to 180F) before using deactivates some enzymes in milk that can inhibit yeast production. While not absolutely necessary, it is always a good idea to do it, if you can. If you don't have a thermometer to test 180F, just remember that milk will boil at 212F, so 180F will be not to the boil, but at the point where there will be steam and small bubbles around the edge of the pan.
Dough with spices in it can be slow risers, so be patient and allow to rise until doubled, however long that takes.
If you like spicier hot cross buns, you can increase the spice amounts to your taste.
Note that this recipe uses a triple rise, that is it is set out to rise to doubled, then punched down and allowed to rise again, before it is shaped into rolls and then set to rise a third time before baking.
These rolls are best on the day they are baked. Like most enriched breads (with butter and egg), these will dry out at a faster rate. If you can't eat them all up on the day they are baked, freeze them, even if it's just for a couple of days.
As noted, these buns freeze beautifully after baking (before icing), so they can be made ahead and frozen. Keep in one piece and wrap well to freeze. Thaw on the counter overnight, still wrapped. Simply ice with the cross before serving.
If you are feeding a crowd, double the recipe and bake in a 9×13-inch pan. This will make 18 buns, which you should place 3 wide by 6 long n the pan.
Top Tip!
As you are shaping your dough into balls, be sure not to have any raisins exposed on the top of the buns, as they will burnt and taste bitter when baked. Simply push them into the dough, so they are covered up.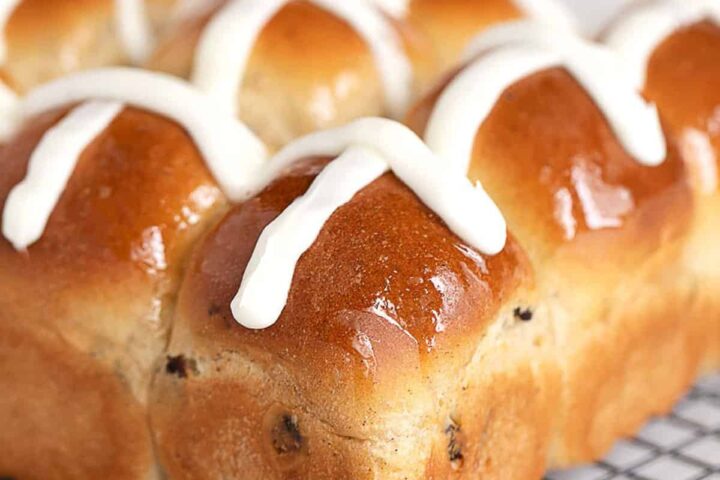 Get the Recipe:

Classic Hot Cross Buns
Classic hot cross buns, that can be made with any combination of raisins, currants and/or peel. Makes 9 buns in an 8x8-inch pan. Double recipe for 18 buns in a 9x13-inch pan.
Ingredients
Hot Cross Bun Dough:
2 1/4

tsp

active dry or instant yeast

,

not quick or rapid-rise yeast

1/4

cup

lukewarm water

1

tsp

sugar

1/2

cup

lukewarm milk

,

scalded to 180F, then cooled to 105F (*see instructions for how to)

1/4

cup

butter

,

at room temperature

1/4

cup

white sugar

1 1/2

large

eggs

,

lightly beaten (*see Note 1)

1

cup

raisins, currants and/or peel

,

plumped (*see Note 2)

1/4

tsp.

salt

1/2

tsp.

vanilla

2 1/2 - 3

cups

all-purpose flour

1/2

tsp.

cinnamon

1/2

tsp.

ground allspice

1/2

tsp.

ground nutmeg

1/2

tsp.

ground mace

,

if you don't have, add 1/8 tsp additional cinnamon, allspice and nutmeg
Glaze: (after baking)
2

Tbsp

white sugar

3

Tbsp

hot water
Icing:
1

cup

icing/confectioners' sugar

1/2

tsp

vanilla

2 - 3

tsp

cream or milk

,

plus more, as needed, to make a pipeable icing
Instructions
Scalding the milk: Heat milk in a small saucepan until steaming or 180F. Remove from heat and let cool to just barely lukewarm (105F) or room temperature.

Plump the raisins (if using): Place raisins in a small bowl. Cover with very hot or boiling water and let stand 15 minutes. Drain and dry well before adding to dough.

Dissolve yeast in lukewarm water (about 105F) and the

1 tsp.

sugar. in a small bowl. Let stand for 10 minutes.

In a large bowl or the bowl of a stand mixer with a kneading hook, combine the scalded milk, softened butter,

1/4 cup

sugar, salt, vanilla and lightly beaten eggs. Add the yeast yeast mixture and mix to combine. Mix in the flour,

1/2 cup

at a time, adding the spices with the third addition of flour, and the raisins/peel/currants with the next addition of flour, making sure the fruit is well covered with flour before mixing in.

Start kneading with hands or mixer, adding only enough flour to keep dough from sticking. Knead at least 5 minutes. Place dough into a greased bowl, sprinkle lightly with flour, cover with a damp cloth and leave in a warm, draft-free place until doubled in bulk.

Punch down dough. Cover again with flour and damp cloth and leave to rise another 30 minutes.

Preheat oven to 350F. (not fan assisted)

Divide dough into

9

equal-sized pieces. *I like to weigh the dough and divide that number by the number of buns I want to make, then weigh out each piece to that weight. That way all the buns will be exactly the same size.

Place balls into a greased 8x8-inch baking pan, in 3 rows or 3 buns. (For 9x13-inch pan, place in pan in 6 rows of 3). Cover pan with a clean towel and let rise until doubled.

Bake in a preheated 350° F. oven for 35-40 minutes or until golden brown and hollow sounding when tapped (or at least 195F when tested with an instant read thermometer). *Check them at 25-30 minutes and cover loosely with aluminum foil for the last part of baking, if already browned enough. They can seem "done" at about 30 minutes, but are probably not. Baking time should be at least 35-40 minutes).

Meanwhile, prepare the sugar glaze by stirring together the sugar and hot water.

Remove from oven and immediately brush tops of buns with the sugar glaze.

Allow buns to cool for 8-10 minutes in pan, then remove (in one large piece) to a cooling rack to cool completely. (Do not separate buns until ready to eat, to keep them nice and soft inside).

Once cooled or before serving, prepare the icing by beating together all the icing ingredients. Start with 2 tsp cream or milk and add more, a tiny bit at a time, until icing is piping consistency. Use a pastry bag or a ziploc bag with the corner snipped off to pipe a cross of icing on top of each bun.
Notes
To get the 1/2 egg, lightly beat 1 whole egg in a small bowl, then discard half of it. 
You can use any combination of raisins, currants and/or peel, as you like, or just use all of one, if you prefer. just keep it to the total amount specified. 
If you prefer a flour cross on your hot cross buns, simply mix up 1/2 cup all purpose flour and 5 Tbsp of water and pipe on top of buns before baking.
If you like a spicier hot cross bun, you can increase the spices to 1 tsp of each.
Be sure to read the Ingredient and Cook's Notes above the recipe card, where I share more tips for making this recipe.
Calories:
381
kcal
,
Carbohydrates:
67
g
,
Protein:
11
g
,
Fat:
8
g
,
Saturated Fat:
4
g
,
Trans Fat:
1
g
,
Cholesterol:
46
mg
,
Sodium:
120
mg
,
Potassium:
148
mg
,
Fiber:
3
g
,
Sugar:
7
g
,
Vitamin A:
229
IU
,
Vitamin C:
1
mg
,
Calcium:
40
mg
,
Iron:
4
mg
A couple more hot cross bun recipes you might also like …
Hi! I'm Jennifer, a home cook schooled by trial and error and almost 40 years of getting dinner on the table! I love to share my favourite recipes, both old and new, together with lots of tips and tricks to hopefully help make your home cooking enjoyable, stress free, rewarding and of course, delicious!