Classic, traditional Easter Hot Cross Buns, that can be made with raisins, currants and peel, if you like. Topped with an icing cross.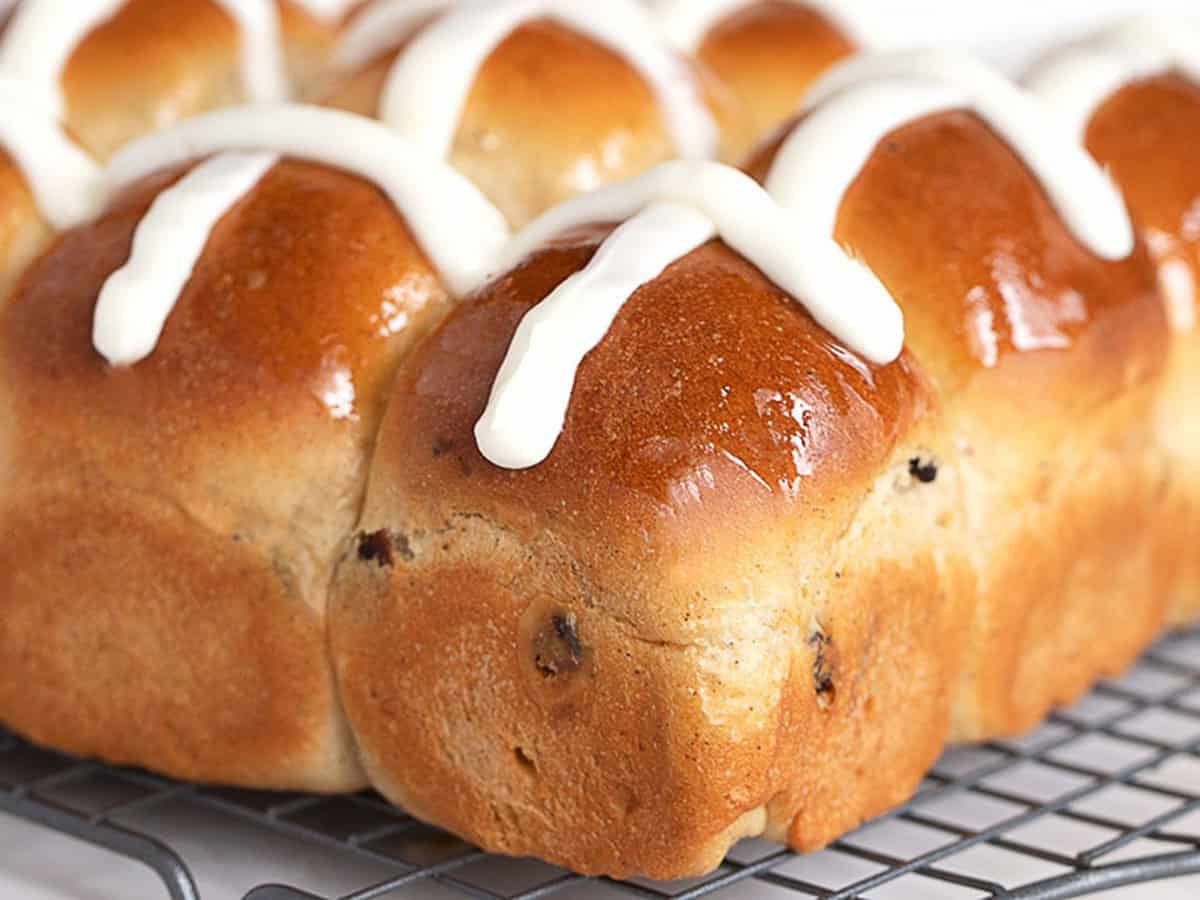 It wouldn't be Easter without some Hot Cross Buns and these are the ones I grew up with. This old family recipe produced a pan of pull-apart style hot cross buns and in our house, they were always topped with an icing cross.
These buns freeze beautifully, so make them ahead and pop them in the freezer until Easter. Simply thaw and add the icing on Easter morning.
Jump to: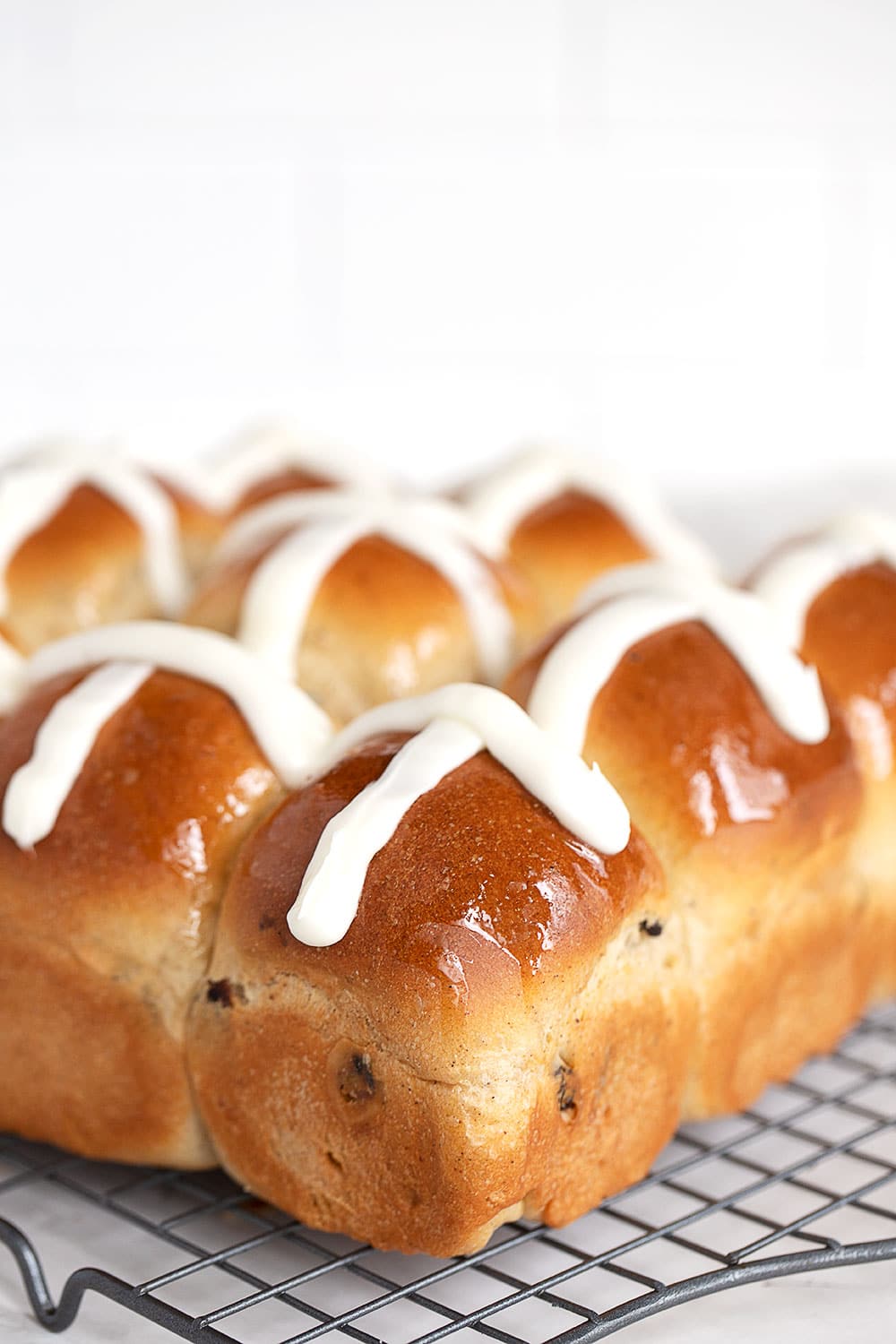 Ingredient Notes
Yeast - you will need Active Dry Yeast or regular Instant Yeast (such as SAF brand yeast). Quick or rapid-rising yeast is not recommended.
Raisins, Currants and/or Peel - You can use any combination of raisins, currants and/or peel, just keep it to the total amount specified. You can use all raisins, for example, or 1/3 raisins, 1/3 currants and 1/3 peel.
Spices - Cinnamon, Nutmeg, Allspice and Mace are specified. Mace is a bit of an uncommon spice. If you don't have it, increase the other three spices by 1/4 tsp each.
You will also need - water, white sugar, milk, butter, eggs, salt, vanilla, all purpose flour. For the icing cross, you will need icing/confectioners' sugar, milk and butter.
Step-by-Step Photos
Note that the dough is quite sticky-ish looking at the end of mixing. As long as it cleans the bowl, it is good. You can add a bit more flour on the counter, if needed.
I like to weigh the dough ball as a whole, then divide that weight by the number of buns, to get a weight each bun should be. For this bake, that was about 88g. Set the buns into a greased pan, leaving a bit of space between each one. Cover and let rise until doubled before baking.
Cook's Notes
Scalding the milk (heating it to 180F) before using deactivates some enzymes in milk that can inhibit yeast production. While not absolutely necessary, it is always a good idea to do it, if you can. If you don't have a thermometer to test 180F, just remember that milk will boil at 212F, so 180F will be not to the boil, but at the point where there will be steam and small bubbles around the edge of the pan.
Dough with spices in it can be slow risers, so be patient and allow to rise until doubled, however long that takes.
If you like spicier hot cross buns, you can increase the spice amounts to your taste.
Note that this recipe uses a triple rise, that is it is set out to rise to doubled, then punched down and allowed to rise again, before it is shaped into rolls and then set to rise a third time before baking.
These rolls are best on the day they are baked. Like most enriched breads (with butter and egg), these will dry out at a faster rate. If you can't eat them all up on the day they are baked, freeze them, even if it's just for a couple of days.
As noted, these buns freeze beautifully after baking (before icing), so they can be made ahead and frozen. Keep in one piece and wrap well to freeze. Thaw on the counter overnight, still wrapped. Simply ice with the cross before serving.
If you are feeding a crowd, double the recipe and bake in a 9x13-inch pan. This will make 18 buns, which you should place 3 wide by 6 long n the pan.
Top Tip!
As you are shaping your dough into balls, be sure not to have any raisins exposed on the top of the buns, as they will burnt and taste bitter when baked. Simply push them into the dough, so they are covered up.
Recipe
A couple more hot cross bun recipes you might also like ...