These are biscuits and eggs combined! They are a great grab and go breakfast, a lovely additional to the brunch table or perfect for lunch or pack and go picnic.
If you are like me and you find yourself falling victim to the drive-thru breakfast-type foods (and always feeling a bit bad about it :), these biscuits are for you! They are perfect for making ahead and keeping in the fridge to grab and go or they freeze beautifully, so they are always handy. They make a great breakfast or lunch, or pack them up for a picnic.
And while these may look a bit decadent, they are made with just a bit of butter and low-fat buttermilk, so they have only 322 calories, including the egg! They also offer up 14 grams of protein, for some early in the day energy.
These all-in-one bites start with delicious cheddar and chive buttermilk biscuits that are baked up until just cooked. They are allowed to cool a bit, then a little hole is cut on top and an egg is cracked in to it. They are then returned to the oven until the egg is cooked.
Enjoy these fresh from the oven, slightly warm or re-warmed or they are delicious at room temperature, too!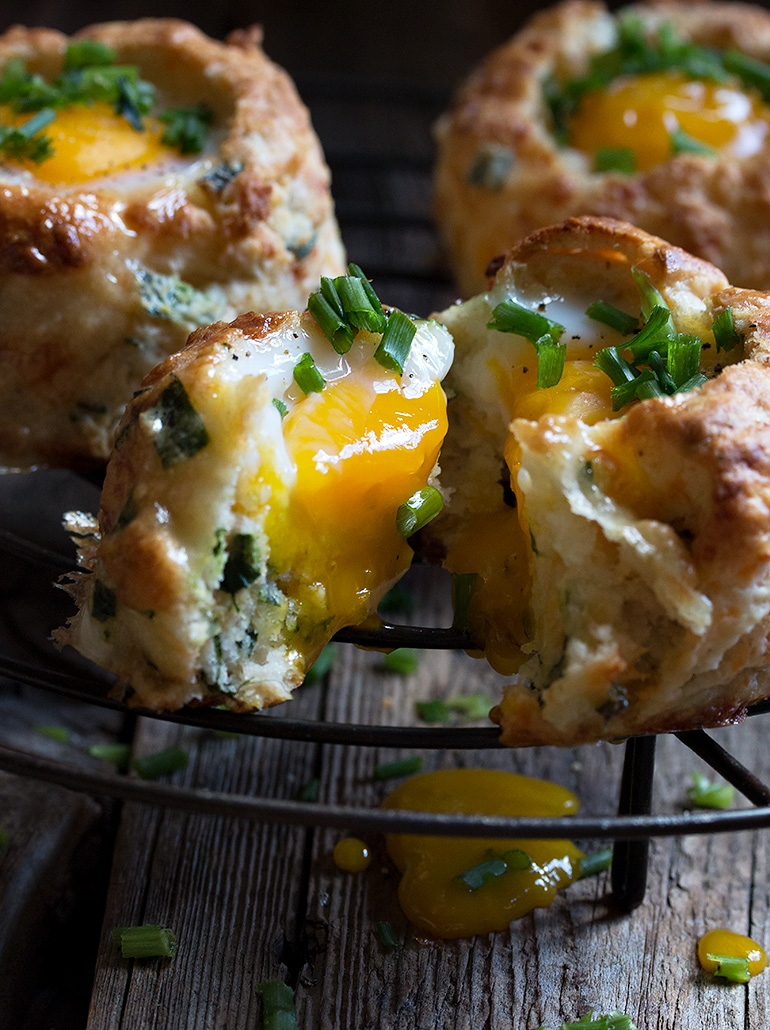 Cook's Notes
When cooking the individual biscuits first, be sure not to over-cook, as they will be making a return trip to the oven. I find 15 minutes is about right for them to be "just cooked". Likewise, when cooking the egg, bear in mind that it will continue to cook a bit after it comes out of the oven.
If you are not a runny egg lover and prefer a firm set egg, pierce the yolk with a knife before putting in the oven.
Wanting a little meat with your biscuit? Add a few slices of cooked, chopped bacon or ham to the biscuit mix!
These can be refrigerated for several days or freeze them in individual packages, to use as needed.
If you can't find chives, finely diced green onion is a fine substitute here.
I've included a quick make-your-own buttermilk recipe in the recipe card starting with milk. If you only have something like coffee cream around, go ahead and use that. The amount needed (and the calorie count :) may differ slightly.
While these are lovely warm from the oven, I actually prefer these after they have cooled to almost room temperature, or just slightly warm. I find you get more of the flavour when they are not so hot. Also, the egg will set up a bit more as it cools, so it's not quite as messy :)


Get the Recipe:
Cheddar, Chive and Egg Buttermilk Biscuits
A great breakfast, brunch, lunch or grab and go snack, these cheddar and chive buttermilk biscuits are topped with an egg and cooked again, for a delicious all-in-one bite.
Ingredients
Biscuits:
2

cups

(

250

g

)

all purpose flour

2

tsp

(

9.86

g

)

white sugar

1

Tbsp

(

14.79

g

)

baking powder

1

tsp

(

4.93

g

)

salt

,

(3/4 tsp if using salted butter)

1/4

cup

(

56.75

g

)

butter

,

cold and cut in to 8 pieces

1

cup

(

113

g

)

cheddar cheese

,

grated, well packed

1/4

cup

(

10

g

)

chives

,

finely diced

3/4

cup +

(

180

ml

)

buttermilk

,

cold, well shaken

Milk or cream

,

for brushing tops
To serve:
Additional chopped chives

,

for garnish.
Instructions
Preheat oven to 425F. Line a baking sheet with parchment paper. Set aside.

In a medium bowl, whisk together well the flour, sugar, baking powder and salt. Set aside.

Grate cheddar cheese and dice chives. Add to flour mixture and toss with your fingers to coat/separate/combine the cheese and chives with the flour mixture. Add cold butter chunks to flour mixture. Using your fingertips, rub the butter in to the flour mixture until you have coarse crumbs with butter pieces no larger than a pea. Add cold buttermilk and using a fork, stir in to mixture until flour is evenly moistened. YOU MAY NEED TO ADD A TEASPOON OR TWO ADDITIONAL BUTTERMILK, to thoroughly moisten.

Turn dough out on to floured surface. Gather the dough in to a mound and fold it over on to itself 2 or 3 times, until dough is one moist piece. Form in to a ball. Using a floured hand, press dough down until you have an even 1-inch thick piece of dough. Using a 3-inch cutter, cut rounds from the dough and place on to parchment lined baking sheet, allowing several inches between each biscuit. Take scraps of dough and re-form in to a 1-inch thick piece and cut more. You should get 6 or 7 biscuits. Brush tops of biscuits with a bit of milk or cream.

Bake in preheated oven for 15-17 minutes or until lightly golden and just cooked through. Remove from oven, then remove biscuits from baking sheet on to a cooling rack. Reduce oven temperature to 350F and reserve baking sheet with parchment.

Allow biscuits to cool for 15 minutes (or if making right ahead, allow to cool completely then store in airtight container until ready to make).

With a sharp knife, cut around the top of the biscuits, cutting straight down, about 1/2-inch in from the outside edge and about 1 inch deep. Once you have cut a circle all the way around, use the tip of the knife to lift out the round. Pull out bits of biscuit as needed to have a 1-inch deep hole that is flat on the bottom. Place biscuits back on to baking sheet with parchment, allowing several inches between each one. Break an egg in to the hole in each biscuit. Season egg with a bit of salt and pepper.

Return to the 350F oven and bake for 20-25 minutes, depending on how runny you like your eggs. Check at 18-20 minutes and if biscuits are getting too brown, you can loosely cover the top with a sheet of aluminum foil. Once the egg whites are set and the egg yolk is set slightly, remove from oven. Allow to cool at least 5 minutes before eating, to allow egg to set up a bit. Garnish with additional chopped chives and freshly ground pepper. These are good warm or at room temperature. Refrigerate left-overs.
Notes
*Make your own buttermilk by adding 2 tsp vinegar to a 3/4 cup milk and allow to stand 5 minutes.
Calories:
332
kcal
,
Carbohydrates:
31
g
,
Protein:
14
g
,
Fat:
16
g
,
Saturated Fat:
9
g
,
Cholesterol:
199
mg
,
Sodium:
581
mg
,
Potassium:
326
mg
,
Fiber:
1
g
,
Sugar:
2
g
,
Vitamin A:
675
IU
,
Vitamin C:
1.1
mg
,
Calcium:
252
mg
,
Iron:
2.7
mg