A delicious rhubarb crumble pie, with a light custard filling and a lovely crumb topping. You can make this pie with fresh or frozen rhubarb.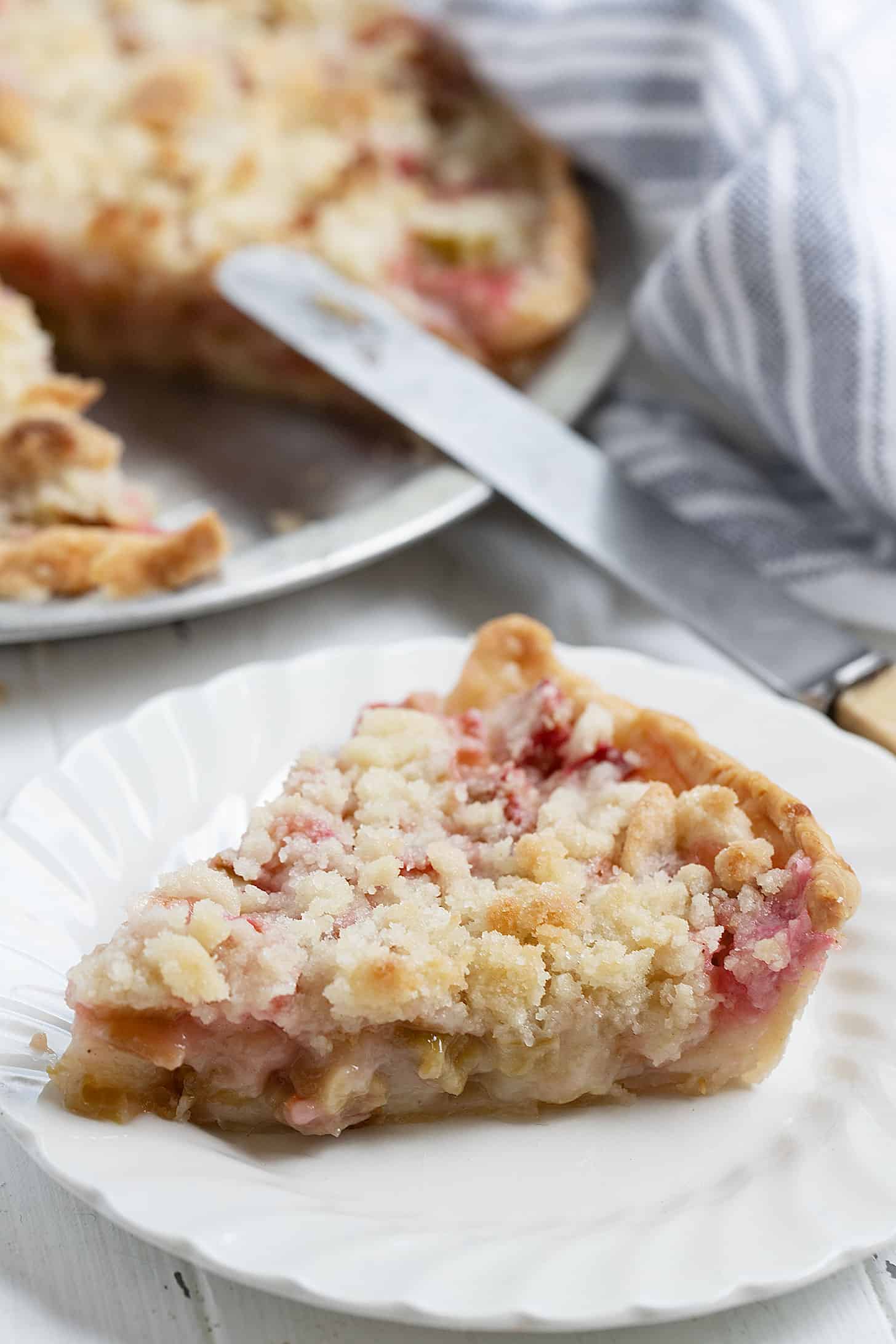 Nothing says Spring more than fresh rhubarb and if your garden is over-flowing, I can't think of a better use for a bit of it that in this Rhubarb Crumble Pie.
This pie is best with fresh rhubarb, but if you have frozen rhubarb, that will work, too! Together with the rhubarb is a very light custard filling (just one egg), which makes for a creamy, sweet/tart filling. On top is a simple crumble.
Ingredients
Single crust pie shell – you can use a store-bought pie shell or make your own using your favourite recipe.
Rhubarb – you can make this pie using fresh or frozen rhubarb.
Sugar – I wouldn't suggest reducing the added sugar at all. If anything, you may find that you want a bit more, if you enjoy a sweeter rhubarb pie. As written, it allows the tartness of the rhubarb to shine.
Step-by-Step Photos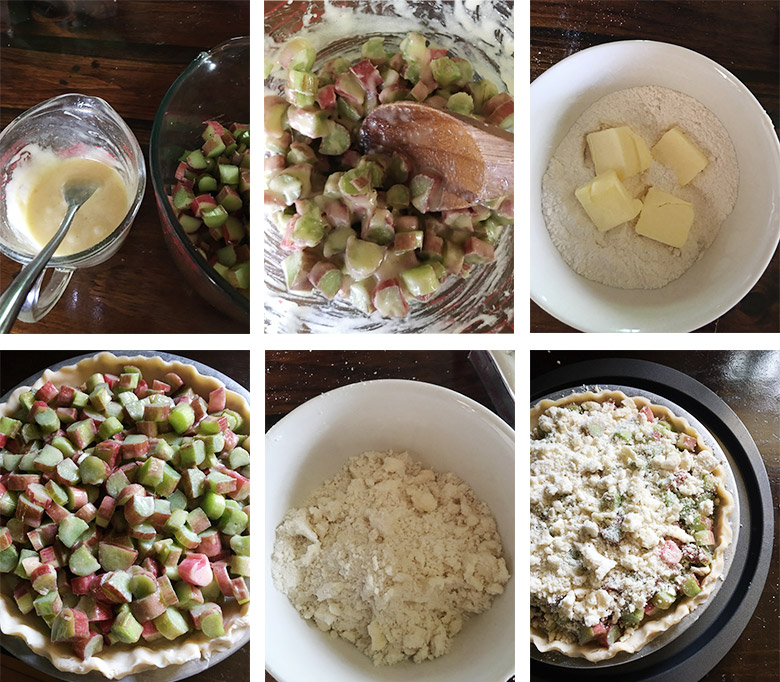 Step 1: Prepare your rhubarb and filling mixture.
Step 2: Stir the two together until well combined.
Step 3: Prepare the topping crumble by adding the cold butter to the dry ingredients.
Step 4: Pour the prepared filling into an unbaked pie shell.
Step 5: Cut or rub the butter into the dry ingredients until you have a rough crumble.
Step 6: Scatter the crumble over the pie. Bake and enjoy!
FAQ
Can I use frozen rhubarb? You can, but for best results, thaw completely in a strainer, to remove as much of the liquid as possible, then dry well before using.
Can I make my own pie crust? Absolutely! Just use your favourite recipe for a single crust pie dough.
Can I/should I pre-bake the pie shell? You can. If you prefer a well-done pie crust, pre-bake the unfilled pie shell for 10 minutes before filling. To avoid over-browning of the crust edge, cover with a ring of foil part way through baking.
Can I reduce the sugar in the pie? You can, but I wouldn't. As this is a 100% rhubarb pie and rhubarb is very tart, the 3/4 cup is really what I would consider minimum sugar. At that level, the pie is pleasantly, but not overly tart. In fact, if you prefer a sweeter rhubarb pie, you might consider adding another tablespoon or two.
Can I put some oats in the topping? Sure! Stir a handful of large-flake oats into the prepared the topping.
Top Tip
Tips o avoid a soggy-bottomed pie crust: Rhubarb holds a lot of moisture, which can sometimes make for a soggy-bottomed pie. Here are some tips on how to avoid that …
1. You can blind bake it (bake the pie shell unfilled) for 5-6 minutes, if you like. Blind baking runs the risk of over-browning the edge of the pie crust, so watch your pie towards the end of baking and loosely cover with aluminum foil, if needed.
2. Another trick to prevent a soggy bottom is to brush the bottom of the unbaked pie shell with a beaten egg white before filling.
3. Finally, bake your pie in the lower third of the oven and since you'll probably want something under your pie to catch bubble-overs, place a baking sheet in the oven to preheat a bit before adding the pie to the oven.
Get the Recipe:

Rhubarb Crumble Pie
Delicious rhubarb pie, with a light custard filling and a crumb topping. Can be made with fresh or frozen rhubarb.
Ingredients
9-inch

pie crust

,

store-bought or homemade, regular size (not deep dish)

1

egg white

,

for brushing pastry bottom before filling (optional)
Filling:
5

cups

rhubarb

,

fresh or frozen, diced

1

large

egg

1/4

cup

all-purpose flour

3/4

cup

white sugar

1

teaspoon

vanilla

,

optional

2

Tablespoon

butter

,

melted and cooled
Crumb Topping:
1/2

cup

all-purpose flour

1/3

cup

white sugar

1/4

cup

butter

,

cold

Pinch

salt

,

if using unsalted butter
Instructions
**For frozen rhubarb, thaw completely in a strainer, to remove excess moisture. Pat dry, then toss in 1 Tbsp flour.

Preheat oven to 400F. (regular bake setting/not fan assisted) with rack in lower third of oven. *If using a glass pie plate, reduce the oven temperature by 25° F.

While oven is preheating, prepare your rhubarb by washing and dicing. Place in a large bowl. In a small bowl, beat the egg. Add the all-purpose flour, sugar, vanilla and melted and cooled butter and stir well until smooth. Set aside.

Pop your unfilled pie shell into the preheated oven and pre-bake for about 5 minutes. Remove from oven and let cool slightly. *If desired, you can brush the bottom of the pie shell with an egg white wash, to help it from getting soggy. Simply beat an egg white with a splash of water and brush on the bottom of the pre-baked pie shell.

Prepare your filling, by combining your egg/flour/sugar mixture with your cut rhubarb and stir well to coat the rhubarb evenly. Spoon filling into your prepared pie shell.

Make the crumb topping by stirring together the flour and sugar in a small bowl. Add the cold butter and cut or rub into the flour mixture until you have a nice crumb mixture. Scatter over-top of the pie.

*If desired, pre-heat a baking sheet by popping it into the oven for a few minutes before placing your pie in the oven. Place pie on baking sheet (to catch any bubble-overs) and bake at 400F for 10 minutes. Reduce oven temperature to 375F. and bake a further 40 - 45 minutes (50-55 minutes total) or until bubbly and golden.
Notes
Be sure to read the FAQ section and have a look at the step-by-step photos above the recipe card for more tips for making this pie.
Serving:
1
serving
,
Calories:
366
kcal
,
Carbohydrates:
52
g
,
Protein:
5
g
,
Fat:
16
g
,
Saturated Fat:
8
g
,
Cholesterol:
46
mg
,
Sodium:
197
mg
,
Potassium:
267
mg
,
Fiber:
2
g
,
Sugar:
28
g
,
Vitamin A:
378
IU
,
Vitamin C:
6
mg
,
Calcium:
76
mg
,
Iron:
1
mg
More Rhubarb Recipes to Love!
Hi! I'm Jennifer, a home cook schooled by trial and error and almost 40 years of getting dinner on the table! I love to share my favourite recipes, both old and new, together with lots of tips and tricks to hopefully help make your home cooking enjoyable, stress free, rewarding and of course, delicious!