A super easy and delicious way to enjoy mini potatoes. Salt potatoes are boiled whole with lots of salt, for a salty, crusty outside and wonderfully creamy insides. Served with melted butter and herbs.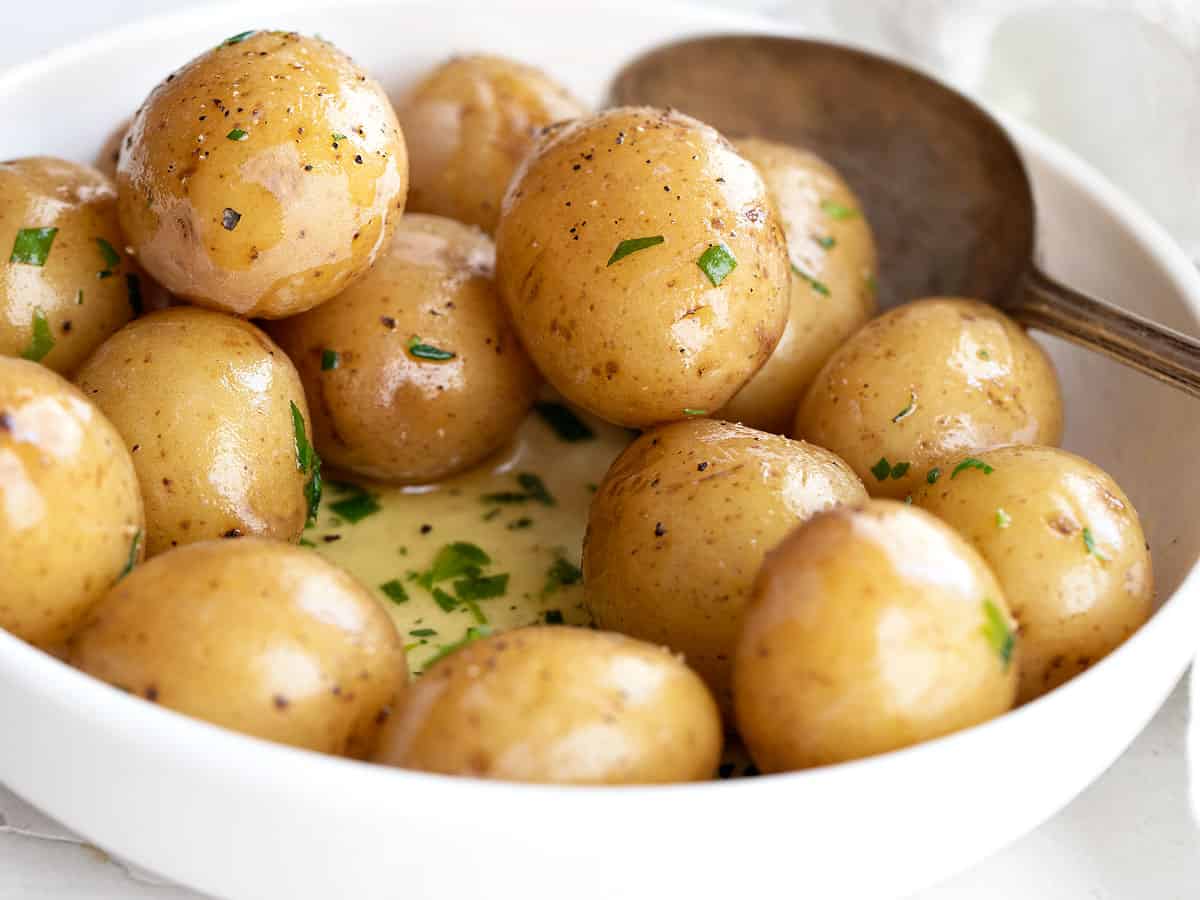 Salt potatoes are a longtime upstate New York favourite, but they are definitely worthy of wider enjoyment. These delicious potatoes are a great way to enjoy mini potatoes and make a great side for any meal.
Why would you want to boil potatoes in copious amounts of salt? Well, the salt raises the boiling temperature of the water, resulting in a super-creamy inside and a wonderfully flavourful, salt-crusted outside. And no, they are not super-salty potatoes, as they are boiled whole, the salt doesn't reach the inside of the potatoes. And as a bonus, the super salty water boils really quickly, too :)
Serve warm with some melted butter and add some herbs too, if you like.
Jump to:
Ingredient Notes
Potatoes - mini potatoes are perfect for salt potatoes. Use yellow or red or a combination of both. Try to keep them similar in size, if you can, for even cooking.
You must boil them WHOLE, to avoid the salt from getting into the centre of the potatoes, which would result in overly-salty potatoes. Mini potatoes cook up perfectly and quickly, but that said, if you want to boil WHOLE, larger potatoes, you can certainly do that.
Salt - regular fine table or sea salt is fine here, or you can use Kosher salt in the same amount. There are a varying amounts of salt used in salt potatoes, but the standard would be around 2 Tbsp of salt for every 1 cup of potato boiling water. I've found anywhere from 1 1/2 - 2 Tbsp of salt per cup of water works just fine.
Butter - classic salt potatoes are tossed in simple, melted butter to serve.
Herbs - while not traditional, I've always felt that these potatoes are tailor-made for some fresh herbs in the mix. You could also use some dried herbs (parsley, chives etc.), if you like.
Step-by-Step Photos
These easy potatoes don't really need step-by-step instructions, but I did want to show what the potatoes look like after being boiled. The effect isn't as easy to see on yellow potatoes, as it is on red potatoes, but they will have a matte glaze and small salt crystals on them once drained and dry. Toss with some melted butter and herbs, if you like and enjoy.
FAQ
Can I use large potatoes and just cut them up? I'm afraid not. You must use whole potatoes for salt potatoes, so that the salt stays on the outside and doesn't transfer to the inside, where they would be too salty. That said, you can certainly boil whole larger potatoes if you like. You'll just need to boil them longer.
Can I double or triple the recipe? Sure! You can start with any amount of potatoes. Just measure the water you add to just cover the potatoes in the pot and then add 1 1/2 - 2 Tbsp of salt for every 1 cup of water used.
Can I make these in an Instant Pot? Apparently you can. Try about 2-3 minutes on high pressure for small potatoes, followed by a 15 minute natural release, then vent, drain and enjoy.
Do these taste really salty? No. As these are cooked whole, the salt only forms a thin film (and flavour) on the skin of the potatoes and doesn't transfer to the inside of the potatoes.
Other ways to enjoy Salt Potatoes
Traditionally, salt potatoes are served boiled in salt water, drained, allowed to dry, then tossed in melted butter. There are other ways to enjoy your salt potatoes though, which are especially good for left-over salt potatoes, with or without butter on them.
After boiling and draining, smash and fry them up in a hot skillet in a bit of oil. Add some bacon to the mix, if you like. Serve with some cheese and sour cream, to load them up.
After boiling and draining, smash, place on a baking sheet and bake on a baking sheet in a hot (425F) oven until crispy (10-15 minutes).
Leave whole after boiling and pop into an air fryer, whole or smashed, until they crisp up.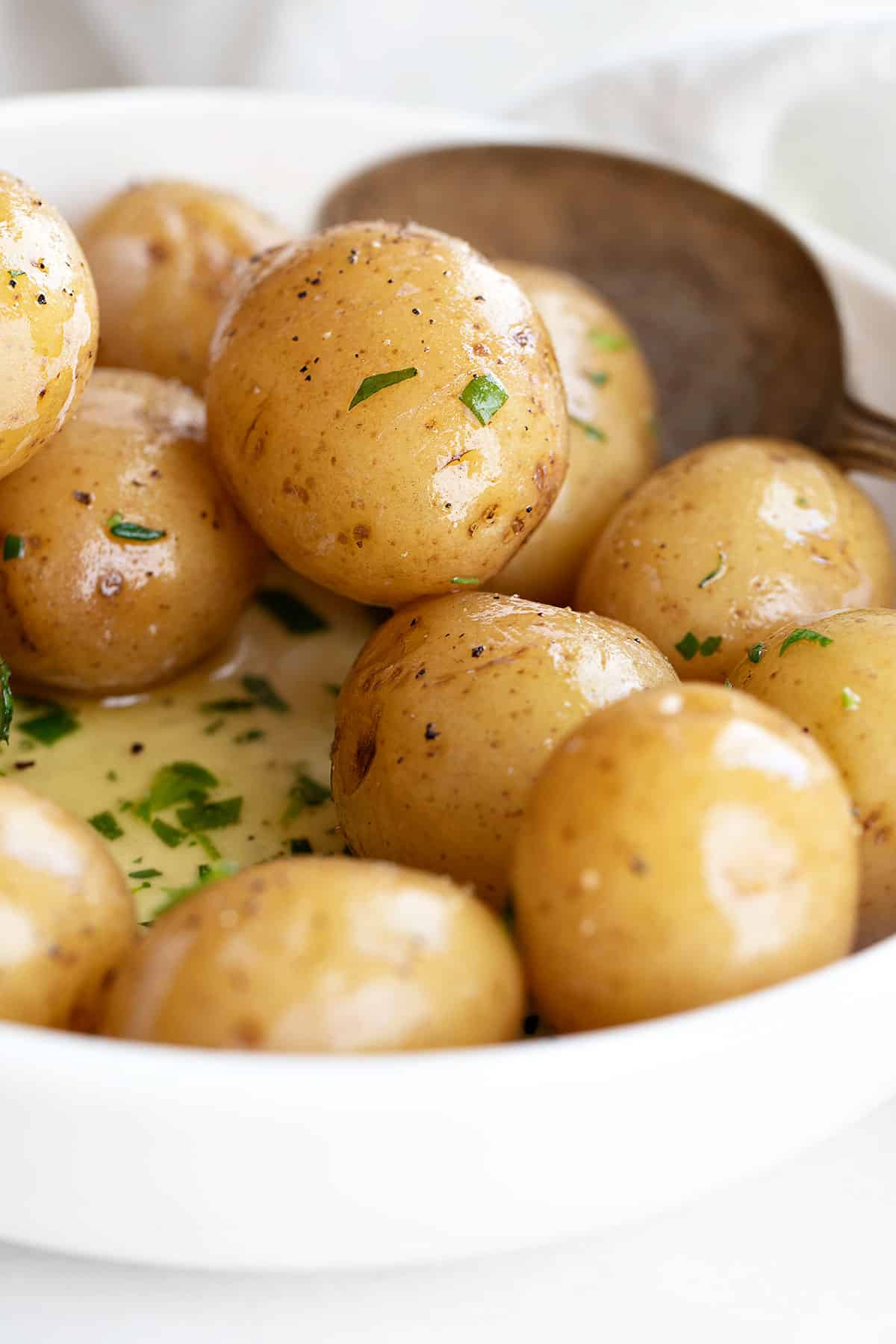 Recipe
More potato recipes you might also like ...
Save or share this recipe