Beautiful and delicious coconut macaroons are the quintessential coconut lovers treat. Made without condensed milk, these are simply perfect coconut macaroons. Enjoy plain or garnished with salt or chocolate. These macaroons are a naturally gluten free, too!
Are you a coconut lover? If so, you owe it to yourself to drop whatever you're doing and make these Coconut Macaroons right now! They are toasty and crispy on the outside, and moist and chewy on the inside, and just the perfect amount of sweet.
These simply perfect coconut macaroons are made without sweetened condensed milk. Simply combine coconut with egg whites, a bit of sugar and vanilla and bake.
Ok, maybe it's a bit dramatic to suggest that you drop everything now. But soon :) These are a coconut lovers treat, that can be garnished with just a sprinkling of finishing salt for a lovely sweet and salty flavour. Or put a few chocolate chips on top as soon as you take them out of the oven, to bring a little chocolate to your coconut.
Ingredients and Substitutions
Coconut – you can use either sweetened or unsweetened shredded coconut or, if you have access to them, unsweetened coconut chips.
Egg Whites – you will need 4 egg whites. I've included some ideas for using up the extra egg yolks below for you!
White Sugar – you can tweak the added sugar to some extent to your taste, though some amount is needed to create the "glue" that keeps these cookies together. For most control, start with unsweetened coconut and the lower amount of sugar and adjust slightly up or down to taste.
Step-by-Step Photos
These coconut macaroons start by simply stirring together the coconut, egg whites, sugar, vanilla and salt in a stainless steel or glass bowl. Next, we'll heat the mixture in the bowl, set in a skillet of simmering water. Be sure to stir regularly and warm the mixture until it is hot to the touch. Allow to stand for 30 minutes while you preheat the oven.
Once ready to bake, use a 2-inch scoop to portion out 12 macaroons on a parchment-lined baking sheet. Bake for 5 minutes at 350F, then reduce the oven to 300F and bake about 15 minutes more, or until golden and set. Top with salt or chocolate chips as soon as they come out of the oven.
Recipe Tips
When it comes to heating the macaroon mixture on the stove-top, you can use either a stainless steel bowl or a glass bowl. Stainless in preferred if you can, as it heats more quickly. If using glass, make sure that your water doesn't boil too vigorously. The heating will take longer with a glass bowl.
Toasted coconut is fabulous, but scorched coconut definitely isn't. So watch your macaroons when they are in the oven and lower the oven temperature if they seem to be browning too quickly or too much.
Macaroons are sweet, but I love to pair them with a healthy sprinkling of a coarse finishing salt right when they come out of the oven. The combination of sweet and salty flavours is where macaroons really shine!
Storing Coconut Macaroons
Coconut macaroons don't need to be refrigerated. They will keep well in an airtight container for 4 or 5 days.
You can freeze coconut macaroons in an airtight container for up to 1 month.
What to do with the left-over 4 egg yolks
Check out my post "What to Do with Left-over Egg Yolks", where I have 8 recipes listed that will all use up those left-over egg yolks.
Alternately, keep in the fridge and slip an extra yolk into an omelette or frittata.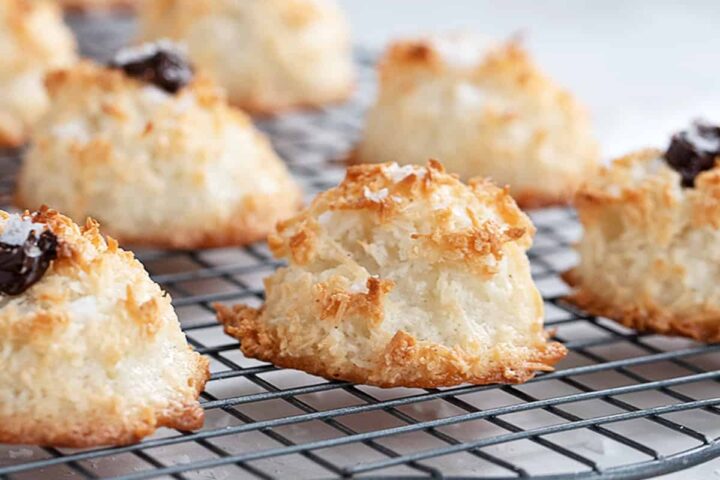 Get the Recipe:

Alice Medrich's Coconut Macaroons
Beautiful and delicious coconut macaroons are a coconut lovers treat, garnished with salt or chocolate. Naturally gluten free, too!
Ingredients
4

large

egg whites

3

cups

sweetened or unsweetened shredded coconut

,

or 3 1/2 cups of unsweetened dried coconut chips

1/3 - 2/3

cup

white sugar

,

use 1/3 - 1/2 cup for sweetened coconut and 1/2 - 2/3 cup for unsweetened coconut, to taste *see Note 1

2

teaspoons

pure vanilla extract

,

or vanilla bean paste

1/4

teaspoon

salt
For garnish (optional):
Fleur de Sel

,

or other coarse finishing salt

Toasted almond slices

Chocolate chips or pieces
Instructions
Line a cookie sheet with parchment paper or a silpat.

Combine all of the ingredients (except garnish items) in a large heatproof mixing bowl, preferably stainless steel but glass will work.

Set the bowl directly in a wide skillet of barely simmering water. Stir the mixture with a spatula, scraping the bottom to prevent burning, until the mixture is very hot to the touch and the egg whites have thickened slightly and turned from translucent to opaque, about 7 to 10 minutes. (I find glass bowls take longer).

Set the batter aside for 30 minutes to let the flavours to meld.

Preheat the oven to 350° F. (regular bake setting/not fan assisted) Position rack in the centre of the oven.

Using 2 tablespoons of batter, make heaps of mixture 2 inches apart on the lined cookie sheet. (I used my plastic egg separator to shape the cookies and then tapped onto baking sheet).

Bake for about 5 minutes, just until the coconut tips begin to color, rotating the pan from front to back halfway through the baking time to ensure even baking.

Lower the temperature to 300F and bake for about 15 minutes more, until the cookies are a beautiful cream and gold colour, with deeper brown edges. Watch regularly and rotate the pan from front to back halfway through the baking time.

Set the pan or just the liner on a rack to cool. Sprinkle with salt, if using. If topping with chocolate, place your chocolate chips on top as soon as they've come out of the oven and let them melt on their own for 5-10 minutes, then use a skewer to stir them a bit on top. If you'd like to top with some toasted almonds as well, spread on a cookie sheet and pop into the hot oven to toast right after you take your macaroons out. Let cookies cool completely before gently peeling the parchment away from each cookie.

The cookies are best on the day they are baked. The exterior is crisp and chewy and the interior soft and moist. Although the crispy edges will soften, the cookies remain delicious stored in an airtight container for 4 to 5 days.
Notes
Adjust the added sugar based on taste and whether you are starting with sweetened or unsweetened coconut. For sweetened coconut, somewhere between 1/3 - 1/2 cups is suggested. I generally use 1/2 cup, but I salt the tops heavily. For unsweetened coconut, try between 1/2 cup and 2/3 cup, to taste.
Nutritional information based on using sweetened coconut and 1/2 cup of sugar.
Serving:
1
serving
,
Calories:
153
kcal
,
Carbohydrates:
19
g
,
Protein:
2
g
,
Fat:
8
g
,
Saturated Fat:
7
g
,
Polyunsaturated Fat:
1
g
,
Monounsaturated Fat:
1
g
,
Sodium:
117
mg
,
Potassium:
95
mg
,
Fiber:
1
g
,
Sugar:
18
g
,
Vitamin C:
1
mg
,
Calcium:
4
mg
,
Iron:
1
mg
More Coconut Recipes to Love!
Hi! I'm Jennifer, a home cook schooled by trial and error and almost 40 years of getting dinner on the table! I love to share my favourite recipes, both old and new, together with lots of tips and tricks to hopefully help make your home cooking enjoyable, stress free, rewarding and of course, delicious!