Celebrating Spring with a delicious fiddlehead and herb quiche, flavoured with Emmental cheese and topped with fresh herbs.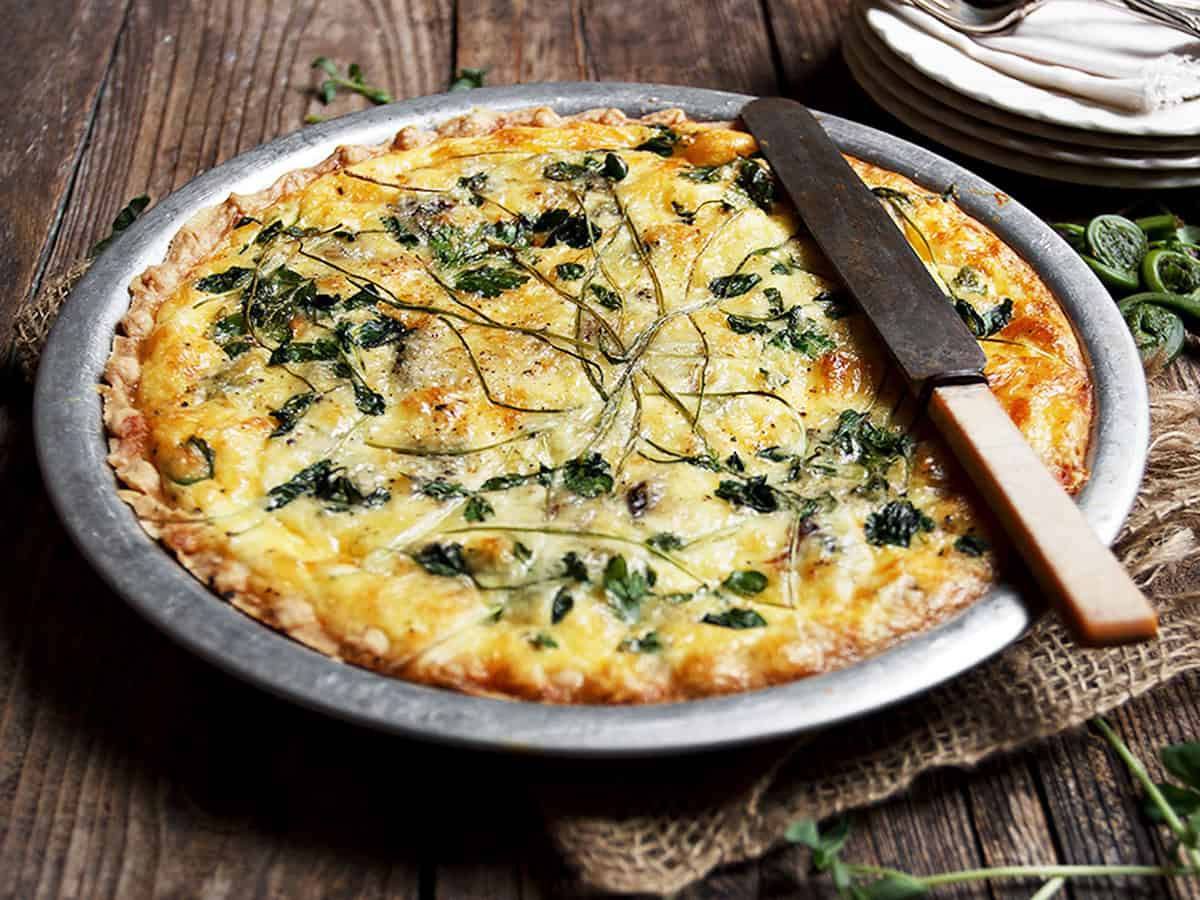 Nothing says Spring nearly as much as fiddleheads, the furled fronds of young Ostrich ferns. Fiddleheads are available for just a very short time every Spring, so when you see them, be sure to pick them up! Look for them right now at your local Loblaws store, but hurry, as they are available for a short time only.
Fiddleheads are a unique and delicious green. If you've never eaten them, they have a taste profile very similar to asparagus, I think. They are a great source of omega-3 and omega-6 fatty acids, and are high in both iron and fibre. They are well worth seeking out.
How to Prepare Fiddleheads
To prepare fiddleheads, you'll first want to rub the fiddleheads to remove any brown papery husk around the fronds (this may not be necessary, as they may have already had the husk removed.) I like to trim the thick, woody stem end off, just about to the frond. Finally, be sure to rinse the fiddleheads several times in cold water, to remove any husk and dirt.
Now, when it comes to cooking, it's important to note that fiddleheads always need to be cooked. And cooked well. They are not the kind of green that you can eat raw (or add raw to other dishes). To cook fiddleheads, you can either boil or steam them. You'll want to boil them for about 15 minutes or steam for about 10 minutes. Once boiled or steamed, you can eat them as they are, add them to other dishes (such as this quiche), saute them for a few minutes in a frying pan with some salt, pepper and butter to eat as a side vegetable, or quickly rinse in cold water after cooking to cool and add to salads.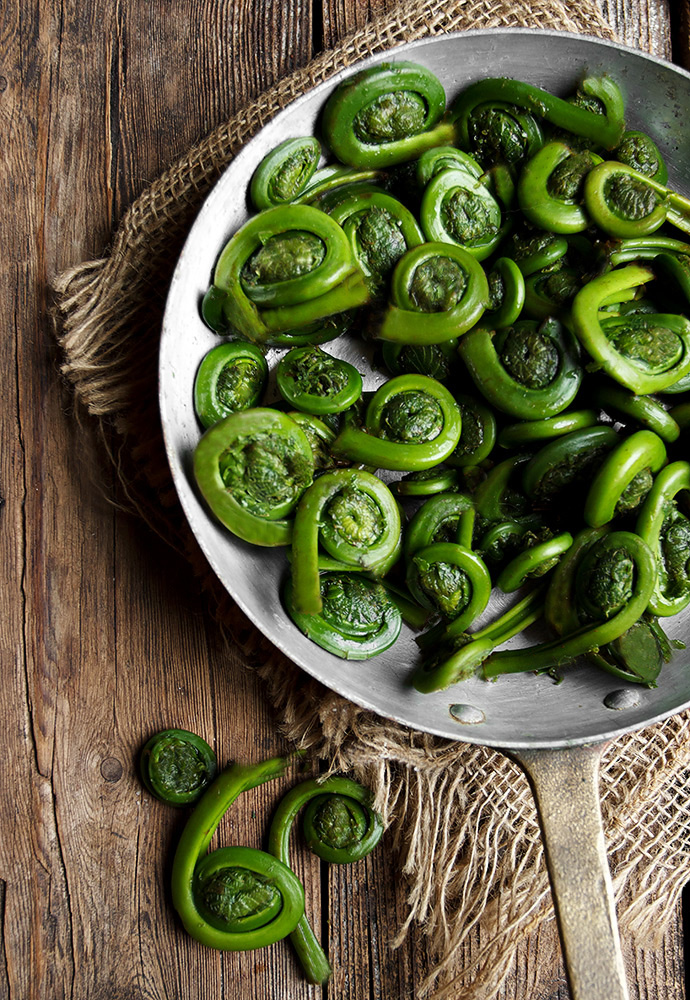 I was inspired to make a quiche with my fresh, Spring fiddleheads, but there are dozens of ways to enjoy fiddleheads. Any place you might use asparagus is a good choice for substituting fiddleheads. As mentioned above, they are great pan-fried with salt and butter or add some Asian seasoning or sesame seeds, for a little extra flavour. They are great in omelettes or frittatas, soups, salads, risotto and you can also pickle or freeze them, to extend the season.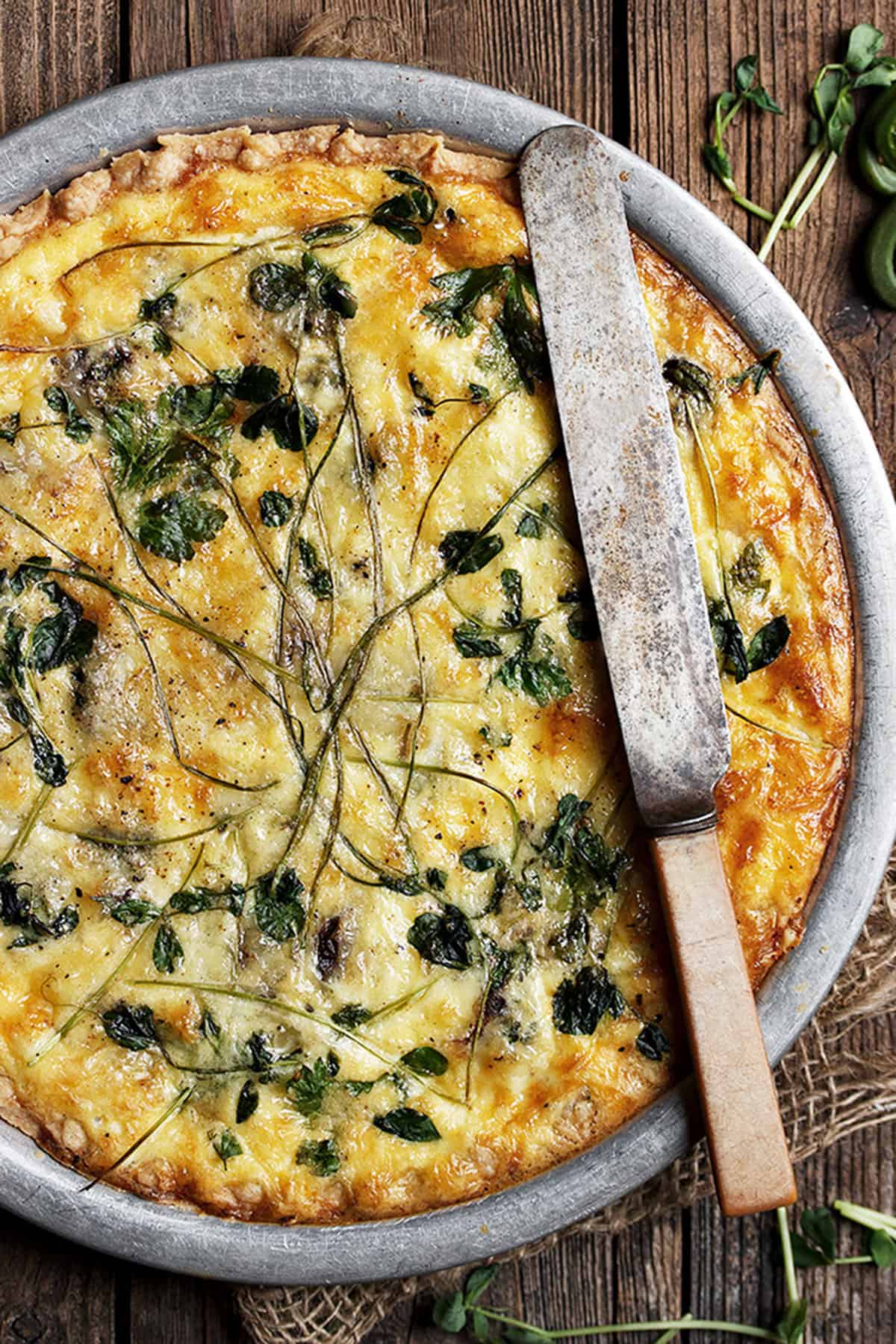 Get the Recipe:
Fiddlehead and Herb Quiche
A delicious fiddlehead and herb quiche, flavoured with Emmental cheese and topped with fresh herbs.
Ingredients
1

9-inch

(

1

9-inch

)

homemade or store-bought deep dish pie shell

2

(

2

)

shallots

,

peeled, halved and sliced

1

tsp.

(

1

tsp.

)

oil

24-36

(

24

)

fiddleheads

,

washed and trimmed

1

cup

(

108

g

)

shredded Emmental cheese

,

or cheese of your choice

4

large

(

4

large

)

eggs

3/4

cup

(

178.5

ml

)

heavy 35% whipping cream

Pinch

(

Pinch

)

nutmeg

Salt and freshly ground pepper

Assorted herbs

,

such as chives, parsley, pea shoots, thyme etc.
Instructions
Prepare fiddleheads by brushing off any brown husk from around the fronds. Wash well several times in cold water. Trim thick, woody stem end, cutting almost back to the frond.

Cook fiddleheads in boiling water for about 15 minutes or steaming for about 10 minutes. Remove/drain and allow to cool slightly.

Meanwhile, pre-bake pie shell in a 375° F. oven for 7-8 minutes. Remove and allow to cool slightly. Leave oven on. Saute shallots with oil in a skillet over medium heat, until tender. Set aside. In a medium bowl, whisk together the eggs, cream, nutmeg, salt and pepper.

When all ingredients are ready, place pie shell on a baking sheet. Scatter fiddleheads over bottom of cooked pie shell. Sprinkle cooked shallots over top. Distribute shredded cheese over top. Pour egg/cream mixture slowly over-top. Scatter herbs over the top, using a fork to distribute them evenly, then using the backside of the fork to press them gently down into the liquid.

Place quiche in the oven on the baking sheet and bake until golden and set, about 30-35 minutes.
Calories:
307
kcal
,
Carbohydrates:
15
g
,
Protein:
9
g
,
Fat:
23
g
,
Saturated Fat:
10
g
,
Cholesterol:
135
mg
,
Sodium:
170
mg
,
Potassium:
119
mg
,
Vitamin A:
685
IU
,
Vitamin C:
1.4
mg
,
Calcium:
143
mg
,
Iron:
1.2
mg