These easy oven baked Teriyaki Chicken Breasts, bake up easily in the oven, right along with the vegetables. The secret is in the delicious teriyaki sauce. Tuck it away and use it on chicken breast or thighs, make skewers out of it, or use it on the BBQ.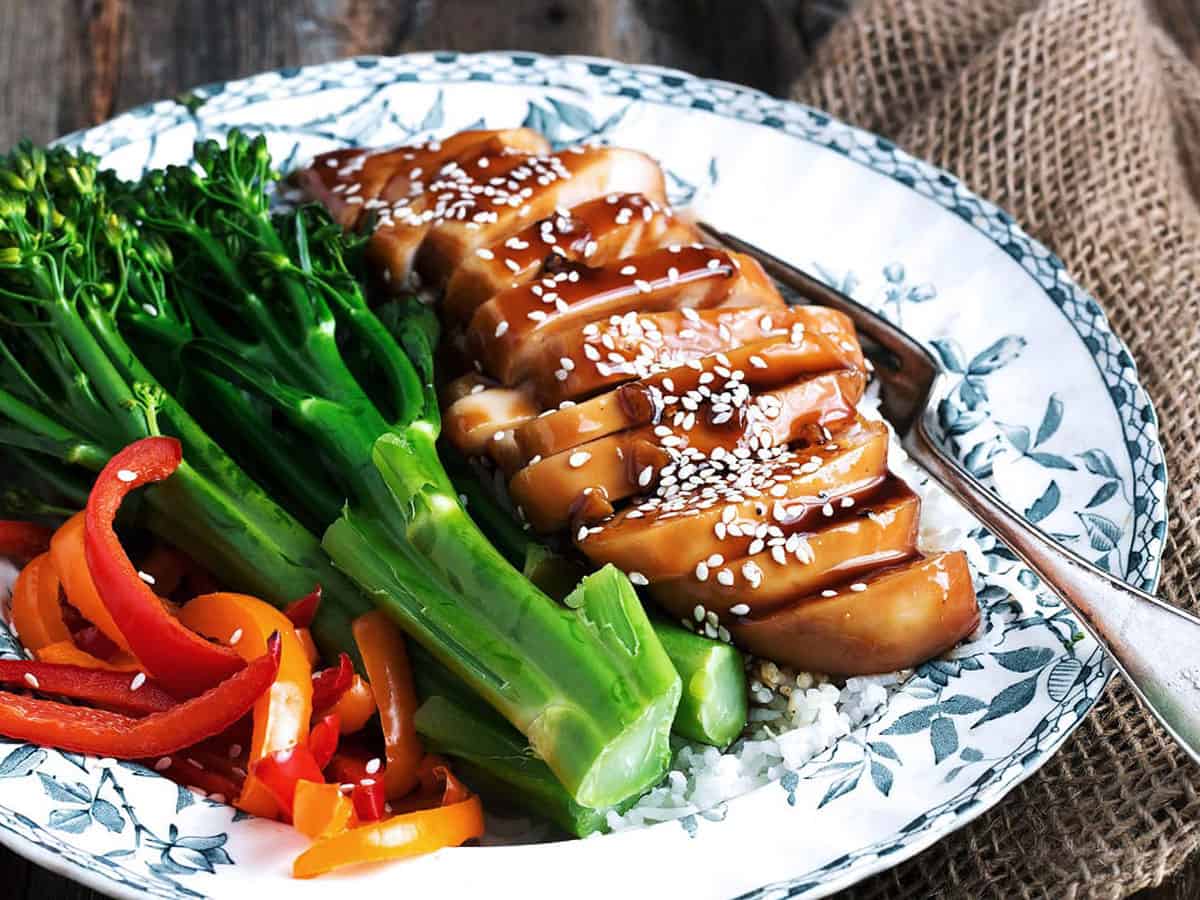 Let's face it. The problem with boneless, skinless chicken breasts is that they can sometimes tend to be both dry and lacking in flavour. On the other hand, they are a good choice for a lean protein. So when it comes to chicken breasts, I tend to go for recipes that allow me to enjoy the lean, but have a little sauce and deliver big on flavour.
The secret to this teriyaki chicken is the delicious sauce, that doubles as a marinade. If you have the time, marinate your chicken breasts for 6-8 hours. If you do, your chicken will form a flavourful "skin", that locks in the moisture as it cooks. That said, if time is tight, I have marinated for as little as 1 hour. As most of the sauce is added at the end, you can decide how much or how little you add, which is always nice.
How you cook up the chicken is up to you. This time, I baked my chicken teriyaki as a sheet pan dinner, together with broccolini and sweet peppers that needed using up. It's a great solution for a quick dinner, as you simply throw it all in the oven. Check the Cook's Notes for other cooking options.
Cook's Notes
While I have used boneless, skinless chicken breasts here, you can easily use boneless, skinless chicken thighs or even bone-in/skin-on chicken. Boneless, skinless chicken breast chunks on skewers are also great.
To broil your chicken, line a baking sheet with aluminum foil. Broil 6 inches from the heat source, turning several times, until the chicken tests done (165F.). For broiling, keep the sauce on the chicken while broiling to a minimum, as it will char easily. Add most of the sauce right at the very end.
This is also great on the BBQ. As with broiling, keep sauce to a minimum right to the end, to avoid it burning as the chicken cooks.
I served mine over rice, but it would also be great with grains or even noodles.
Get the Recipe:
Easy Teriyaki Chicken Breasts
Easy and delicious, this dinner is easily cooked up on one pan in the oven. A great weeknight dinner! Be sure to allow some time to marinate the chicken ahead of cooking.
Ingredients
Sauce:
1/2

cup

(

116

ml

)

soy sauce

1/2

cup

(

100

g

)

white sugar

1

tsp

(

4.93

g

)

brown sugar

3

cloves

(

3

cloves

)

garlic

,

crushed

1

Tbsp

(

14.79

g

)

fresh ginger

,

minced

Freshly ground black pepper

1

Tbsp

(

14.79

ml

)

pineapple juice
To prepare:
3

(

3

)

skinless boneless chicken breasts

1

Tbsp

(

14.79

g

)

cornstarch

1

Tbsp

(

14.79

ml

)

water
Instructions
In a small saucepan, combine all the sauce ingredients. Bring to boil over high heat, then reduce heat to low and stir until sugar is dissolved, about 3 minutes. Remove from heat and let cool completely. Mix in 1/2 cup water.

Place chicken in a sealable plastic bag. Add soy sauce mixture, seal bag and turn to coat chicken. Refrigerate and marinate as long as you can, up to over-night (*try for at least 1 hour, 4-6 hours is better, 8-10 hours is best).

Remove chicken and set aside. Pour marinade mixture into a small saucepan. Bring to a boil over high heat, then reduce heat to low. Mix cornstarch with water and add to saucepan. Stir until mixture begins to thicken. Remove from heat and set aside.

For baking chicken: Preheat oven to 400 F. Arrange chicken on baking sheet. Brush top of chicken lightly with sauce. Add other vegetables etc in a single layer on the baking sheet as well, if desired. Bake in preheated oven, turning once, until chicken is cooked through, about 20-25 minutes (165F. when tested with an instant read thermometer).

For broiling chicken: Preheat a broiler (6-8 minutes per side/6 inches from heat). Very lightly brush chicken pieces on all sides with sauce, and broil or grill about 3 minutes per side. Test chicken for done-ness. It should be 165F. internal temperature with an instant read thermometer.

Allow chicken to rest a few minutes, then slice. Serve drizzled with warm sauce. Garnish with sesame seeds, if desired.
Calories:
304
kcal
,
Carbohydrates:
41
g
,
Protein:
28
g
,
Fat:
3
g
,
Cholesterol:
72
mg
,
Sodium:
2293
mg
,
Potassium:
512
mg
,
Sugar:
35
g
,
Vitamin A:
35
IU
,
Vitamin C:
2.8
mg
,
Calcium:
19
mg
,
Iron:
1.3
mg
More boneless chicken recipes you might also like …
Quick and Easy Charred Lemon Chicken
Easy and delicious lemon chicken, made with boneless chicken breasts.
www.seasonsandsuppers.ca
15 Minute Spicy Kung Pao Chicken Skillet
Quick, easy and spicy, this skillet uses boneless chicken breast.
www.seasonsandsuppers.ca
&nbsp
Hi! I'm Jennifer, a home cook schooled by trial and error and almost 40 years of getting dinner on the table! I love to share my favourite recipes, both old and new, together with lots of tips and tricks to hopefully help make your home cooking enjoyable, stress free, rewarding and of course, delicious!