These easy oven baked Teriyaki Chicken Breasts, bake up easily in the oven, right along with the vegetables. The secret is in the delicious teriyaki sauce. Tuck it away and use it on chicken breast or thighs, make skewers out of it, or use it on the BBQ.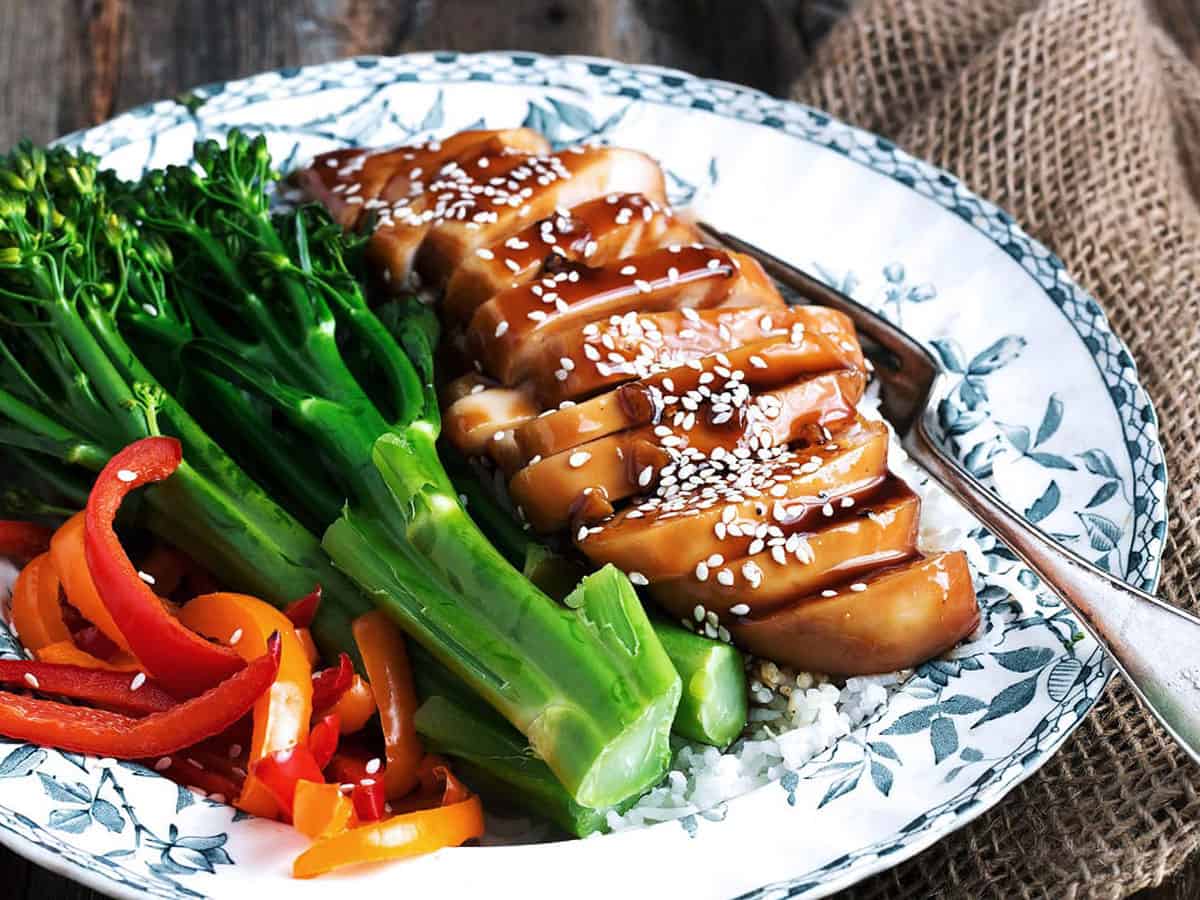 Let's face it. The problem with boneless, skinless chicken breasts is that they can sometimes tend to be both dry and lacking in flavour. On the other hand, they are a good choice for a lean protein. So when it comes to chicken breasts, I tend to go for recipes that allow me to enjoy the lean, but have a little sauce and deliver big on flavour.
The secret to this teriyaki chicken is the delicious sauce, that doubles as a marinade. If you have the time, marinate your chicken breasts for 6-8 hours. If you do, your chicken will form a flavourful "skin", that locks in the moisture as it cooks. That said, if time is tight, I have marinated for as little as 1 hour. As most of the sauce is added at the end, you can decide how much or how little you add, which is always nice.
How you cook up the chicken is up to you. This time, I baked my chicken teriyaki as a sheet pan dinner, together with broccolini and sweet peppers that needed using up. It's a great solution for a quick dinner, as you simply throw it all in the oven. Check the Cook's Notes for other cooking options.
Cook's Notes
While I have used boneless, skinless chicken breasts here, you can easily use boneless, skinless chicken thighs or even bone-in/skin-on chicken. Boneless, skinless chicken breast chunks on skewers are also great.
To broil your chicken, line a baking sheet with aluminum foil. Broil 6 inches from the heat source, turning several times, until the chicken tests done (165F.). For broiling, keep the sauce on the chicken while broiling to a minimum, as it will char easily. Add most of the sauce right at the very end.
This is also great on the BBQ. As with broiling, keep sauce to a minimum right to the end, to avoid it burning as the chicken cooks.
I served mine over rice, but it would also be great with grains or even noodles.
More boneless chicken recipes you might also like ...
&nbsp