A delicious whole wheat seed bread, sweetened with honey and a variety of seeds for flavour and texture. A great everyday bread!
Why you'll love this whole wheat seed bread
If you are looking to add more whole grains to your diet this whole wheat bread will nicely satisfy any white-bread-loving tastes, while also bringing some whole grains into the mix. With a bit of honey, for some sweetening and flavour, along with a variety of seeds and a bit of cornmeal, for great texture. this loaf checks all the boxes!
When it comes to whole wheat bread, I don't think of it as an all or nothing proposition. This bread is 45% whole wheat, which I think is really the sweet spot between wholesome, but still light in texture.
I love this bread eaten out of hand with butter or as a sandwich bread, but it also makes great toast, too. This is a great "everyday" bread.
Ingredients and Substitutions
Yeast – you can start with either active dry yeast or regular instant yeast. I always use SAF Brand instant yeast (affiliate link). Rapid-rise or quick-rising yeast is not recommended for this bread.
Whole Wheat Flour – Be sure to use 100% whole wheat flour and not a blend. White whole wheat flour would also work here, though it may change the amount of flour you will need overall, as it doesn't absorb water as fully as regular whole wheat flour.
All purpose flour – regular all purpose flour is all you need for this bread. I prefer unbleached flour and would recommend it if you have it one hand. Bread flour would also work here, though you will probably end up needing to add less overall than specified for the all purpose flour.
Seeds – I used poppy seeds, sesame seeds and milled flax seed in my bread here, but you can use any seeds you like. Just keep them in the same quantities or the same total quantity (6 Tbsp total). For larger seeds, such as sunflower, I think I would roughly chop them, but you can certainly add them whole, if you like.
Cornmeal – just adds a little extra bit of flavour and texture. You can omit if you don't have any on hand.
Honey – you can replace with maple syrup, agave syrup, golden syrup or brown rice syrup. You could also use molasses (not blackstrap, though), if you'd like a darker, brown-style bread. And of course, if you don't have any syrup on hand, you can use brown or white sugar. Do note that as you won't be adding the liquid of syrup, you will need to add less flour overall.
You will also need – salt, lukewarm water and an egg, for glazing the top (you can omit).
FAQ
Can I use all whole wheat flour in this bread? While it is certainly possible to make a 100% whole wheat bread, it does require very specific dough formulations, often includes long-rises and often uses additional ingredients such as vital wheat gluten to help it rise. None of those things are accounted for in this particular recipe. As such, you would be better to seek out a recipe specifically developed to use 100% whole wheat flour.
Can I use quick or fast rising yeast? I don't recommend a quick or fast-rising yeast, as this is a classic, two-rise bread. The Instant Yeast specified in the recipe is regular Instant Yeast, such as SAF Brand yeast.
Can I use different (or no) seeds? – you can use any seeds you want. Or use all one seed. Just keep to the roughly 6 Tbsp total. If you don't want to use any seeds, just omit them all. You will probably need a bit less flour overall.
Can I freeze this bread? Absolutely. It will freeze beautifully. Just wrap it well once cooled and it will keep nicely in the freezer for up to 3 months.
Can I halve the recipe? Yes, just cut all the ingredients in half, including the yeast.
Can I make this bread in 9×5-inch loaf pans? Yes, but they will, of course, be wider and shorter loaves. The baking time may change as well, so watch carefully and test often.
Recipe Tips
This bread will appear quite moist and almost sticky, but once you move it to the counter, you will find it needs just a touch of flour to knead well without sticking to your hands. So resist the urge to add more flour in the bowl or trying to get a smooth dough. As long as it comes together around the kneading hook and cleans the bowl in spots, it's good.
This bread is a fast riser, so don't wander too far :) My rises were about 45 minutes and 30 minutes, even in a cooler Fall kitchen.
My crust wrinkled a bit after cooling. Conventional wisdom suggest that there was a draft in the room when it was cooling. Maybe so, as I do have forced air heat and it was cooling near the vent. I also think it can be from a bit of extra moisture left in the loaf as it cools, meaning it was slightly under-baked. I took these loaves out of the oven when they were just over 200F internal temperature. Maybe a little higher might be better, 205-210F.
Let your bread cool completely before slicing, to prevent a gummy crumb.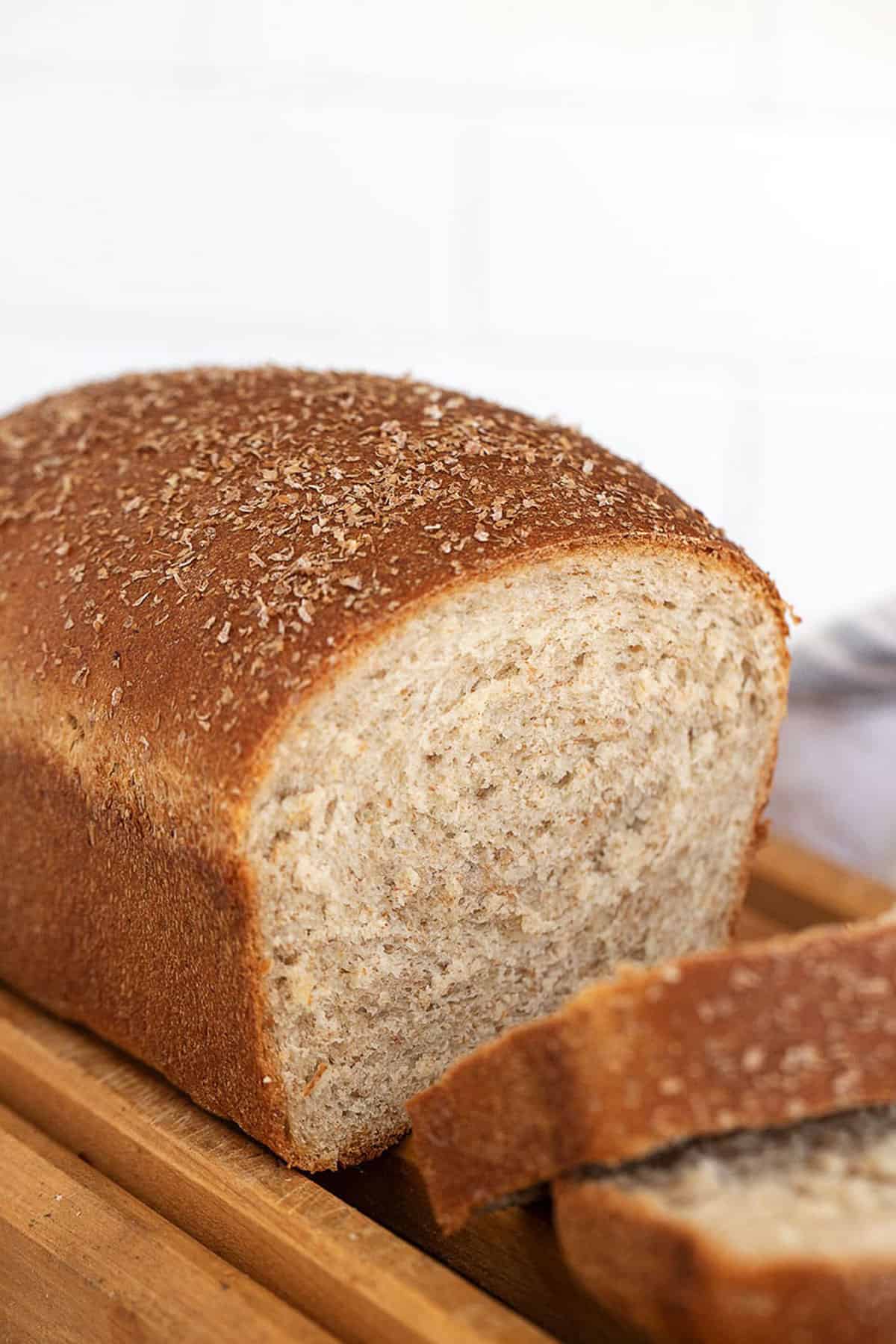 Get the Recipe:

Honey Whole Wheat Seed Bread
A delicious whole wheat bread, sweetened with honey and a variety of seeds for flavour and texture. A great everyday bread! Makes 2 loaves
Ingredients
3 1/2

teaspoons

active dry or regular instant yeast

,

not quick or rapid rise yeast

2 1/4

cups

lukewarm water

,

about 105F.

1/4

cup

honey

,

or maple syrup, agave or molasses

2 1/4

cups

whole wheat flour

2

Tablespoons

cornmeal

,

optional

2

Tablespoons

poppy seeds

2

Tablespoons

sesame seeds

2

Tablespoons

flax seeds

,

or milled flax seed

1 1/2

teaspoon

fine salt

2 1/2 - 3

cups

all purpose or bread flour

,

plus more as needed
Instructions
In a large bowl or the bowl of a stand mixer fitted with the paddle attachment, add the lukewarm water and sprinkle the yeast over-top. Stir, then let stand 5 minutes. Add the honey and the whole wheat flour. Add the cornmeal, poppy seeds, sesame seeds, flax seeds and salt. Stir to combine.

Add 1 cup of the all purpose flour and mix in. Add the second cup of all purpose flour, a bit at a time, and knead in. Start adding more all purpose flour, in small increments, as needed, until the dough wraps around the kneading hook and cleans the bowl in spots. Dough will probably look sticky, but that's fine.

Remove dough to a floured surface and knead, adding a little more flour if dough is sticking to your hands at all. Form into a ball. Place into a greased bowl round side down, then flip it over, so the round side is up. Cover bowl with plastic wrap and let rise until doubled, about 45-60 minutes.

Remove dough to a lightly floured surface and gently deflate. Divide dough into 2 equal-sized pieces (I like to weigh them out). Form into 2 balls and cover with a clean tea towel to rest for 15 minutes. Meanwhile, Prepare two 8x4-inch loaf pans by greasing or spraying well. Set aside.

Take one ball of the dough and pat into a rough oval, about 8-inches long and 6-inches wide. Roll up from the long side and pinch the seam underneath. Place into greased pan, seam side down. Repeat with the other ball of dough.

Spray a piece of plastic wrap and place over loaves in the pan, greased side down. let rise until the dough crests the pan about 1-inch in the centre, about 30 minutes. Preheat oven to 375F (not fan assisted).

Remove the plastic wrap. Beat the egg and very gently (you don't want to deflate your bread!), brush the egg onto the top of the loaf. Make sure your cover all the top and sides lightly, but thoroughly, as any spots you miss will be pale-coloured once baked.

Bake loaves in preheated oven for about 40 minutes, covering loosely with foil for the last part of baking if needed, to prevent over-browning. If you have a thermometer, you want to aim for 205-210F internal temperature.

Remove loaves from oven and immediately remove from loaf pans to a cooling rack. Allow the loaves to cool completely before slicing, to prevent a gummy texture to your bread.
Notes
You can switch up the seeds to your liking or add more of one and less of another, etc. Just aim for the total of about 6 Tbsp seeds.
If you don't have any cornmeal on hand, you can omit.
Be sure to read the notes above this Recipe Card,  for more tips on making this recipe.
Serving:
1
serving
,
Calories:
119
kcal
,
Carbohydrates:
23
g
,
Protein:
4
g
,
Fat:
2
g
,
Saturated Fat:
1
g
,
Cholesterol:
8
mg
,
Sodium:
151
mg
,
Potassium:
82
mg
,
Fiber:
2
g
,
Sugar:
3
g
,
Vitamin A:
11
IU
,
Calcium:
27
mg
,
Iron:
1
mg
More Bread Recipes to Love!
Hi! I'm Jennifer, a home cook schooled by trial and error and almost 40 years of getting dinner on the table! I love to share my favourite recipes, both old and new, together with lots of tips and tricks to hopefully help make your home cooking enjoyable, stress free, rewarding and of course, delicious!