This easy and delicious egg dish puts a coddled egg on top of creamy mashed potatoes and served with buttery toasted bread sticks for dipping.
Now to explain this unusual dish, let's start with the fact that this is definitely an egg lovers dish. Secondly, if you have any aversion whatsoever to runny yolks and the thought of barely set whites, this might not be for you. If you're all good with that, let me just tell you that this is egg comfort food at it's absolutely very best!
You don't need any special equipment to make these! All you need is small 4 oz (1/2 cup capacity) jars or ramekins and a saucepan with a lid.
Jump to:
What is a Coddled Egg?
Coddled eggs are "eggs that are gently or lightly cooked in water just below boiling temperature in or out of the shell or other container". They can be partially cooked, mostly cooked, or hardly cooked at all. Poached eggs are a type of coddled egg cooked in water.
For our egg dish, we're going for "hardly cooked at all". We definitely want a super runny yolk. And as for the whites, we want them just set. When ready, we will break the yolk and through the process of dipping with the toasted bread slices, mix it all together with the creamy mashed potatoes.
Ingredient Notes
Eggs: As we are minimally cooking the eggs, you must start with pasteurized eggs. Beyond that, whatever egg brand you prefer is fine here. A large size egg works nicely.
Mashed Potatoes: I've gone with instant mashed potatoes here for several reasons. First, they are super easy. Secondly, they produce a creamier, thinner mashed potato that is sometimes difficult to achieve when starting with whole potatoes. And finally, they are a guilty-pleasure comfort food in my world :). I generally use Idahoan brand myself, as there isn't a great variety of brands available here. I hear Bob's Red Mill makes a great "Potato Flakes", if that is available to you. Just make according to the package directions. Generally the 2-serving size will yield four 4-oz egg cups.
If you prefer, you can make your own mashed. Just be sure they are a bit creamier than you might usually make. If you have left-over mashed potatoes, you could use them here, as well. To make sure they are not too stiff, stir in some extra milk, if necessary.
Bread: I find a flat ciabatta loaf works perfectly for the bread slices. The thinner profile fits perfectly into the jar. Simply slice diagonally into long, bread pieces. *I keep ciabatta slices in a freezer bag in my freezer, so I'm always prepared. Simply remove a few from the freezer and let thaw slightly before browning in butter to serve.
Chives: Fresh chives are highly recommended here. They add a lovely note to this simple dish.
Cook's Notes
This simple dish benefits from a dab of butter under the egg and a generous salting of the top before serving. Bust out your gourmet salt if you have some on hand. Fleur de Sel is a great or any coarse salt you enjoy.
When simmering the egg cups, your cups should rattle just slightly. If they seem to be banging against the bottom of the pan too vigorously, reduce the heat slightly. Generally, my heat level is at or around medium-low.
On my stove-top, the barely set whites take between 5-5 1/2 minutes. Don't be afraid to pop the lid and have a look to check their progress after the 4 minute mark.
Just as an aside and in case you were wondering, as we are using mason jars here, you could technically place a lid on them and drop them right into boiling water to achieve a similar thing. It would take probably 15 minutes or so in simmering water. The downside of this is the extra time and then need to fish them out of hot water and unseal the hot jars to check on the egg status. I don't feel that the extra time and fussing is rewarded with a substantially better outcome, so I'm sticking with the simmering uncovered method.
Food Safety: As coddled eggs are minimally cooked, always use fresh, pasteurized eggs. Out of an abundance of caution, the very young, the very old, pregnant women and anyone with a compromised immune system should avoid eating.
How to enjoy your Coddled Eggs and Mashed Potatoes
You've got two ways to go here. First, simply stab it with a bread stick, to break the yolk, give it a gentle stir and them remove the bread and eat, re-dipping as needed. Alternately, you can stir the cup up, mixing the egg with the potatoes and eat with a spoon, with the bread as a side.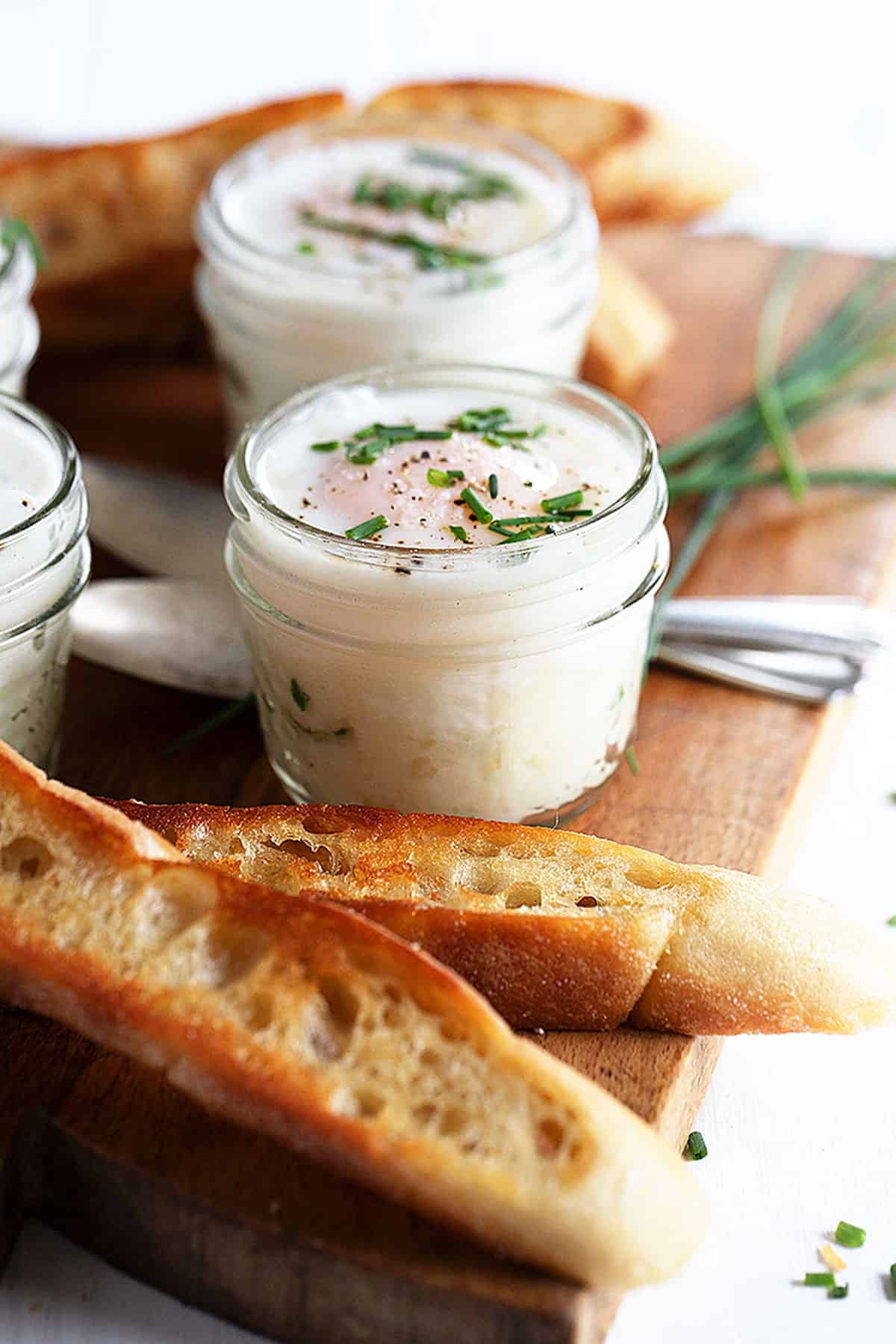 Recipe
More Egg Recipes You Might Like ...