These mashed potato muffins are ideal for leftover mashed potatoes, or boil up some potatoes to enjoy them anytime! Crispy, easy and delicious potato side dish.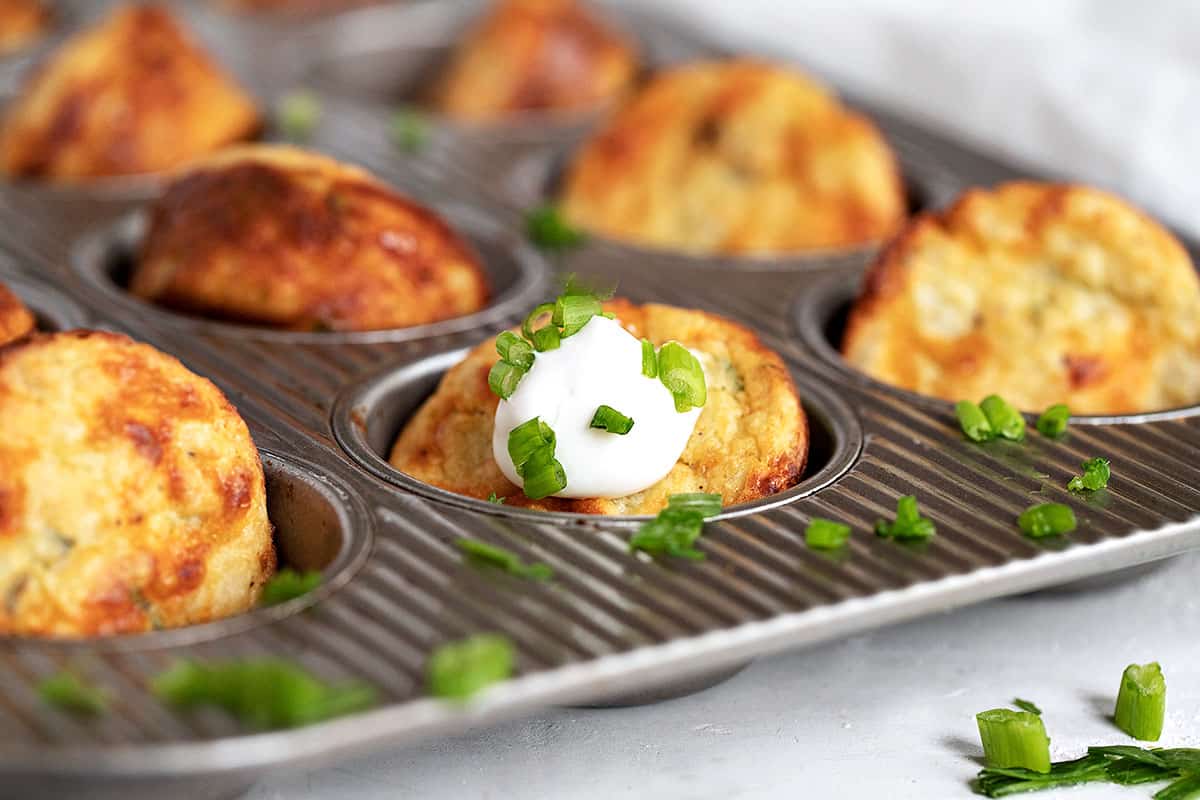 Jump to:
Why you'll love these mashed potato muffins
Muffin Tin Mashed Potatoes are a perfect recipe for using leftover mashed potatoes! All you need is 2 1/2 cups of leftover mashed potatoes and you can turn them into a dozen mashed potato cups.
But don't wait to have leftover mashed potatoes to make these delicious, crispy potato cups. Just boil up some potatoes, mash, cool and use. Or if you prefer you can even start with Instant Mashed Potatoes.
These mashed potato muffins reheat well, freeze well and travel well, so you can enjoy handheld mashed potato anytime and anywhere.
Key Ingredients
Mashed Potatoes - you can start with leftover mashed potatoes, freshly boiled and mashed potatoes or even Instant mashed potatoes that you cook before using. Do note that the mashed potatoes need to be cooled to room temperature before mixing the batter, so allow a little time for that cooling to happen.
Milk - use any milk you like here. I prefer a milk with a little fat (2% or 3%). I suspect a non dairy milk would also work fine here.
Cheddar Cheese - shredded sharp cheddar cheese is my choice for these mashed potato muffins, but you can certainly experiment with any cheese you like.
Green Onion - this is really optional, but it does add nice flavour, colour and texture. Chives would also work here. That said, if you aren't a fan or don't have green onion or chives on hand, you can easily omit.
You may also need, butter, salt, baking powder, flour and optional Sour Cream, for garnish.
Variations
I think this recipe is especially suited to the addition of some bacon. You could add some finely chopped cooked bacon to the muffins themselves, or use as a garnish.
If you want to bring some sour cream flavour to the potato muffins themselves, you can replace half the milk in the batter with sour cream. (I like to garnish with sour cream myself, so I generally skip it in the muffins).
Making Muffin Tin Mashed Potatoes: Step-by-Step
How to Make Mashed Potato Muffins: Start with either cold or room temperature mashed potatoes. (If you are making the mashed potatoes fresh for this recipe, allow them to cool before mixing the batter, as hot potatoes will cook the added eggs in the batter :).
Add the milk and eggs. Add the salt and melted butter (*unless you are using leftover mashed potatoes which already have butter and salt, in which case you can reduce or omit the butter and salt here). Stir together. Stir in the shredded cheddar cheese and diced green onion. Finally, whisk together the flour and baking powder and stir in to finish the batter.
Brush a 12-cup muffin tin generously with melted butter. Use a 1/4-cup measure to scoop out batter into the muffin pan, dividing any extra between the cups.
Bake in preheated oven until golden and crispy. Once out of the oven, let them stand a minute, then remove from muffin cups and serve with a dollop of sour cream and some additional chopped green onion. If making ahead, remove to a wire rack to cool completely before refrigerating or freezing.
FAQ
Can these be made with Instant Mashed Potatoes? Sure! Just make the instant potatoes per the instructions and use in the recipe. As you have probably added butter and salt to the Instant potato mixture, reduce or omit the butter and salt added later accordingly.
If my leftover mashed potatoes are already seasoned and buttered, should I skip the salt and butter in the batter? Yes, as long as the mashed potatoes are well seasoned and buttered. If they are only lightly seasoned, you can add a bit more of either salt or butter or both, if you like.
Cook's Notes
The texture of these mashed potato muffins can be anywhere from heavier and chunky with potato or light and fluffy, depending on the mashed potatoes you use. It's really just a case of what you have or if making mashed potatoes fresh, mashing them coarsely for a chunky potato or maybe putting them through a potato ricer for a finer texture. Instant mashed potatoes will produce the lightest mashed potato muffins.
These will rise in the oven, much like a regular muffin, but will fall as they near the end of cooking. That's just what they do as the weight of the potato will eventually win out over the baking powder :)
Making Ahead, Re-heating, Storing and Freezing
Making Ahead: Mix, bake and cool, then refrigerate in an airtight container. (I haven't tried this, but I suspect you could mix the batter ahead then refrigerate, then fill the muffin cups and bake later). You can also make mashed potatoes ahead for this recipe, cool and refrigerate, before mixing the batter and baking later.
Re-heating: Simply pop the mashed potato muffins onto a baking sheet, place a sheet of aluminum foil loosely over-top and place into a 350F oven until they are warm (15-25 minutes). Alternately, you can re-heat quickly and easily in the microwave.
Storing: Store in the refrigerator for about 3 days.
Freezing: After baking and once cooled, place into an airtight container and freeze up to 2 months. You can reheat from frozen (no need to thaw), as detailed above, but allowing more time for them to reheat (probably 25-30 minutes).
Recipe
More potato dishes you might also like ...
Save or share this recipe