Delicious and hearty, this Quebec-Style Yellow Split Pea Soup cooks low and slow with vegetables and a ham hock, for a filling soup that's perfect for lunch or dinner.
Fall's cooler weather has definitely arrived here , so I'll be embracing soup season, starting with this Quebec Style Split Pea Soup. This classic French-Canadian soup is warming and hearty and the perfect thing for cooler days.
This soup features split yellow peas, together with vegetables and spices and a ham hock or bone. The long simmer infuses such great flavour in the soup. This is a great soup to enjoy throughout the year, but is especially handy as as use for your left-over Christmas or Easter ham bone.
This pea soup is definitely hearty enough for a dinner soup, especially with the bits of ham in it. Serve with a salad and a crusty bread and you're all set. If you're a fan of Habitant™ soup, you'll love this one!
Ingredients
Ham Hock: Many grocery stores carry frozen ham hocks now, so be sure to look in the frozen meat section for ham hocks if you can't find fresh! I prefer a fresh ham hock, as you will get just pure pork flavouring in the soup. If you love smoked flavours, you can use a smoked ham hock.
Dried Yellow Split Peas: Look for these in the dried pea and bean section at your grocery store. Even though these peas are dried, you don't want to start with a package that's been in your cupboard for a long time, as even dried things can dry out more and become less than ideal. I always buy a fresh package from the store. Prepare your dried peas by rinsing well in a colander under cold running water, then picking through the peas and discarding any odd looking ones.
Chicken Broth: I try to use a low-sodium chicken broth for this soup and add salt myself at the end of cooking. Many people feel that extra salt in the simmering liquid will hinder the beans from cooking. For a vegetarian option, replace the chicken broth with vegetable stock. Alternately, you can skip the broth altogether and just use the same quantity of more water. I prefer the extra flavour from the broth, personally.
Additional Ingredients: Carrots, celery, onion, bay leaf, dried savory (spice), dried thyme, water, salt and pepper.
FAQ
What makes this soup "Quebec Style"? This soup is in the style of classic, Habitant, French-Canadian pea soup, that is made with yellow split peas, a ham hock and small pieces of vegetable. It is a thick, somewhat smooth-textured pea soup.
Can I use a smoked ham hock? If you want! Obviously, the smoked hock will add a distinctive smoked flavour to the soup. If you like that, it's certainly fine to go ahead and use it. You will probably need to add less salt at the end of cooking.
Don't I need to soak the peas before cooking? No. Unlike their dried bean counterparts, dried peas will cook quite quickly and easily without soaking or pre-cooking. Dried split peas will generally cook to tender in as little as 30-45 minutes without soaking.
Why didn't my peas ever soften? I have never had this happen myself, but if your peas never got tender after cooking for several hours, it could be that the peas were old/too dry. It could also be related to your water. If your water is really, really hard, it can prevent dried peas and beans from softening.
Can I cook this soup in a slow cooker or instant pot? I'm sure you can, though I don't have any real direction for you in that respect, as I've not done it myself. I would generally try to mimic the simmer rate and general time for the stove-top recipe for the slow cooker. I am not a regular Instant Pot user, so I don't have any advice for you there. (If you have tried this recipe in a slow cooker or instant pot, I'd love if you'd come back and leave some information for others who may want to try it that way :)
How can I make this soup vegetarian? Simply omit the ham hock and substitute vegetable stock for the chicken broth. If you like, a crumble of veggie bacon on top would be a nice addition to this soup.
Is this soup gluten free? Most likely, yes. Be sure to make sure your chicken broth is labeled as gluten free, as some are not. It's also worth checking the dried beans as well and seeking out ones that specify gluten free.
What if I can't find ham hocks? If you can't find ham hocks, you can get a little bit of that flavour by stirring a little cooked ham into the soup during the last half hour of cooking.
Why aren't there any cloves in this soup? While it's true that some French-Canadian Pea soup often is spiced with cloves, I am not a big fan of cloves and I don't think I'm alone. It's quite a powerful spice and can be divisive in terms of taste. I felt it safer to leave them out of this recipe. If you are used to cloves in pea soup or are a clove lover, you can certainly add some with the spices.
Cook's Notes
I like to give this soup a super quick blend with the immersion blender. Not enough to puree it. Just enough to blend a bit of the peas in to the broth, for a thicker soup. Alternately, you could remove a cup of the soup and blend it in a blender. Or you could just leave it be. Your call :) Just be sure to remove the bay leaf before you do any blending.
I prefer to add all of the additional salt and pepper at the end of cooking, as I'm adding some salt with the broth and the ham hock already. Saving it until the end prevents an overly salty soup. That said, do be sure to taste and season well, if it needs it. It will help to bring together all the great flavours in this soup.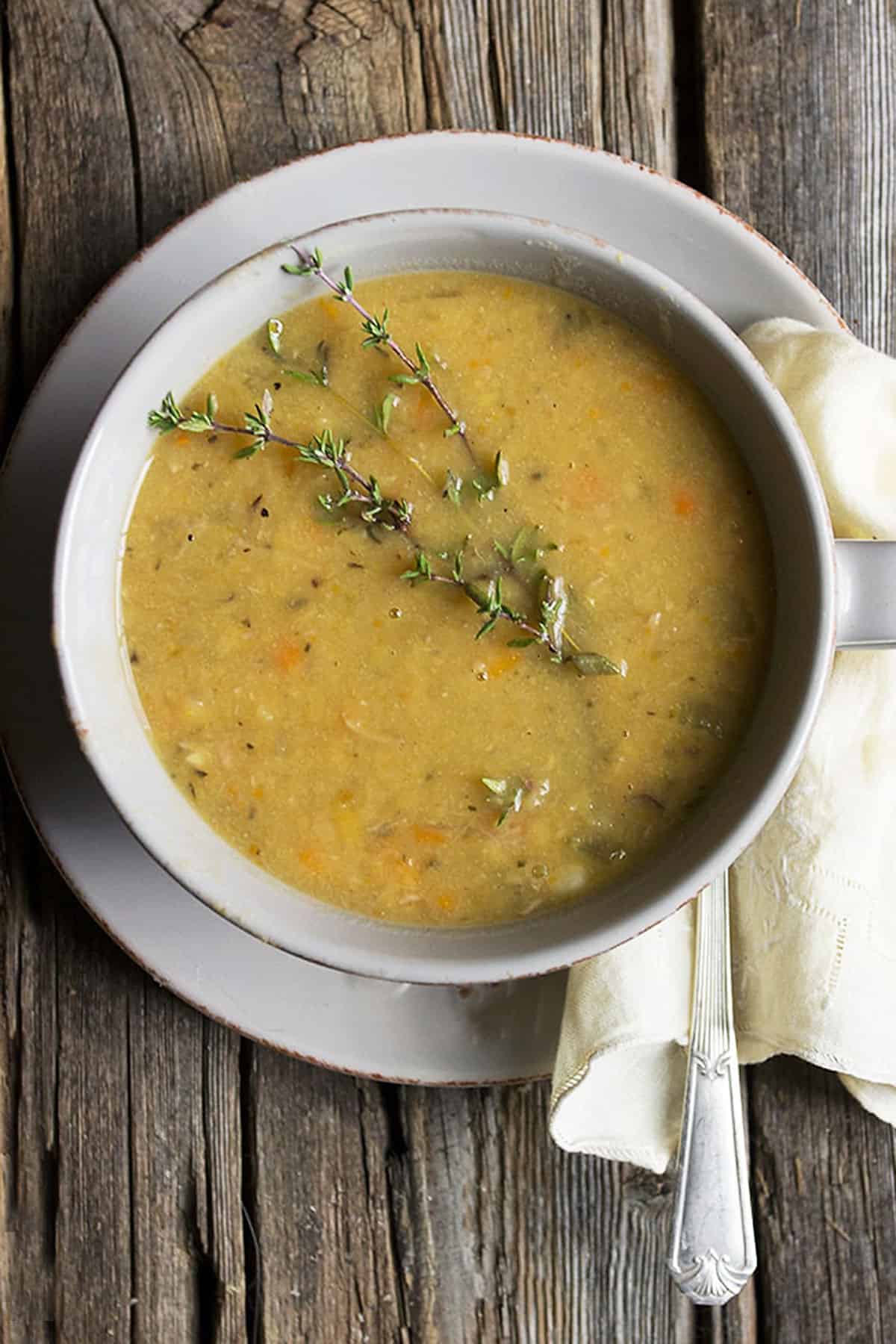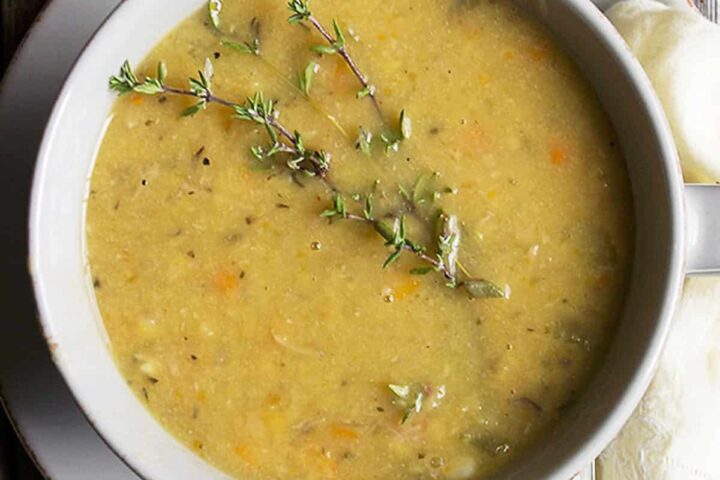 Get the Recipe:

Quebec-Style Yellow Split Pea Soup
Delicious and hearty split pea soup, starting with dried peas and simmered low and slow with vegetables, a ham hock and spices.
Ingredients
1

lb

unsmoked ham hock

2

Tablespoons

butter

,

or cooking oil

2

medium

carrots

,

peeled and finely diced

1

rib

celery

,

finely diced

1

medium

onion

,

finely diced

1 3/4

cups

dried yellow split peas

,

rinsed well and sorted through

1

bay leaf

1

teaspoon

dried savory

1

teaspoon

dried thyme

4

cups

chicken broth

,

or vegetable broth

3

cups

water

Salt and pepper, to taste
Instructions
Trim off and discard skin from ham hocks.

In a large soup pot or Dutch oven, melt butter over medium heat. Add carrots, celery and onion. Cook, stirring regularly, until softened, about 10 minutes.

Stir in dried split peas, bay leaf ,savory and thyme. Cook, stirring, for about 2 minutes.

Stir in chicken broth and water. Add the ham hock. Bring to a boil, then reduce heat to medium-low, cover the pot and simmer, stirring occasionally, until the peas are very soft and soup is thickened, about 1 1/2 - 2 hours. *NOTE: You may need to add additional water or stock if soup gets too thick.

PICK OUT AND DISCARD BAY LEAF and remove the ham hock to a plate. *Note: I prefer a thicker soup, so I blend just a bit of the soup with an immersion blender or blender. Just do a quick blend (or blend just a cup of the soup. You don't want a completely pureed soup. You want it to retain most of it's texture, but the bit of pureed soup will incorporate with the broth for a thicker soup.)

Let ham hock cool slightly, then remove any meat on the hock and add it back to soup. Discard the fat and bone from the hock.

Stir to combine meat with soup. Taste and generously season with salt and pepper, to taste.
Notes
Be sure to read the Ingredient Notes and FAQ in the original post, for more tips, options, substitutions and variations for this recipe!
Serving:
1
serving
,
Calories:
445
kcal
,
Carbohydrates:
39
g
,
Protein:
32
g
,
Fat:
18
g
,
Saturated Fat:
8
g
,
Cholesterol:
73
mg
,
Sodium:
787
mg
,
Potassium:
1012
mg
,
Fiber:
16
g
,
Sugar:
6
g
,
Vitamin A:
3629
IU
,
Vitamin C:
15
mg
,
Calcium:
73
mg
,
Iron:
4
mg
More soup recipes you might also like …
Indian-Spiced Tomato and Cauliflower Soup
This easy and delicious cauliflower soup uses roasted cauliflower, tomatoes and Indian spices, for a hearty and healthy-ish cauliflower soup.
www.seasonsandsuppers.ca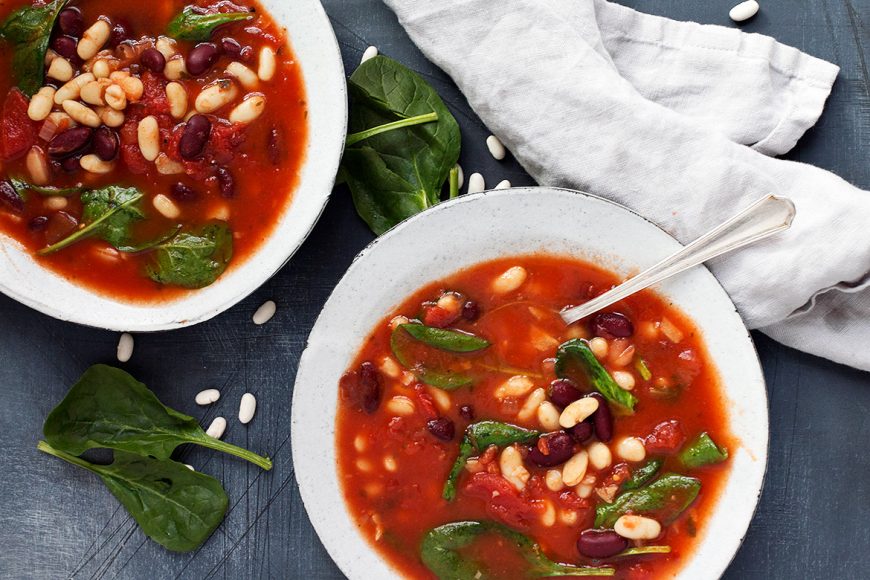 Two Bean Tomato Spinach Soup
This easy bean soup starts with canned beans and tomatoes, for a quick, delicious, hearty and healthy soup.
www.seasonsandsuppers.ca
Hi! I'm Jennifer, a home cook schooled by trial and error and almost 40 years of getting dinner on the table! I love to share my favourite recipes, both old and new, together with lots of tips and tricks to hopefully help make your home cooking enjoyable, stress free, rewarding and of course, delicious!