Celebrate Spring with this delicious collection of recipes using maple syrup!
In my part of the world, Spring is synonymous with Maple Syrup. This is the land of maple trees and when the sap starts to flow, we know that Spring is on it's way! Maple Syrup festivals celebrate this Spring ritual, with pancake breakfasts and sugar bush tours to watch the magic happen.
Maple syrup making isn't just for the big producers. Around here, anyone with some land can tap their own maple trees and boil up small batches of maple syrup for themselves. I was gifted a bit of this homebrewed maple syrup by a co-worker of my husband (thanks Louise and Matt!), so I had myself a little maple syrup celebration of my own and cooked up 3 delicious recipes that are perfect for enjoying Spring maple syrup.
Old Fashioned Johnny Cake
When I was young, fresh Spring maple syrup demanded a fresh bake of warm, old-fashioned Johnny Cake. Johnny Cake is nothing more than a simple cornmeal cake, but when enjoyed warm with butter and lots of maple syrup, it's a little bit of heaven as the syrup and butter soaks in to the cake in the most wonderful way. Johnny Cake is probably most traditionally made using lard, but I make it with butter these days.
Maple Dumplings (Grand Péres)
Maple dumplings are a traditional way to enjoy maple syrup in Quebec. Classic biscuit dough is dropped by spoonfuls in to a boiling mixture of maple syrup and water and they cook in the syrup. The result is wonderful, syrup-soaked biscuits and a delicious maple sauce. Perfect with ice cream. To envision what it tastes like, just imagine a syrup soaked pancake and you've got it!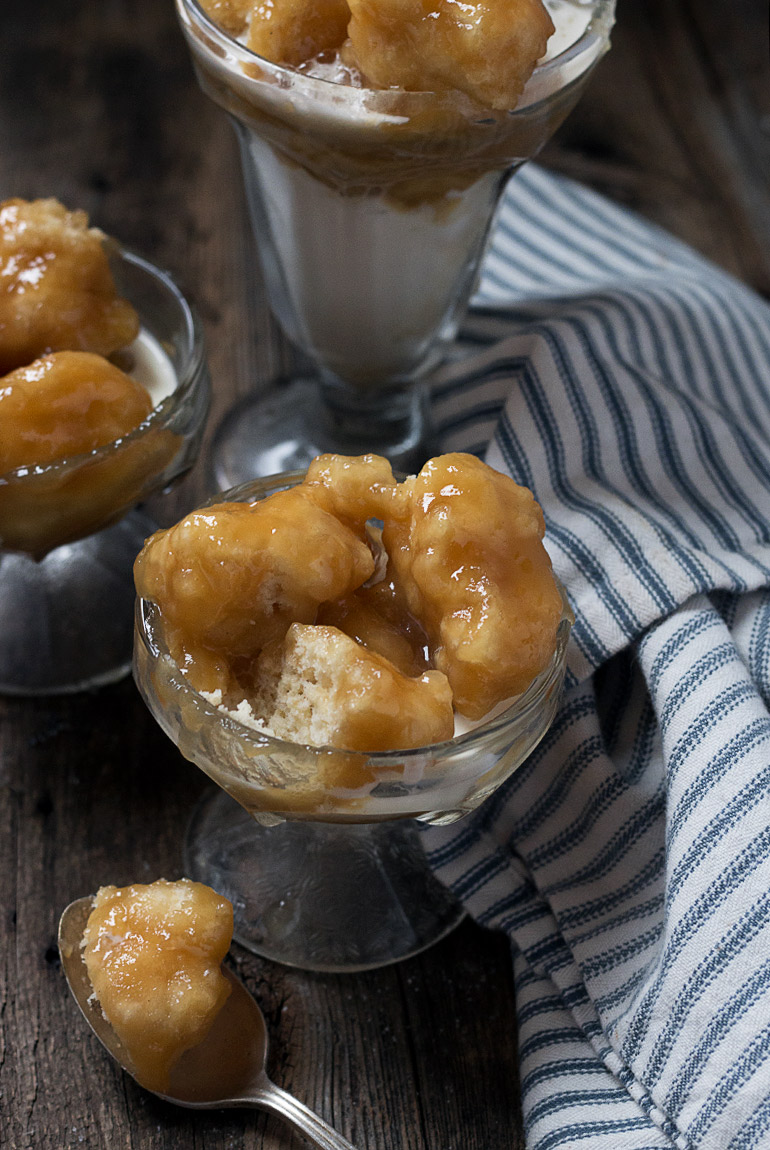 Maple Syrup Sponge Toffee
For some maple candy making fun, try maple syrup sponge toffee! It's a treat that combines the wonderful texture of sponge toffee with maple that produces a maple-sugar like treat. You'll need a candy thermometer to get the temperature just right, for best results.
Find the recipes for a 3 of these maple syrup treats below!
Browse more of my Maple Syrup Recipes!
Wow! I have a lot of recipes that include maple syrup. I'm so Canadian ;) Enjoy!
Maple Syrup and Pecan Hasselback Butternut Squash
Maple Walnut Squares
Classic Canadian Maple Syrup Pie
Maple Mustard Pork Tenderloin
Salted Maple Walnut Brittle
Good Morning Maple Muffins
Maple White Sandwich Bread
How to Make Maple Butter
Skillet Maple Syrup Pudding Cake
Upside Down Maple Apple Cake
Muskoka Maple Granola
Pin It for Later!