Celebrate Spring with this delicious collection of recipes using maple syrup!
In my part of the world, Spring is synonymous with Maple Syrup. This is the land of maple trees and when the sap starts to flow, we know that Spring is on it's way! Maple Syrup festivals celebrate this Spring ritual, with pancake breakfasts and sugar bush tours to watch the magic happen.
Maple syrup making isn't just for the big producers. Around here, anyone with some land can tap their own maple trees and boil up small batches of maple syrup for themselves. I was gifted a bit of this homebrewed maple syrup by a co-worker of my husband (thanks Louise and Matt!), so I had myself a little maple syrup celebration of my own and cooked up 3 delicious recipes that are perfect for enjoying Spring maple syrup.
Old Fashioned Johnny Cake
When I was young, fresh Spring maple syrup demanded a fresh bake of warm, old-fashioned Johnny Cake. Johnny Cake is nothing more than a simple cornmeal cake, but when enjoyed warm with butter and lots of maple syrup, it's a little bit of heaven as the syrup and butter soaks in to the cake in the most wonderful way. Johnny Cake is probably most traditionally made using lard, but I make it with butter these days.
Maple Dumplings (Grand Péres)
Maple dumplings are a traditional way to enjoy maple syrup in Quebec. Classic biscuit dough is dropped by spoonfuls in to a boiling mixture of maple syrup and water and they cook in the syrup. The result is wonderful, syrup-soaked biscuits and a delicious maple sauce. Perfect with ice cream. To envision what it tastes like, just imagine a syrup soaked pancake and you've got it!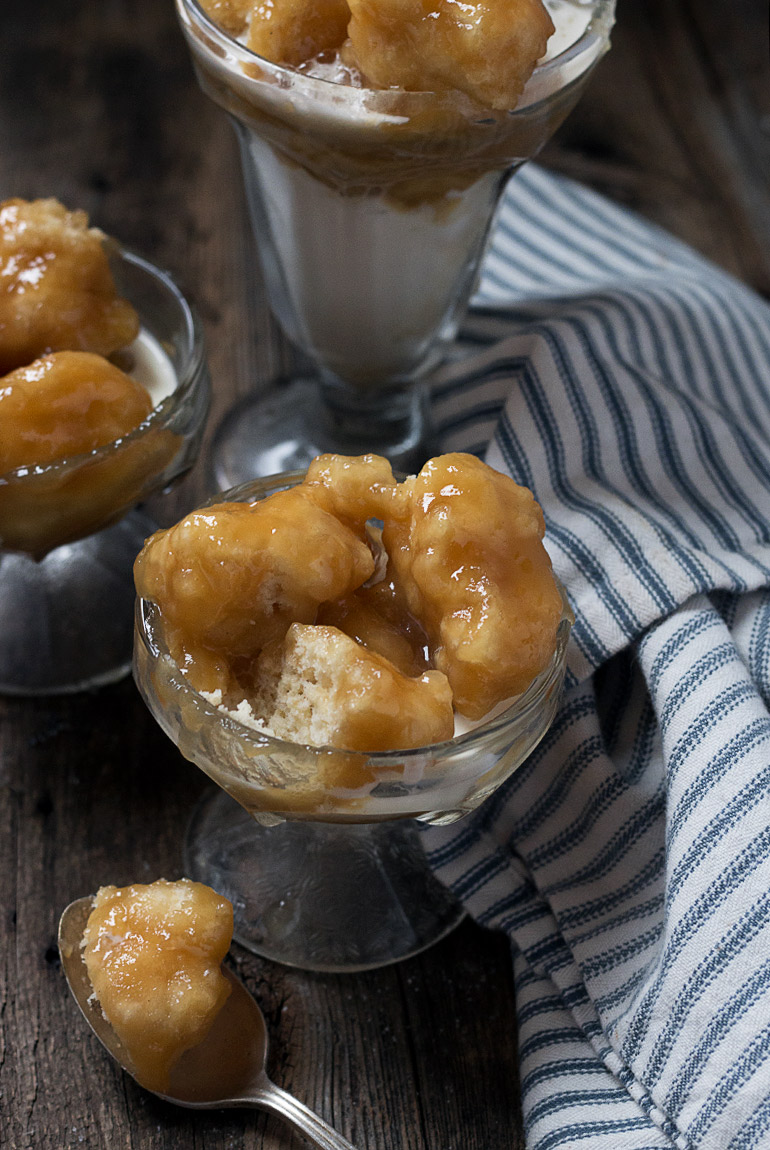 Maple Syrup Sponge Toffee
For some maple candy making fun, try maple syrup sponge toffee! It's a treat that combines the wonderful texture of sponge toffee with maple that produces a maple-sugar like treat. You'll need a candy thermometer to get the temperature just right, for best results.
Find the recipes for a 3 of these maple syrup treats below!
Browse more of my Maple Syrup Recipes!
Wow! I have a lot of recipes that include maple syrup. I'm so Canadian ;) Enjoy!
Maple Syrup and Pecan Hasselback Butternut Squash
Maple Walnut Squares
Classic Canadian Maple Syrup Pie
Maple Mustard Pork Tenderloin
Salted Maple Walnut Brittle
Good Morning Maple Muffins
Maple White Sandwich Bread
How to Make Maple Butter
Skillet Maple Syrup Pudding Cake
Upside Down Maple Apple Cake
Muskoka Maple Granola
Old-Fashioned Johnny Cake
An old-fashioned, classic cornmeal cake, perfect enjoyed warm with butter and maple syrup.
Print
Ingredients
1 cup cornmeal
1/2 cup milk or cream, for extra richness
1/2 cup butter at room temperature
1/2 cup white granulated sugar
1 1/3 cup soft cake flour can use all purpose
2 1/2 tsp baking powder
1 tsp fine salt
1 large egg
1 cup milk
Instructions
Preheat oven to 350F. Grease an 8-inch square cake pan and set aside.

In a medium bowl, stir together the 1 cup cornmeal with the 1/2 cup milk. Set aside.

In a large bowl with an electric mixer or in the bowl of a stand mixer with a paddle attachment, cream the butter. Gradually add the 1/2 cup sugar. In a medium bowl, whisk together the flour, baking powder and salt. In a small bowl, whisk together the 1 egg and 1 cup milk. Add the flour mixture alternately with the egg/milk mixture to the creamed butter/sugar mixture, beating until well combined. Blend in the reserved cornmeal mixture.

Pour in to prepared pan. Bake in preheated oven for 40-45 minutes, or until set.
Recipe Notes
*Cake flour is soft wheat flour. It is not self-raising. It is sometimes called Cake and Pastry flour.
Maple Dumplings (Grand Pères)
Classic Quebec-style maple dumplings are tiny biscuits simmered and cooked in maple syrup. Serve warm with ice cream.
Print
Ingredients
1 cup all-purpose flour
2 Tbsp white sugar
1 tsp baking powder
1/8 tsp salt
2 Tbsp unsalted butter softened
1/2 cup milk
1/4 tsp vanilla
1 cup pure maple syrup
1/2 cup water
Instructions
In a medium bowl, combine the flour, sugar, baking powder and salt. Using your fingers or a fork, work the butter into the dry ingredients until the mixture resembles coarse sand. Add the milk and vanilla, stirring until the dough is smooth.

In a large, wide saucepan or deep skillet, combine the maple syrup and water and bring to a boil. Using two spoons, drop 1-2 Tbsp spoonfulls of the batter in to the boiling syrup mixture. Reduce the heat, cover and simmer for about 15 minutes.

*Do be careful here. Allow to cool slightly before tasting. Hot syrup can burn your lips!

Serve warm dumplings over a scoop of vanilla ice cream, drizzled with some of the maple sauce from the pan.
Recipe Notes
Use a wide skillet or pan, as you'll need the surface room for the dumplings, as they float as they cook.
Maple Syrup Sponge Toffee
Sponge Toffee made with maple syrup instead of corn syrup.
Print
Ingredients
2 1/4 cups white sugar
1/2 cup less 1 Tbsp pure maple syrup
1 1/2 cups water
2 tsp baking soda
Instructions
Line a metal baking sheet with parchment paper or a silpat and set aside.




In a large, heavy bottomed pot, stir together sugar, maple syrup and water together. Bring to a boil over high heat, stirring only until the sugar dissolves, and then allow to boil un-stirred until the temperature reaches 302F. Quickly whisk in the baking soda until it is well combined and then pour on to prepared baking sheet. Allow to cool completely then break in to pieces.
Pin It for Later!