Crispy chicken, combined with a creamy bacon, mushroom, mustard and wine sauce. Easy enough for weeknight, but also special enough for company!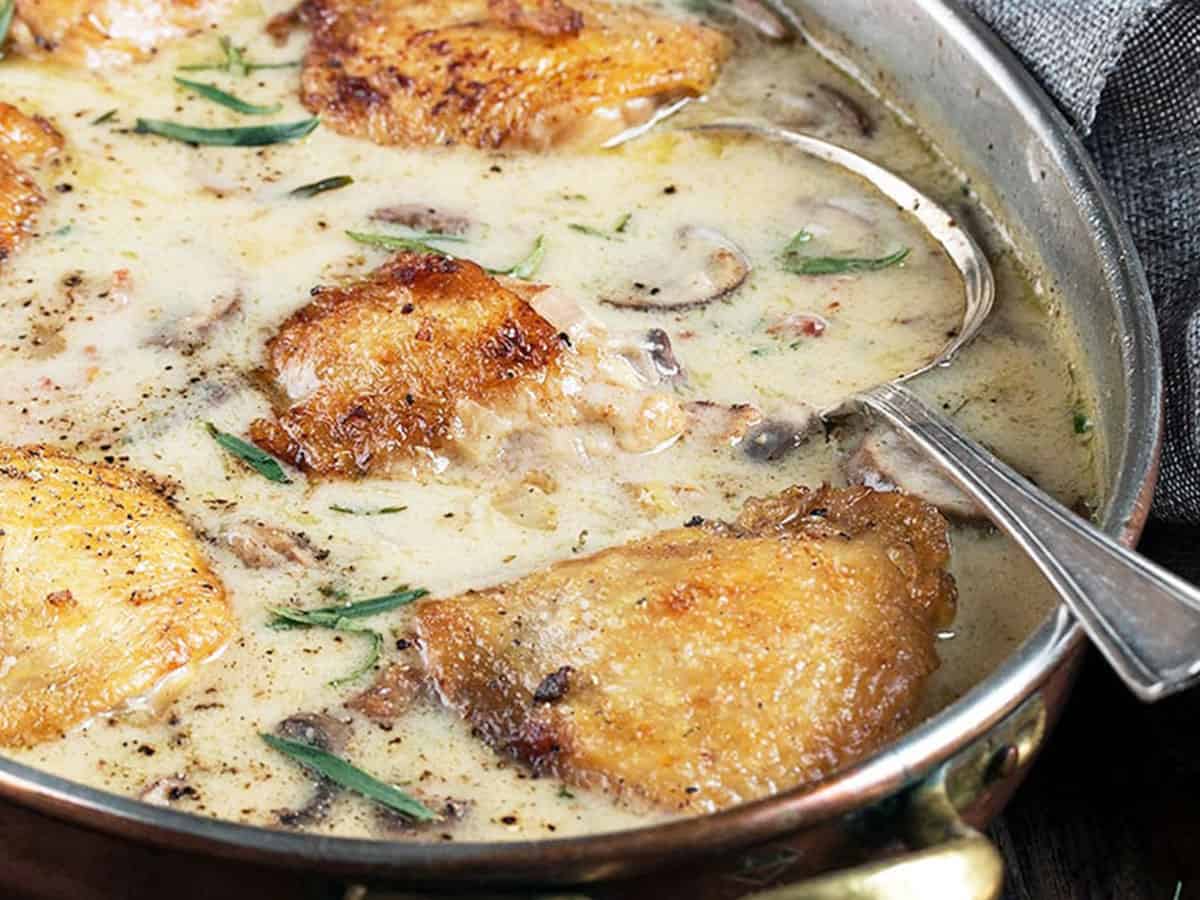 This easy and delicious Saucy French Chicken has all the classic french flavours, with white wine, tarragon and a bit of Dijon, combined with mushrooms and bacon, all in a lovely creamy sauce.
Once you cook up the bacon and chicken on the stove-top, you can pop this one into the oven and let it finish cooking there, to free you up to do other things. Simply finish the gravy on the stove-top when you take it out of the oven and you're good to go.
With classic French flavours, this chicken dish is perfect for entertaining, as it's both easy and delicious!
The fabulous, creamy sauce is great spooned over mashed potatoes or rice.
Cook's Notes
While I have used bone-in/skin-on chicken thighs here, you could also use bone-in/skin-on chicken breasts. Just leave them in the oven longer (40-45 minutes) as they will take longer to cook through.
I love the extra flavour that skin-on/bone-in chicken brings to this dish, but if you only have or just want to use boneless/skinless, go ahead and do that. Simply adjust both the skillet browning and oven time accordingly (less time for both, as boneless will cook more quickly and you don't have skin you need to "brown".
Don't have or want to cook with wine? Simply replace with 1 cup more chicken broth and maybe a tablespoon of white wine vinegar for some acidity.
Top Tip! Make your own creme fraiche by combining 1 cup heavy whipping cream with and 2 Tsp buttermilk in a glass jar. Cover and let stand at room temperature for 12 to 24 hours, or until very thick. Stir well, then refrigerate up to 10 days.
More chicken recipes you might also like ...