Delicious Homemade Ciabatta Bread is not nearly as hard to make at home as you may think!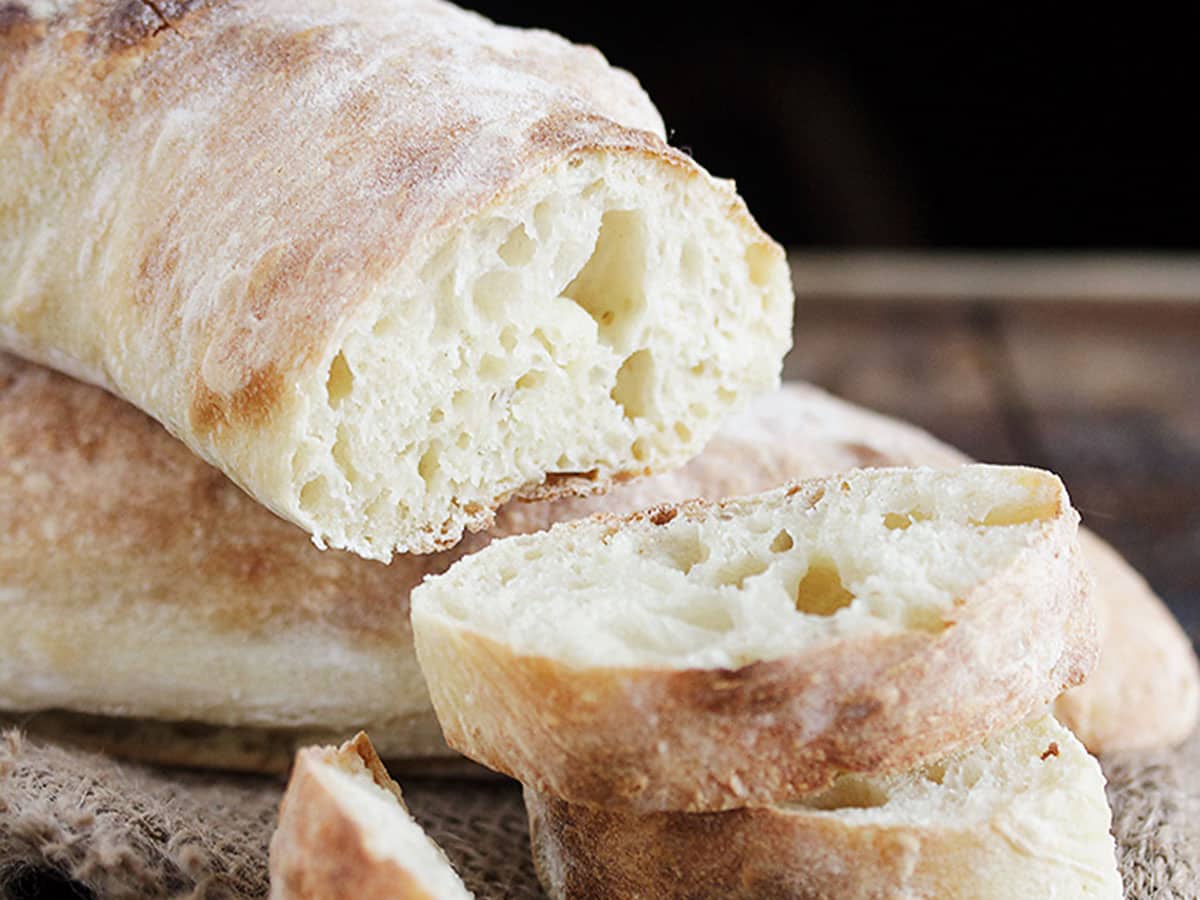 If you're anything like me, the weekends are when I really dig in to cooking and baking projects. The weekdays are just for getting through as quickly and easily as possible and usually not the time to I feel like wrestling with bread dough. So in that spirit, I thought I'd share a great recipe for making this delicious ciabatta bread recipe this weekend. It's not nearly as hard to make as you might think.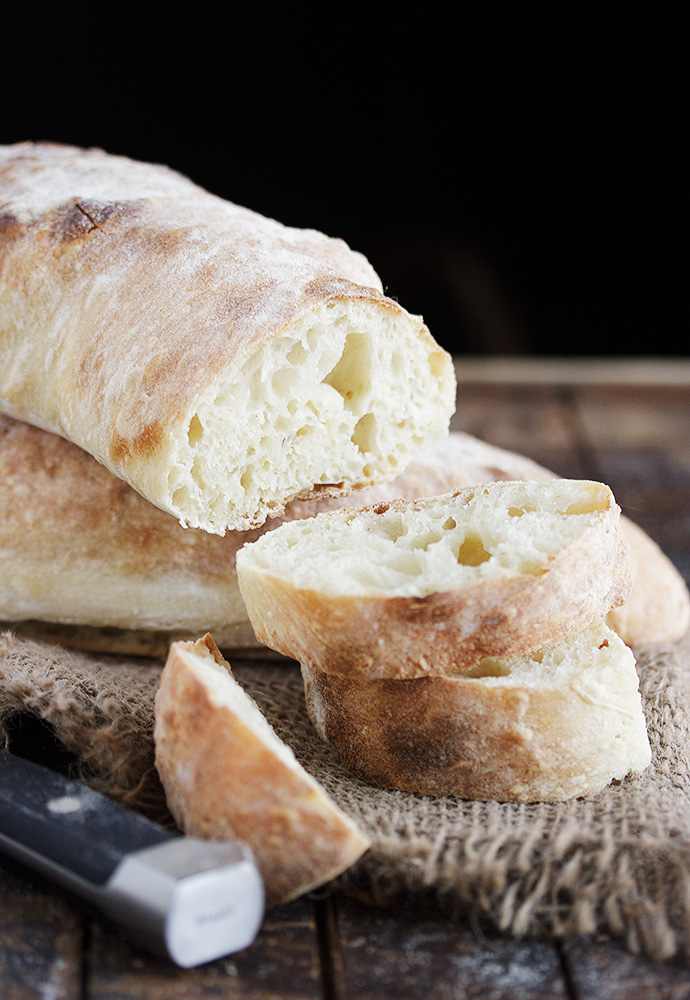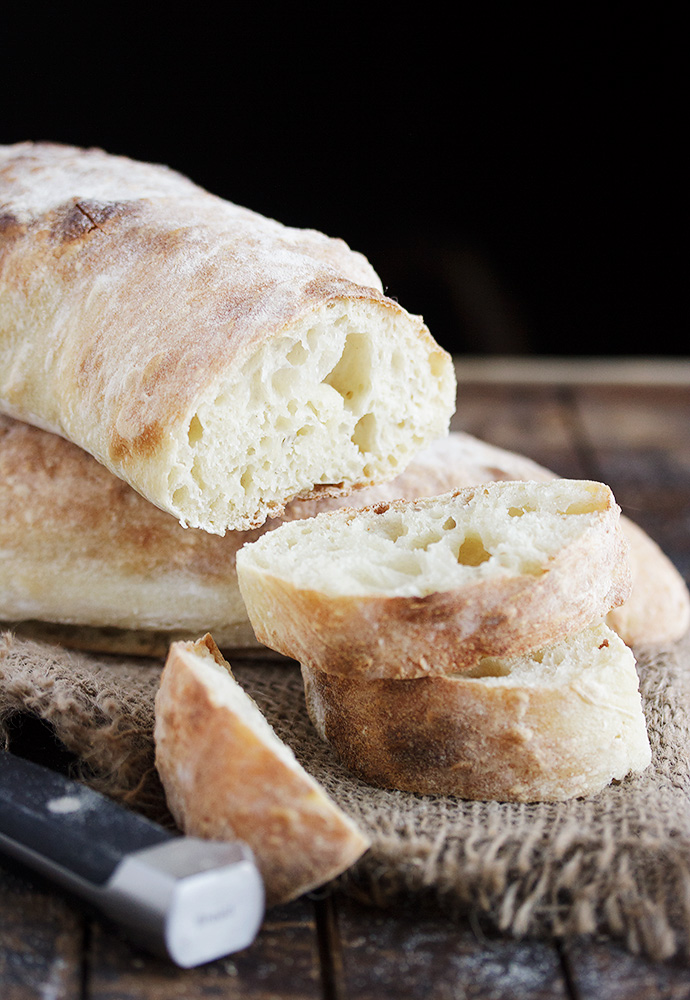 I'm not going to lie though, this is probably not the bread that should be your first bread-baking experience. It's somewhat unique in both it's consistency and method. That's not to say it's hard – just different :)
This bread starts with a yeast "starter" dough. I like to mix it up quickly before going to bed and then let it bubble away on the counter over-night. Then the next morning, I can just carry on with making the bread.
Once you mix the dough, you're immediately going to notice that you have more of a batter than a dough. Resist the urge to add more flour at this point. The secret to those great holes it to have a really moist dough and the more flour you add, the more you'll be defeating that.
This is not a bread dough that will ever be kneadable!
That said, you will need to add a little bit of flour along the way here. Purists will suggest flouring your hands (or even wetting them to deal with the dough). That's great advice if you have lots of experience with wet dough. For the rest of us, a sprinkling of flour here and there is a sanity saver!
Even as you move along with this dough, it will resemble a jiggly mass that seems to be barely holding its shape. Again, just go with it as much as you can, adding only enough flour to remove extreme stickiness.
Cook's Notes
I cannot recommend the use of a silicone bowl scraper enough when dealing with this dough. It's worth picking one up for this bread for sure – it's a sanity saver! A metal bench scraper sprayed with cooking oil will also work. If all else fails, a large silicon spatula would be my choice. All these tools will allow you to work this dough without actually touching it with your hands, which is a bonus when working with a sticky dough.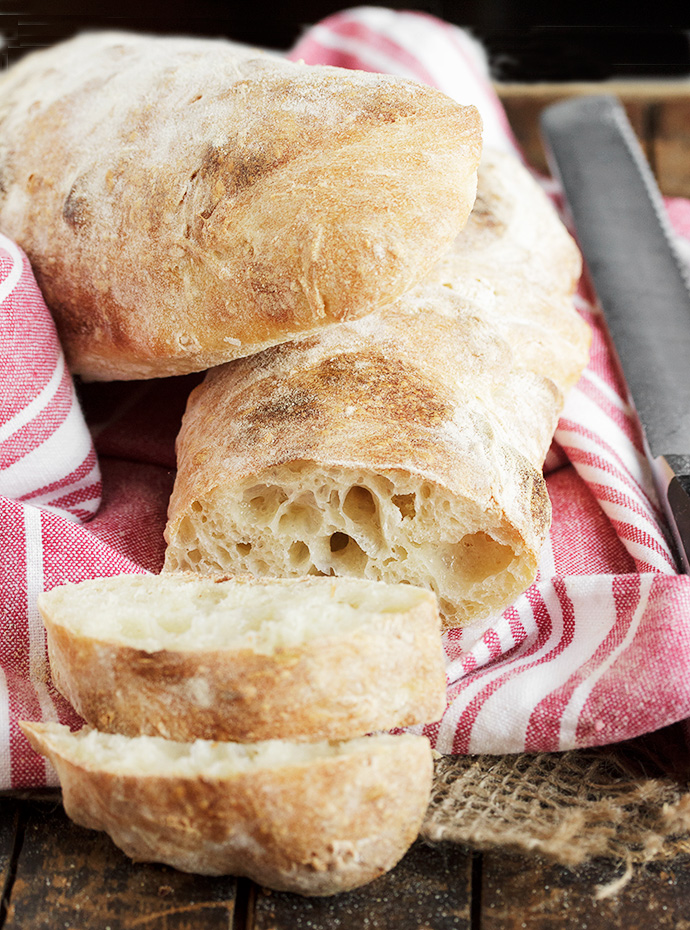 Get the Recipe:
Homemade Ciabatta Bread
This bread is very moist and loose, but only use as much additional flour as you need to be able to handle it without it sticking. Be sure to start your starter dough 8-12 hours ahead of when you want to make your bread.
Ingredients
Yeast Starter Dough: (Start 8-12 hours ahead - the night before works perfectly)
1/2

tsp

(

1.5

g

)

active dry yeast

3/4

cup

(

171

ml

)

water

,

room temperature

1

cup

(

125

g

)

bread or all-purpose flour
Ciabatta Dough:
1/2

tsp

(

0.5

tsp

)

active dry yeast

,

or regular Instant Yeast such as SAF (not quick or rapid rise yeast)

3/4

cup

(

171

ml

)

water

,

at room temperature

All of the Yeast Starter Dough From above plus the following:

2

cups

(

240

g

)

bread or all-purpose flour

1 1/2

tsp

(

9

g

)

salt
Instructions
For the Yeast Starter Dough: Combine all ingredients in a 1-quart (4-cubowl and stir well. Cover with plastic wrap and allow to sit at room temperature for 8-12 hours (overnight works perfectly).

For the Ciabatta Dough: In a large bowl or the bowl of a stand mixer fitted with a paddle attachment, stir the yeast in to the water. Add all of the Yeast Starter Dough that you made earlier and has been sitting. Mix briefly. Add the flour and salt and mix to combine. Beat on medium-low for 3 minutes. Stop the mixer and let dough rest for 10 minutes. Beat again on medium-low for 3 minutes. Stop again and let dough rest for 10 minutes.

Remove dough to a lightly oiled bowl large enough to hold double the amount of dough. Cover the bowl with plastic wrap and let the dough rest until it starts to puff up, about 30-45 minutes.

Using a silicone bowl scraper or spatula, scrape the dough on to a well-floured work surface. Have a cup of flour handy to use. Sprinkle the top of the dough with some flour. Using your silicone bowl scraper, scoop up one edge of the dough and fold it over the top of the dough to reach the middle. Scoop up the opposite edge and scoop it up to cover the fold you just made. Add some more flour to your board and the top of the dough (just enough to control stickiness). Let dough rest for 15 minutes and then repeat this same folding. Let rest another 15 minutes.

Line a baking sheet with parchment paper. Sprinkle the parchment paper with flour. Roughly shape the dough in to an 8x8-inch square . Using a sharp knife, cut your dough into two 4x8-inch rectangles. Gently transfer to the parchment-lined baking sheet by using a bench scraper positioned underneath the rectangles to support it. Flour the top of the dough then cover with a tea towel and allow to rise until puffy, about 30 minutes.

Meanwhile, preheat oven to 475° F.

Bake in the preheated oven for 20-25 minutes, or until deep golden brown and the internal temperature is over 200° Transfer to a cooling rack to cool.
Notes
Be sure to read the "Cook's Notes" in the original post, for more tips, options, substitutions and variations for this recipe!
Calories:
689
kcal
,
Carbohydrates:
143
g
,
Protein:
20
g
,
Fat:
1
g
,
Sodium:
1758
mg
,
Potassium:
200
mg
,
Fiber:
5
g
,
Calcium:
28
mg
,
Iron:
8.7
mg