This cast iron skillet cornbread is wonderfully moist and is deliciously flavoured with corn kernels, jalapeño and cheddar cheese for loads of flavour! Bakes up perfectly in a cast iron skillet!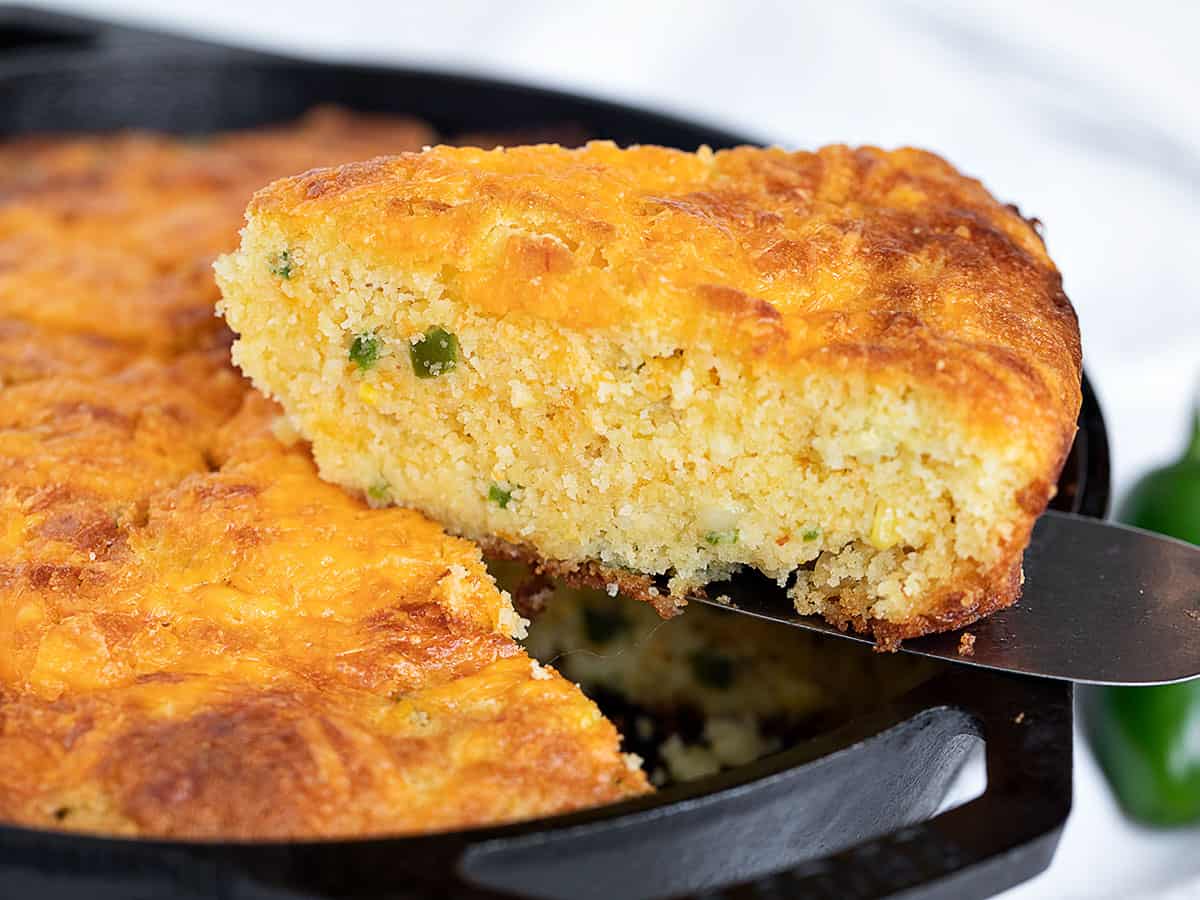 Cornbread is always a welcome addition to any meal and in my house, it's also a great way to use up left-over cooked corn, especially from Summer corn on the cob. Cooking it up in a cast iron skillet makes it even better!
This Jalapeno and Cheese Skillet Cornbread is one of my favourite recipes. It has tons of flavour and is always moist. Enjoy this cornbread with your Fall stews or soups, or as a great addition to late-summer barbecues.
Ingredient Notes
Corn – Do note that you need to use COOKED corn for this cornbread. You can get your cooked corn any number of ways. You can use left-over cooked corn or corn on the cob. You can use frozen corn, that you cook as you normally would ahead of time. You don't want the corn to be hot and cold from the fridge corn is fine to use. If cooking before using here, allow enough time for the corn to cool at least to lukewarm or ideally completely, before using.
Jalapeno – The amount of jalapeño listed is just a suggestion :) It's how I enjoy it. You can adjust up or down, to taste. You can also add or substitute other peppers, if you prefer.
Cheese – I like regular cheddar cheese in this one, but feel free to use whatever cheese you like.
Cream or Milk – Any of heavy (whipping) cream, table cream, half and half cream (10%), whole milk (3%), buttermilk or even 2% milk will work here. The biggest difference will be in the moistness of the finished cornbread. Cream will produce the nicest results. I have not tested this recipe with non-dairy milks.
Sugar – The sweetness of cornbread is very subjective, so you can easily adjust the amount of added sugar here, to taste. Use 1/3 cup for a less sweet cornbread. Use 2/3 cup if you love it sweet! If you aren't sure or if you like just medium sweet, use 1/2 cup sugar.
Recipe Video
Cook's Notes
I've used my mixer here, with a paddle attachment and always mixing to a minimum, on low speed. A mixer isn't necessary though, as you can easily mix this one up with just a bowl and a wooden spoon.
This cornbread is very fragile with very hot, so for best cutting and flavour, allow to cool in the pan at least 30 minutes (it will still be warm) or ideally, 45-60 minutes or completely. I often will bake this one up in the morning, then re-heat in the skillet in a 350F oven to serve. Be sure to cover the top loosely with foil when re-heating. It will only take 8-10 minutes to warm it. I find it has even more flavour when it has had a chance to sit for a bit.
You can cut and serve this cornbread in wedges (as shown here), but if you'd like smaller pieces, simply make 3 slices diagonally from left to right, then 3 slices diagonally from right to left and you will end up with a skillet of smaller pieces.
To change this up a bit, use grilled or roasted corn for a bit of a smoky taste to your cornbread.
As mentioned, I think cornbread is best when baked up in a cast iron skillet. If you don't have a cast iron skillet, you can use a similar sized baking pan (9-inch round), though you'll want to skip a long pre-heat in the oven. You can pre-heat a metal baking dish for 3-5 minutes, but don't pre-heat a glass pan at all. If not using a cast-iron skillet, it will still be delicious, it just won't have the nice crispy outside edges.
This cornbread can be stored at room temperature for a couple of days. It will also freeze well up to 2 months.
Get the Recipe:

Jalapeño, Cheese and Corn Cast Iron Skillet Cornbread
Delicious skillet cornbread, flavoured with roasted jalapenos, cheddar cheese and corn kernels. A great use for left-over cooked corn!
Ingredients
3/4-1

cup

jalapeno peppers

,

diced, seeds removed

1 1/4

cups

(

150

g

)

all-purpose flour

1

cup

(

150

g

)

fine cornmeal

1

Tbsp

(

15

g

)

baking powder

1 1/2

tsp

(

7.5

ml

)

kosher salt

,

(1 tsp. if using fine salt)

4

large

eggs

1

cup

(

227

ml

)

corn

,

COOKED and cooled, fresh or frozen *see Note 1

1/2

cup

(

113

ml

)

heavy whipping cream, half and half cream, whole milk or buttermilk

,

APPROXIMATELY **enough to equal 1 1/2 cups when measured along with the corn kernels **See Note 2 Below or Recipe Video to see this measured

1

cup

(

227

ml

)

cheddar cheese

,

grated, plus bit more for the top before baking

3/4

cup

(

170

g

)

butter

,

salted or unsalted, at room temperature

1/3-2/3

cup

(

134

g

)

granulated white sugar

,

*see Note 3
Instructions
Preheat oven to 400F (regular bake setting/non-convection)with rack in centre of the oven. Lightly grease a 10-inch top diameter cast-iron skillet.

When oven is preheated, place diced jalapeños in the cast-iron skillet, then place the skillet in the oven for 5 minutes. Remove the skillet from the oven, then spoon out the jalapeños to a small bowl to cool. Return the cast-iron skillet immediately to oven to PRE-HEAT.

Meanwhile, In a small bowl, whisk together the flour, cornmeal, baking powder, and salt. Set aside.

In a 2-cup measuring cup, add the 1 cup of cooked (and cooled!) corn kernels. Add enough cream or milk to the measuring cup with the corn, until the liquid reaches the 1 1/2 cup level of the measuring cup. (*See Recipe Notes below if this isn't clear, or watch the Recipe Video above this Recipe Card to see it done). Set aside.

In a medium bowl, lightly beat the eggs to blend. Add the corn/cream mixture and the cheddar cheese and stir in. Set aside.

In a large bowl with a wooden spoon or the bowl of a stand mixer fitted with the paddle attachment, mix the butter and sugar together at low speed (or with a wooden spoon), just until the butter absorbs the sugar. Add the egg mixture and mix until just combined. Stir in the cooled jalapeños. Mix in the flour mixture, mixing just until barely incorporated.

Remove skillet from oven and lightly coat with nonstick spray. Spoon batter in to hot pan and quickly top with a bit more grated cheddar cheese. Bake cornbread until top is golden brown and springs back when gently pressed, 25-28 minutes when baked in a 10-inch skillet (may be longer if your skillet is smaller). Let cool in pan at least 30 minutes before serving.

Cornbread can be made ahead and then re-heated in the skillet. Cover the top loosely with a sheet of aluminum foil and re-heat in a 350F oven until warm, about 8-10 minutes.
Notes
Do note that you must start with COOKED corn. You can use left-over cooked corn or corn cut from left-over corn on the cob and cold from the fridge is fine. You can also just cook either fresh or frozen corn fresh for this recipe, but make sure it has cooled to lukewarm or room temperature, before using.
This means you add the corn kernels to a 2-cup measuring cup first, then you pour in the cream or milk until the level of the liquid rises to the 1 1/2 cup mark on the measuring cup. Using heavy cream will produce the most moist cornbread, though lighter creams or milk will also work nicely.
Adjust the amount of added sugar to taste. For a less sweet cornbread, use 1/3 cup. For a sweeter cornbread, use 2/3 cup. For a middle of the road (or if you're not sure), use 1/2 cup of sugar.
Be sure to read the "Cook's Notes" in the original post, for more tips, options, substitutions and variations for this recipe!
Calories:
304
kcal
,
Carbohydrates:
29
g
,
Protein:
8
g
,
Fat:
18
g
,
Saturated Fat:
10
g
,
Polyunsaturated Fat:
1
g
,
Monounsaturated Fat:
5
g
,
Trans Fat:
1
g
,
Cholesterol:
103
mg
,
Sodium:
487
mg
,
Potassium:
249
mg
,
Fiber:
2
g
,
Sugar:
7
g
,
Vitamin A:
650
IU
,
Vitamin C:
7
mg
,
Calcium:
139
mg
,
Iron:
2
mg