When it comes to St. Patrick's Day, it's always nice to have a little something Irish or Irish inspired on the menu. You'll a few recipes that are also perfect for that leftover corned beef!
We can all be Irish for a day, at at least! Here are some of my favourite St. Patrick's Day recipes, to celebrate the day.
Irish Scones
Delicious Irish Scones, studded with currants and flavoured with a touch of orange zest. Crispy, tender, flaky, buttery, sweet and salty, all in one perfect bite!
Get the recipe »
Irish Blaa
Traditional Irish soft buns, perfect for sandwiches and burgers, too! These buns are also vegan.
Get the recipe »
Traditional Brown Irish Soda Bread
Hearty and delicious Brown Irish Soda Bread, with buttermilk, oats, wheat germ and wheat bran. Makes 1 large loaf.
Get the recipe »
Corned Beef Cottage Pie
The love child of Shepherd's Pie and Corned Beef Hash! With a delicious corned beef filling, topped with mashed potatoes and cheese. Can be made with leftover corned beef or canned corned beef.
Get the recipe »
Boxty Irish Potato Cakes
Traditional Irish potato cakes known as Boxty, made using a mixture of cooked, mashed potatoes and raw, grated potato, fried in a hot skillet in small (or one large) rounds until golden brown.
Get the recipe »
Irish Colcannon Soup
Inspired by the Irish dish colcannon, this soup is hearty, comforting and delicious. Featuring leeks, cabbage and potatoes, it's filling enough for a meal!
Get the recipe »
Traditional Irish Barmbrack Bread
A traditional Irish Barmbrack bread, also known as Tea Brack. A lovely yeast bread with tea-soaked raisins.
Get the recipe »
Cabbage and Corned Beef Pot Pie
Delicious corned beef and cabbage, in pot pie form! Starts with cooked corned beef and store-bought puff pastry, so easy and a great use for your leftover corned beef.
Get the recipe »
Irish Pan Haggerty Potatoes
Potatoes, layered with crispy bacon and caramelized onions, topped off with a generous layer of melted cheese. I love Dubliner cheese, or try Swiss, Asiago, Gruyere or an aged cheddar.
Get the recipe »
Irish Spice Bag
Fries, spicy fried chicken bites and vegetables, all tossed in a spicy salt and served up in a paper bag.
Get the recipe »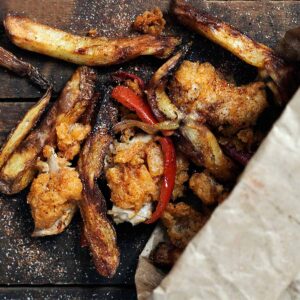 Grilled Reuben Sandwich
A classic way to enjoy corned beef, with Swiss cheese, quick pickled red onion and homemade Thousand Island dressing.
Get the recipe »
Irish Cream Chocolate Pudding Shots
Smooth rich chocolate pudding, served in espresso cups and flavoured with coffee and Irish Cream liqueur. A perfect meal ender. Makes 2. Double or triple as needed.
Get the recipe »
Hi! I'm Jennifer, a home cook schooled by trial and error and almost 40 years of getting dinner on the table! I love to share my favourite recipes, both old and new, together with lots of tips and tricks to hopefully help make your home cooking enjoyable, stress free, rewarding and of course, delicious!